If you'd like to receive ALL THE CURRENT CONTENT from The Mad Hedge Fund Trader in your inbox every day premarket and PROPRIETARY TEXTED Trade Alerts which have averaged 37.49% annually since inception (11/29/10), subscribe through Seeking Alpha Premium Authors* @https://seekingalpha.com/account/research/subscribe?slug=the-mad-hedge-fund-trader
It was the battle of the Titans, Harvard versus the University of California. At stake was who would control the patent for the most important biotechnology of the century, that for CRISPR-Cas9 gene editing.
Harvard won. And you did too. Tens of billions of dollars of potential profits are up for grabs.
The decision also sets up stock investment opportunities that are nothing less than spectacular. Pick the right company, and a 100-fold return on your capital is possible.
For the uninformed, CRISPR stands for "clustered regularly interspaced short palindromic repeats". Say that fast three times.
The outline of the original CRISPR technology was published by UC Berkeley professors Jennifer Doudna and Emmanuelle Charpentier in 2012 in the prestigious Science magazine. It was widely applauded as the scientific breakthrough of the century, on par with Newton's discovery of calculus and Einstein's Theories of Relativity.
Building on their research, Dr. Feng Zhang, a Chinese immigrant, of Harvard University's Broad Institute (of real estate developer Kaufman and Broad fame) filed 14 patents the following year on derivative downstream processes. However, because the Broad Institute used a fast track application process, it beat Berkeley to the patent.
A year of litigation ensued at the beginning of 2016, with the United States Patent & Trade Office holding an extremely rare "interference" hearing. The Broad Institute argued that Feng Zhang conceptualized using the CRISPR system in human and mouse cells in February 2011, well before Doudna's 2012 patent application.
The USPTO ruled in the Broad Institute's favor on February 14, 2017, setting off a firestorm in the scientific community. The Berkeley team still has the right to appeal, potentially taking the dispute out several more years.
As a biochemist myself, I have been following with utter fascination the evolution of the groundbreaking CRISPR technology since Berkeley's Doudna/Charpentier team published their first paper.
If you have been living in a cave for the past five years, let me take a brief time out and explain what CRISPR-Cas 9 technology is. If you are the average Joe stock trader, which most of you are, suffice it to say that CRISPR technology is being developed that will enable you to edit your own DNA on a customized basis and then pass the changes on to your future generations.
This will eventually allow you to become immune to all diseases, increase your intelligence, and possibly live forever. Just cut out a bad gene and put in a new one and you, and all your future decedents are fixed for good.
You only have to make it five or ten more years at the most with your current vintage DNA, and you can easily live another century. The potential value of this technology is therefore immense.
CRISPR technology is moving forward so fast that amateurs can now rent labs by the hour, such as at Genspace in Brooklyn, New York, and use them to create the designer DNA for yeasts that will brew out-of-this-world beers. In other words, CRISPR has gone retail.
I gave readers my last update in August with my research piece on "How CRISPR Technology May Save Your Life".
With the patent issue decided, at least temporarily, it is now easier to pick the winner in the race to profitability. That would be Cambridge, Massachusetts Editas Medicine (NASDAQ:EDIT), in which the winner of the patent dispute, Feng Zhang, is a major shareholder.
Editas Medicine has been granted an exclusive license for the use of Cpf1 and other advanced Cas9 forms in relation to human genetic therapies. Editas also has the coolest website I have ever seen (click here for their stunning home page at http://www.editasmedicine.com ).
Editas already has a half dozen CRISPR generated treatments in its pipeline, including those for cancer, Usher syndrome, sickle cell anemia, muscular dystrophy, and cystic fibrosis. The patent win will enable Editas Medicine to attract the additional capital it needs to expand both the breadth and depth of its product line up.
Dozens of companies are lining up to license the revolutionary technology from the Broad Institute and Editas, including Monsanto, GE Healthcare, and Germany's Evotec. The ruling has big consequences for a phalanx of biotech startups racing to commercialize CRISPR technology.
Companies that backed the wrong horse will have to scramble to shore up their intellectual property portfolio. Berkeley based Caribou Biosciences, Inc., holds the exclusive license on the CRISPR-Cas9 inventions made by Doudna and her colleagues, while Basel, Switzerland based CRISPR Therapeutics licensed essentially the same inventions from the University of Vienna, where Charpentier once worked and which sided with UC in the patent case.
Even though they came out on the wrong side of the patent dispute, other companies bear consideration when looking for CRISPR investment targets. The market for this technology is going to be so enormous that any participants, no matter what their position on the patent ladder, will reap financial windfalls. In other words, even the losers will become winners.
Those would include Intellia (NASDAQ:NTLA) (click here for their site at http://www.intelliatx.com ) and Crisper Therapeutics (NASDAQ:CRSP) (their site is at http://crisprtx.com ).
We will continue to hear a lot more about CRISPR technology and the investment implications therein.
I will keep a laser focus on the sector and update my research pieces accordingly.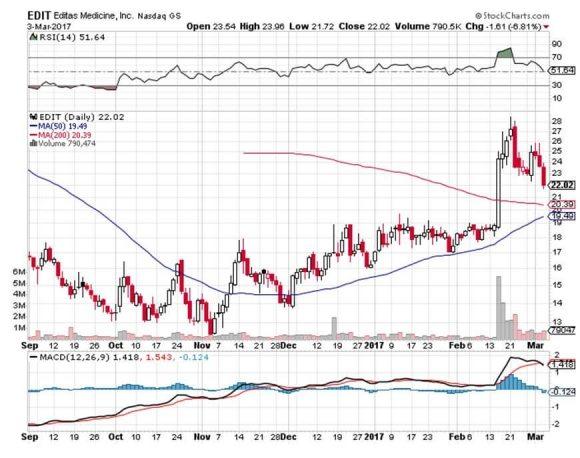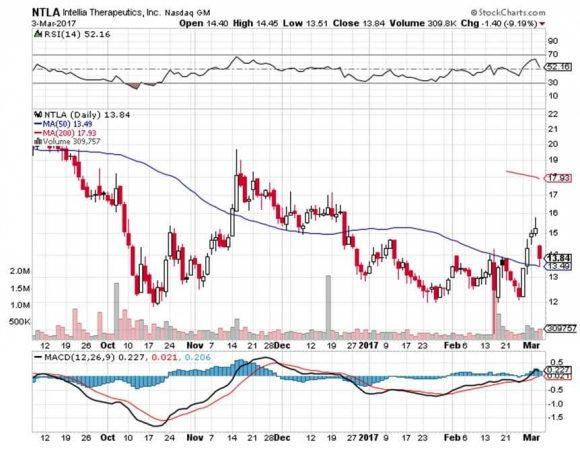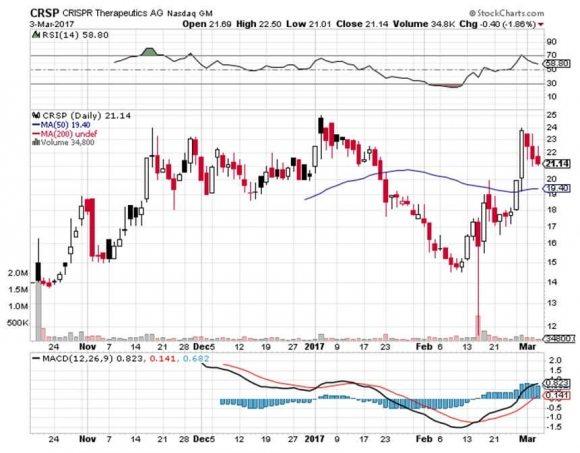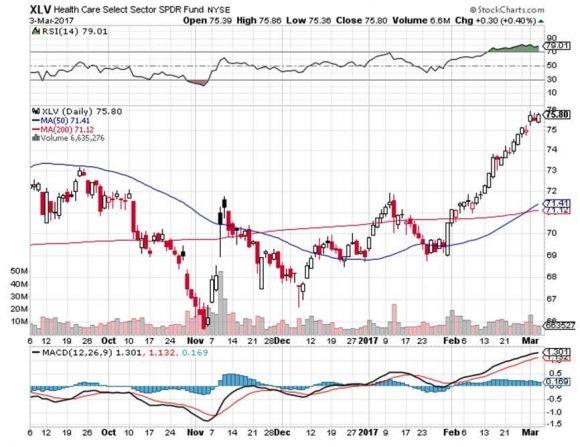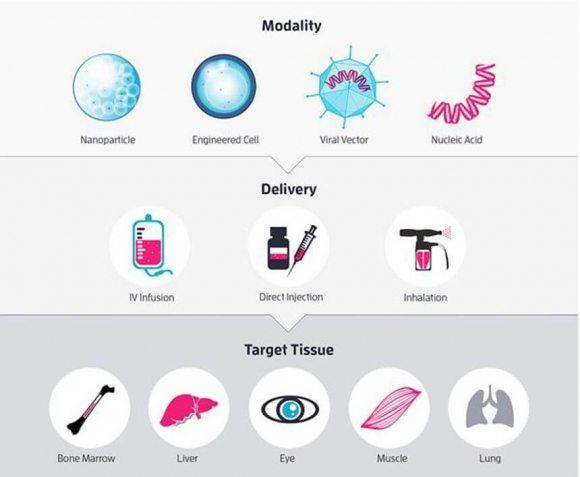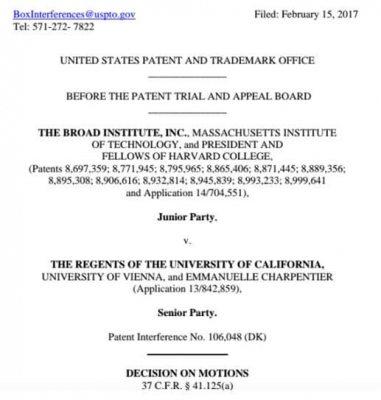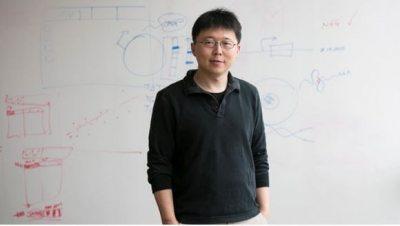 The Winner, For Now
*Value-Added Investment Services From Top SA Contributors