Wow: My weekly pics got obliterated because of Jinko Solar....a company which outperformed analyist expectations by over 80%+ during their last earning.....what can I say.....I thought the stock had bottomed last week, but I turned out to be wrong.  

The good news: Although Jinko Solar dropped 12%, and my pics drastically underperformed (NYSEARCA:SPY) for the week, we only lost only .93%.  
As for GOOG, it looks like investors are still deciding whether they want to close the gap at 550 or not.  




Now........LETS TALK CHARTS!....Here are my picks for next week based on Fridays (3-DEC) closing prices till next Fridays close...

I sent out my weekly pics yesterday just minutes after the close so you could get into positions for next week.

GUGGENHEIM SOLAR ETF (NYSEARCA:TAN)
I'm usually not one to buy weakness but, it's just too hard not to buy the solars at these valuations.  However, in an effort to avoid a catastrohpic downturn like we saw in JKS last week, I have decided to buy the TAN (solar ETF).  We have support at $7.25, and I recommend a stop of $6.98.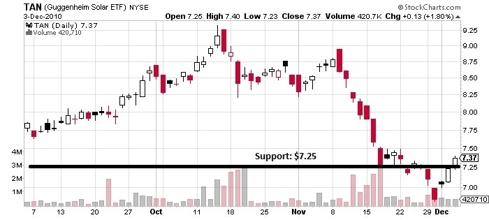 Disney (NYSE:
DIS
)
Disney is going higher, why?  Because when the market was busy dropping triple digits this stock hardly moved to the downside.  The stock has quickly rebounded to its breakout point on above average green volume, everybody is just waiting for Disney to go higher.  We could see $39 next week as managers get themselves invested for the next year.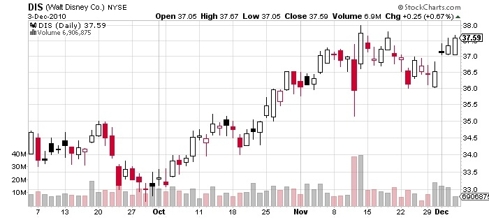 Intel (NASDAQ:
INTC
)
g
Just like Disney, Intel has been a stong stock in the Dow 30.  Refusing to decline during downdays, and just building a nice long base to jump off of in the future...that future could be next week.  We could see INTC at $22.50 next week!
I recommend a stop at $21.00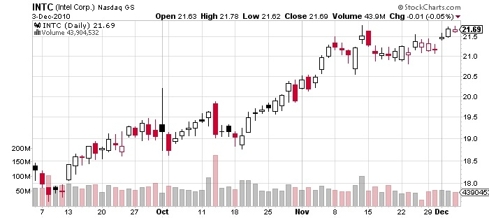 Applied Industrial technologies (NYSE:
AIT
)
AIT is waiting to go higher..at least back to $31.50.  After breaking a STRONG upward channel from September 7th to October 25th, the stock has build a nice base, and although buy-side volume has flooded the stock, the shares have not popped it....this stock is going higher!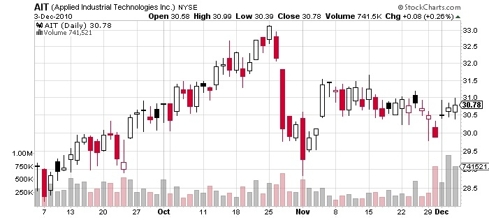 CBS (CBS Corp)
CBS corp was in a downward channel for nearly two month, eventually investors found a bottom around$16.50 close to CBS's previous breakout of $16 range.  New support is at $16.80 but the volume we got on the upside make me feel the downside is limited for the week.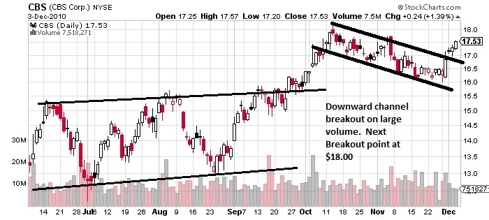 Disclosure:
Long AIT