Wow what a week: Unemployment down but hardly any job growth, Egyptian democracy in crisis, and E*Trade is going to show a ton of its baby commercials during the Super Bowl!
Now……Lets Talk Charts!
Amsurg Corp (NASDAQ:AMSG)
Talk about consistency, Amsurg a healthcare facilities stock has always reported a positive inline earnings report for the past 3 years ('08,'09'10) and I can bet that they will report inline or perhaps beat on their next earnings call…meaning….we do not need to worry about the fundamentals of this company.  The company is doing just fine….which leaves us with the pleasure of analyzing the technicals.  AMSG is right on the breakout how it got there was by investors pouring in lots of volume to the upside.  This chart is in a classic breakout formation.  AMSG is definitely going higher!
Resistance: 22.01
Support: 21.00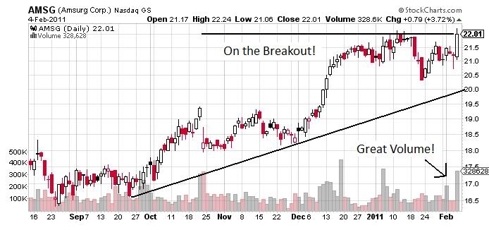 AngioDynamics Inc (NASDAQ:ANGO)
This Medical Equipment and Supplies maker beat analyst expectations on Jan 4th, but the stock has since pulled back after investors got excited the company beat its earnings.  Since the stock pulled back near its support line investors have piled in ANGO.  I think they are piling in to drive this stock once again higher!
Resistance: 17.75
Support: 16.01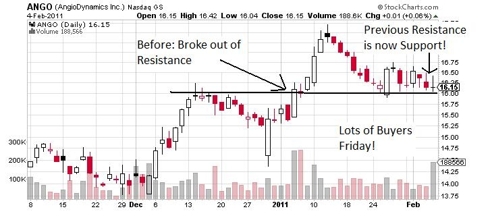 G&K Services Inc (GKSR)
Having just reported and beaten analyst expectations in its earnings on Feb-1st, GKSR has been constantly trending higher; I see no reason to jump ship, especially since investors think the same.  On Friday record volume to the upside sent this stock slightly to the breakout, get in before it's too late, GKSR is going higher!
Resistance: None the breakout will continue until a new resistance level is formed
Olin Corp (NYSE:OLN)
Our interest in this chemical manufacturing company is purely technical.  This stock has been in a sideways channel for the past 9months, I think the stock will bounce off 18.66 and rally up to 20.50.  The stock also has a catalyst: It beat its earnings expectations on Jan-31 by over 400%!
Resistance: 20.89
Steelcase Inc (NYSE:SCS)
After beating its earnings expectations by over 30% on Dec-16, the stock has gone higher.  However,  Steelcase Inc has seen recent slight pullback allowing investors to reenter near the 9.95-10.00 range I don't think a recent bottom justifies what's going on; investors are excited that the company has been doing well, and they want its upward trend to continue.  Given the heavy volume to the upside Friday and its positive price action, SCS is going back up to the breakout.
Resistance: 11.27