"I think the biggest innovations of the 21st century will be at the intersection of biology and technology. A new era is beginning." --Steve Jobs
Intrexon(NASDAQ:XON) is a leading company in the synthetic biology space. Although the space is in the early innings there is clear evidence that Intrexon has positioned itself as the first synthetic biology company with scale, cost efficiency and a strong suite of complementary technologies. XON's strategy is to license their technologies via exclusive channel collaborations (ECCs) and JVs. ECCs allow Intrexon to scale up rapidly while mitigating market risk of developing and commercialization efforts. In addition, XON covers ~60% of its operating expenses which allows them better control over expenses and investing in new ventures. The market appears to not reflect the opportunity with the back end economics especially as further ECCs/JVs are signed. It is rare that large pharma such as (JNJ,SNY,LLY) engage in back end economic deals with smaller firms such as XON. In addition, a competitor in the space Life Technologies (LIFE) was acquired by Thermo Fisher in February 2014. LIFE had a controlled gene expression technology similar to Intrexon. I believe given strong back end deals with big pharma and acquisitions in a similar space gives conviction that Intrexon's technology suite is a leader in the space and XON will see significant back end economics that will flow to the bottom line. Along with a promising technology XON has one of the top health care investors leading the team as CEO in Randal Kirk who sold Clinical Data and New River Pharma for $1.2B and $2.6B respectively. In addition, Kirk owns more than 60% of XON. I believe in two years XON will trade close to $70-$80 if not higher if we see ECCs/JVs ramp up.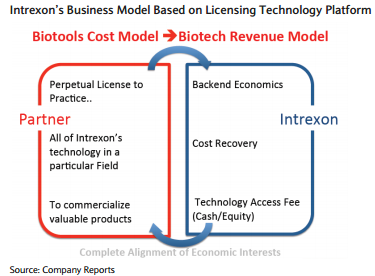 Technology Suite:
Leap Technology:
Intrexon's Laser-Enabled Analysis and Processing technology (LEAP): The technology has the ability to isolate single target cells from thousands of non-target cells. The advantage in the technology is the ability to identify and purify cells faster. Management has stated that stem cells are often damaged through traditional purification technologies due to their manual techniques however LEAP has automated this process that allows for more accurate flow-through of cells while also decreasing the costs of labor and time.
Intrexon's partnership with Fibrocell focuses on the ability to improve the process efficiency and manufacturing of laViv, one of Fibrocell's currently marketed products for the treatment of moderate to severe nasolabial fold wrinkles (smile lines) in adults.
The integration of the LEAP technology and RheoSwitch provides a leading cost/scale and time advantage over anyone in the synthetic biology space. These advantages provide an attractive advantage for Intrexon to license their suite of technologies to thousands of leading companies in essentially every sector to improve efficiency and margins.
RheoSwitch:
RheoSwitch technology is a novel transcriptional regulator platform based upon the highly specific interaction between small molecule ligand inducers and receptor proteins that control the timing and level of transgene expression in eukaryotic cells. In its simplest form, the switch is a three-part system, comprising a ligand, a receptor heterodimer, and an inducible promotor. When the ligand binds to the receptor, specific gene expression is activated in a controlled manner from the inducible promoter. The most attractive aspect of RheoSwitch is that the application has endless possibilities in every sector.
The switch components (in Figure below, there are two receptor protein,VP16-RXR; Gal4-EcR these two receptors form heterodimers without a ligand). The next step of the process is that a patient takes one of the many small molecule oral ligands XON has created that will bind to the promoter that will switch the cell expression on. After the activation, the activated recept will recruit transcription factors and drive expression of different target genes.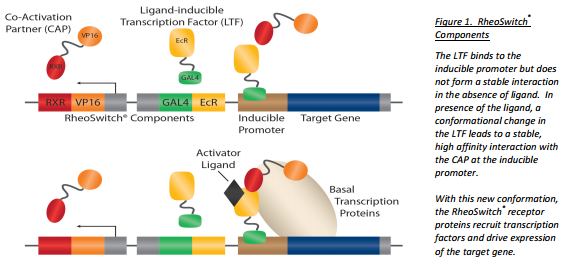 Health Care Segment:
A major reason why their "on/off" switch works is that Intrexon created a synthetic diaclyhydrazine molecule called Veledimex. Veledimex is the company's first clinically validated oral ligand. This ligand has a great safety profile with a wide therapeutic window and no without dose-limiting toxicities in vivo. A benefit of Veledimex is that the half-life is short (2.5 to 5 hours) and enables tight control for turning off gene expression by removal of the ligand at anytime XON chooses. Think of a ligand as a battery in a toy, if you add the battery to the toy the toy turns "on", if battery is removed the toy turns "off". Intrexon has a large diverse library of inducer ligands that bind with high specificity to RheoSwitch receptors.
The treatment, uses immune system communicators known as cytokines, had almost been written off. Even though they cause the immune system to attack cancer cells, cytokines can be extremely toxic and unsafe to use on their own. Cytokines are a group of signaling substances the body uses to communicate internally. Immune cells use cytokines to communicate with each other. Cytokines are small molecules released by cells into the blood. And they can trigger a cornucopia of activities. Cytokines can make immune cells rush to the site of infection, gobble up sick cells and even sneak through blood vessel walls. It is essential for the cells in the immune system to communicate and coordinate immune activity in the defense and repair of damage to the body. As seen from many other immunotherapy companies and drugs, a term called "cytokine storm" is a big issue. Cytokine storms occur when the immune system is fighting pathogens, cytokines signal immune cells such as T-cells and macrophages to travel to the site of infection. In addition, cytokines activate those cells, stimulating them to produce more cytokines. Normally, this feedback loop is kept in check by the body. However, in some instances, the reaction becomes uncontrolled, and too many immune cells are activated in a single place. Results of this can consist of the immune cells attacking healthy cells, blood vessels and many other areas. Cytokine storms can potentially cause many serious issues including many times death. This does not occur with XON/ZIOPs approach as they have complete control of gene expression.
MD Anderson Partnership:
On January 13, 2015, XON & ZIOP entered into a license agreement with The University of Texas M.D. Anderson Cancer Center where they hold a world-wide license to technologies relating to novel Chimeric Antigen Receptor (NASDAQ:CAR) T-Cell Therapies. The partnership will look to overlay XON's suite of technologies with MD Anderson's Sleeping Beauty technology that uses non-viral vectors. They will focus on using the RheoSwitch technology to show complete control of gene expression through MD Anderson's Sleeping Beauty Technology. Five products will enter the clinic in 2015. The five trials are autologous some of the ongoing trials are in B cell malignancies. MD Anderson's technology utilize a non-viral DNA plasmid based gene transfer system to modify a patient's own T Cells or be used in a universal off-the-shelf approach. The XON/ZIOP believe this CART platform, coupled with XON's technology suite and ZIOP's RheoSwitch Therapeutic System interleukin-12 modules could merge to create a CAR-T product whose cell expansion and activation can be tightly controlled to minimize toxicities, which, if successful, is very compelling.
Food Segment:
Intrexon has an interesting focus on genetically modifying animals and crops. XON has one ECC in the food sector with AguaBounty. Their focus is to leverage their technology platforms to advance the efficiency and scale of agro and livestock. Some of their focus includes drought resistance crops in which they generate protein inhibitors against parasites and other bugs that could destroy field crops.
Through Intexon's partnership with AguaBounty have found a way to genetically modify salmon that have the ability to grow twice as fast as traditional salmon. They do this by turning on the salmon growth hormone in early stages through the use of XON's suite of technologies. Also, the speed and efficiency of leveraging the LEAP technology is another advantage to other approaches
The FDA has released a statement regarding the safety of genetically engineering salmon here (http://www.fda.gov/AnimalVeterinary/DevelopmentApprovalProcess/GeneticEngineering/GeneticallyEngineeredAnimals/ucm280853.htm) FDA's preliminary finding is that an approval of this application, under the specific conditions proposed in the application, would not have a significant impact (FONSI) on the U.S. environment. AquAdvantage Salmon is a product of Intrexon
In addition, XON acquired Trans Ova in August 2014, with the intention to improve Trans Ova's current platform with new capabilities with a goal of achieving higher levels of delivered value to dairy and beef cattle producers.
Energy Segment:
The Energy sector is very interesting area of Intrexon although early Intrexon's intention here is to develop microbial cell lines genetically enhanced to convert methane to higher carbon content compounds which often reduces expenses compared to traditional gas-to-liquid (GTL) processes. Intrexon's proprietary bioconversion platform uses Natural gas. The potential here is that Intrexon can leverage its existing suite of technologies to generate fuels at significantly less costs than traditional conversion processes. XON formed a JV called Intrexon Energy Partners (NYSE:IEP) on March of 2014. IEP raised 75M from its partners to help fund commercialization of technology for fuels and lubricants. I would not be surprised as they develop out the technology if a big integrated oil company takes a stab at a JV or big deal with XON. Intrexon also has already demonstrated proof-of-concept for the conversion of methane to isobutanol (an alternative alcohol-based fuel) via genetically engineered bacteria. According to management, Isobutanol can be mixed to create a renewable solvent that can be processed into other fuel sources such as jet fuel or feedstock for certain plastics.
Competitor Acquired By Thermo Fisher:
Intrexon's approach is similar to Life Technologies. Life Technologies is a brand under the Thermo Fisher Scientific company. Clearly the space is very attractive as Thermo Fisher acquired Life Technologies Corporation (NASDAQ: LIFE) in February 2014 for $76.13 in cash per fully diluted common share, or approximately $13.6 billion, plus the assumption of $1.5 billion in net debt. I would note that Life Technologies did about $3.8B in revenue for 2013 and were pretty diverse outside of synthetic biology, however the Gene Switch technology LIFE offers is a key product in LIFE's technology suite.
Life Science Technology has a technology called Gene Switch that enables the turning "on" & "off" of gene expression and activating transcription through the promotor GAL4-1EB. Life Science Technologies sells a "do it yourself kit" for their GeneSwitch technology complete kit for $1,500.
Business Model:
There are three main revenue sources from ECCs: 1) upfront and milestones (generally paid through stock or cash) 2) Reimbursement of Costs. 3) Back-end economics: Not only does Intrexon cover their costs through the upfront payment. They receive generous % of product sales deals with many of the JVs and ECCs. The majority of backend ECC deals will consist of a high single digit or low double digit royalty but in some cases like ZIOP the royalty will be closer to 50%. This is why scaling these ECCs are so attractive.
Valuation:
Rather than doing a pro forma income statement, I feel it is easier to go about showing sensitivity analysis based upon the number of ECCs signed. Modeling for Intrexon is nearly impossible as to why I believe not many analysts cover it actively. In my analysis I have provided a sensitivity analysis to see what XON could potentially earn at different ECC levels. In my assumptions, I believe based on prior ECC structures. They will receive~ $2M in revenue up front from each contract. For the back end assumptions where I believe the real value will be driven long term I assume the majority of the deals will average 10% royalties based on net product sales. In addition, I believe operating margins will be around 50% as the majority of the expenses are covered by the ECC company. Currently Intrexon has approximately 27 ECCs/JVs. Assuming XON could sign approximately 100 ECCs, XON could earn ~$2/share in earnings. One could see the tremendous earnings power if XON brings 1,000 ECCs online. Also, XON has hit its 60% of its operating expenses as of the last quarter so I would expect further JVs and acquisitions to be made in the future given reduced expenses through existing ventures. Further upside to earnings and growth will be in future JVs and current ones including Ziopharm(50% royalty one provide additional upside could prove to have additional upside to my estimates.My ECC analysis was used just as a basis to understand the potential scale in earnings the company could have. I would also note the energy segment could also provide upside as Kirk has indicated that the energy segment could be transformative.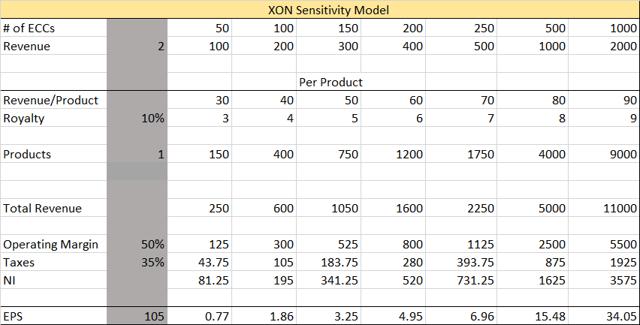 Below is the majority of ECCs, JVs and majority owned subsidiaries XON has to date:
"I think the biggest innovations of the 21st century will be at the intersection of biology and technology. A new era is beginning."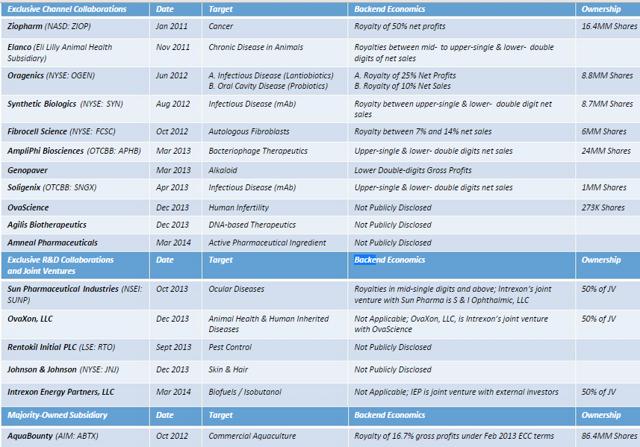 Risk:
Platform risk: Intrexon is a platform company built on ECCs and therefore may fail to maintain existing ECCs or enter into new ECCs.
Sectors risk: XON has had a tremendous move and may result in profit taking and an overall rotation in the healthcare sector.
Development and commercialization risk: Intrexon relies on its ECCs to develop, commercialize and market products, which may not be successful.
Investment Thesis:
XON offers investors a high growth opportunity with a derisked business model focused on scalability and cost efficiency. XON has a great suite of technology with many solid partners that will grow their products with XON. Randal Kirk has shown his confidence in XON as he owns 60% of the company and completely sees the vision of the company. I would advise that XON is not so as much a quarterly earnings story as a year to two year story. Although not disclosed I assume the large pharma deals (JNJ,Sinofi) have backend deals to them which is very rare in large pharma deals. XON business model allows for them to cover the majority of opex while also investing in r&d and new ECCs/JVs. The acquisition of Life Technology by Thermo Fisher should give investors further validation that XON's RheoSwitch technology works. If XON is able to scale its partners with similar economics as prior deals, I believe the stock could trade in the $70 to $80 range if not higher in the next two years.
Disclosure: The author is long XON, ZIOP.