Blueprint Medicine has a proprietary platform that integrates a novel target discovery engine and a proprietary compound library. BPMC can rapidly identify kinases that are drivers of genomically defined diseases to craft custom drug candidates. They have the ability to identify hundreds of different mutations in cells and systematically and with scale build out a custom drug for your specific mutation. **Yes, this is very cool and unique, and I like it. There are over 518 known kinases and they have partnered with Alexion on one of them for milestone payments up to $250M. Imagine if they could build out 100 unique kinase compounds and partner every one of them out? Yes, that is a lot of money and highly attractive consider they will cover operating expenses from their current endeavors that they wish to go solo on. Blueprint is one of those must own transformative names that will yield tremendous returns for investors if they execute properly. I believe $70 including a $1B premium for their proprietary platform is fair given the massive opportunity.
Offering
$7.2M with 24.9M after IPO. Net proceeds $105M at $16 IPO price. Designed to fund multiple proof of concept readouts for candidates. $30M for BLU-285 in SM and GIST, $25M for BLU-554 in HCC. $40M to fund new and ongoing research activities including RET program and platform to deliver one IND annually on average.
What's your mutation -- We have a compound
BPMC approach enables them to drug known kinases that have been difficult to inhibit selectively and also identify, characterize and drug novel kinase targets. BPMC's platform is able to predict and analyze mutations in kinases that render the enzyme insensitive to inhibition by an approved drug or compound in development. They also have a proprietary kinase fusion detection algorithm to analyze human tumor sequences to find new disease indications for multiple diseases. Each compound they develop has been extensively characterized for binding to over 450 kinases and disease-relevant kinase mutants. Their strategy is to design these kinases inhibitors with broad targeting mechanisms so that they can search various kinase proteins targets and better define mutations for targeting highly specific mutations.
Strategy
Many times patients show an anti-cancer response, however the potency of the drug begin to taper off as the response is not durable. A common mechanism of resistance is kinase reactivation via mutation. They are able to predict what changes in the kinase that might result in a resistant enzyme and confirm this in a cell culture model. Blueprint focuses on hard to understand kinases and different unique enzyme mutations. They have used this process of predicting resistance to inform the design of several of their next generation drugs. Using this platform, they have produced a drug pipeline of several promising drug candidates that target genomically-defined patient subsets. They will pick companion diagnostics to develop assays in these patients with defined mutations to customize the treatment in endless subsets of the population. Many of the approved kinase inhibitors are multi-kinase inhibitors that are not selective for disease drivers and specific mutations, which results in off-toxicities that limit dose levels and target inhibition, thereby reducing efficacy. Small molecule kinase drugs achieved over $14 billion in 2013 sales. However, as of 2014, kinase drugs approved by the U.S. Food and Drug Administration, or FDA, only target less than five percent of the 518 kinases that constitute the kinome!! Below is a highlight of BPMC's drug candidates and the potential market. In addition, I have listed a chart of different cancers BPMC has studied and found different mutations that they potential will be able to treat.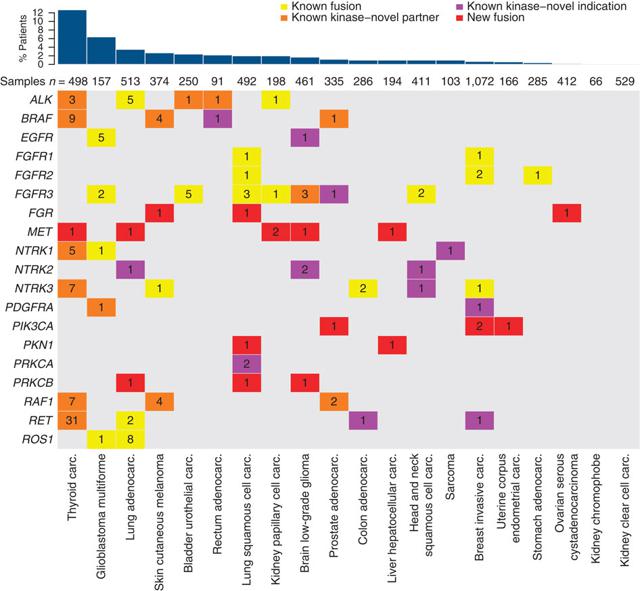 Pipeline
Over the past three years, they have developed a robust small molecule drug pipeline in cancer and a rare genetic disease. This is primarily the reason why their pipeline is in early stages. I would note they could have a pipeline of tens of hundreds of compounds but their primary focus on a few main compounds to start is smart.
Their two lead programs targeting KIT Exon 17 and FGFR4 provide strong evidence of the power of our proprietary compound library.
BLU-285
BLU-285 is an orally available, potent and selective inhibitor of several activating mutations of KIT that occur in Exon 17, which encodes a portion of the tyrosine kinase domain. BLU-285 also potently and selectively inhibits PDGFRa D842V. Due to the high degree of structural similarity of the kinase domains of KIT and PDGFRa, BLU-285 is able to inhibit both KIT Exon 17 mutants and the PDGFRa D842V mutant potently and selectively with minimal inhibition of other kinases. This is the big differential verses other kinase inhibitors in that Imatinib tends to inhibit many other kinases that should not be blocked. They plan to file an IND for BLU-285 in SM in mid-2015, initiate a Phase 1 clinical trial in mid-2015 and expect that expansion cohorts in genomically-selected patients will begin in 2016. Competing Drug: Imatinib (>$1.5B sales), which is an inhibitor of KIT, is approved in SM and GIST and validates this kinase as a therapeutic target in these diseases. Imatinib also inhibits PDGFRa, which is a driver in a subset of GIST. However, a meaningful percentage of patients harbor mutations in KIT and PDGFRa that are not targeted by Imatinib and fail to respond to treatment with the drug. BLU-285 has shown in early stage testing that it can target these other mutations that no drug has yet to accomplish. They will initially develop BLU-285 for targeted patient populations that have these mutations and currently lack adequate treatments. For BLU-285 they will target two indications.
Systemic Mastocytosis:
SM is a myeloproliferative disorder of the mast cells, the key effector cells of allergic inflammation, which have several physiologic roles including wound healing, regulation of vascular and epithelial permeability and immune cell recruitment. In myeloproliferative diseases, the bone marrow overproduces certain types of red blood cells, platelets, or white blood cells. The signature of SM is the accumulation of mast cell clusters in the bone marrow. In advanced forms of SM, abnormal mast cells may also accumulate in the liver, spleen, gastrointestinal tract and bones. Mast cell activation and histamine release can lead to severe allergic symptoms ranging from a skin rash to hives, fever and anaphylaxis, while mast cell accumulation in advanced cases of SM can eventually lead to organ dysfunction and failure. Patients with SM are usually diagnosed in adulthood. These people have a normal life expectancy; the primary burden of disease is the range of often unpredictable and debilitating allergic symptoms due to mast cell activation.
1a) Market Size
BPMC estimate the incidence of all subtypes of SM from 0.5 to 1/100,000 new patients per year. BPMC believes 8,000 patients that have SM in the U.S. and approximately 20,000 in the rest of the world. Of all SM patients, Patients with indolent SM which means slow progressing SM accounts for 50-80% and advanced SM accounts for the remaining 20-50% of patients. 94% of patients have the specific KIT D816V mutation. BPMC dosing will consist of 30 mg/kg once daily, a well-tolerated dose. A common biomarker consists of the decrease level of phosphorylated KIT in the tumor. This is a solid measuring point of KIT signaling activity and improvement in the disease. In BPMC's preclinical study (shown below), at a dose of 30 mg/kg, the level of phosphorylated KIT was inhibited by greater than or equal to 90% over the 24 hour dosing period.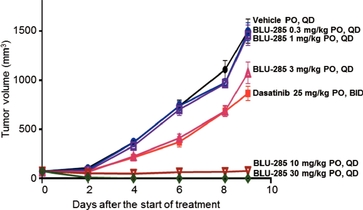 Gastrointestinal Stromal Tumor (GIST)
The second indication BLU-285 will focus on is GIST. GIST is the most common sarcoma of the gastrointestinal tract, or GI tract. Tumors arise within cells in the wall of the GI tract and occur most often in the stomach or small intestine. Most patients are diagnosed between the ages of 50-80 with diagnosis triggered by GI bleeding, incidental findings during surgery or imaging, or in rare cases acute presentation due to tumor rupture or GI obstruction. The standard workup at primary presentation includes pathologic confirmation and imaging to assess extent of disease. Again, Imatinib is the gold standard for treatment. However, Imatinib for up to 50% of patients treated with frontline Imatinib relapse within approximately 18 months. BPMC plans to file an IND for BLU-285 in GIST in mid-2015, initiate a Phase 1 clinical trial in mid-2015 and they expect that expansion cohorts in genomically-selected patients will begin in 2016. They expect data to be available approximately 12 months after the start of the Phase 1 clinical trial.
2a) Market Size
So please remember BPMC is focusing on two different mutations here (PDGFRa D842V & KIT Exon 17). For PDGFRa D842V-driven GIST this is a great unmet medical need, as no approved medical therapies are effective. Progression can occur within as little as three months, and the median overall survival is 15 months for patients with advanced disease. The PDGFRa D842V mutation is found in 5-6% of frontline unresectable or metastatic GIST patients. They believe there are up to 500 addressable patients with PDGFRa D842V-driven, unresectable or metastatic GIST in the Major Markets. For the second type of mutation (KIT Exon 17), BPMC believes approximately 6,600 addressable patients in the Major Markets with KIT Exon 17 secondary mutations that have led to disease progression during treatment with Imatinib. IF BPMC decides to go after the frontline market or first treatment line, the addressable market is approximately 20,000 patients.
BLU-554 FGFR4 Inhibitor Program
The second candidate is BLU-554. BLU-554 is an orally available, potent, selective and irreversible inhibitor of the kinase FGFR4. FGFR4 has historically been a challenging target to drug selectively given the closely related paralogs, proteins encoded by closely related genes, namely FGFR1-3. Aberrantly active FGFR4 signaling is a driver of disease in a subset of patients with hepatocellular carcinoma, or HCC, a disease with high unmet need and no approved genomically-targeted therapies. They plan to initially develop BLU-554 for a genomically-defined patient population within HCC with aberrantly active FGFR4 signaling. They anticipate filing an IND in mid-2015 and initiating a Phase 1 clinical trial in mid-2015. This design will be focused on safety/tolerability as well as multiple dosing.
HCC Disease Background
Liver cancer is the second leading cause of cancer-related deaths worldwide, with HCC accounting for most liver cancers. The highest incidence of HCC occurs in regions with endemic hepatitis B virus, or HBV, including Southeast Asia and sub-Saharan Africa. In the United States, HCC is the fastest rising cause of cancer-related death; over the past two decades, the incidence of HCC has tripled while the five-year survival rate has remained below 12%. In the U.S. there is an estimates 16,000 addressable patients for front-line treatment and 5,000 patients that advance after front line. Excluding the U.S. there is approximately 60,000 patients for front-line and 20,000 that advance beyond front-line.
RET Fusion Program
The third program targets RET fusions and predicted RET resistant mutants. By using their proprietary compound library, they have crafted drug candidates to selectively inhibit not only RET but also the RET resistant mutants. They believe they can provide a treatment that results in a more meaningful and durable clinical response by prospectively inhibiting RET and RET resistant mutants early in the treatment of the disease. RET fusions are implicated in several cancers including papillary thyroid carcinoma (approximately 35% of patients) and non-small cell lung cancer (1-2% of patients) as well as colon, breast, and thyroid cancer. This program makes for a highly interesting opportunity to target mutations that have been overlooked due to the complexity and difficulty of targeting the mutations. Administration of their compound orally twice daily for 15 days resulted in robust and dose-dependent tumor growth inhibition.
Rare Genetic Disease Program
BPMC also has a rare genetic disease program that is the subject of their collaboration with Alexion Pharma Holding, or Alexion. This program will focus on defining specific mutations in rare diseases to develop kinase inhibitors that are specific to known mutations in very rare diseases. BPMC received a $15.0 million non-refundable upfront payment in March 2015 upon execution of the Alexion agreement and are eligible to receive over $250 million in payments upon the successful achievement of different milestones.
Patents:
Their issued U.S. patent are projected to expire in 2033 and it appears they have a strong base of patents that cover a broad composition of matter for each of their compounds as well as their discover platform.
Financials
BPMC after the offering will have approximately $24.88M shares outstanding. They will have including current cash approximately $145M in cash after the offering. Operating expenses for 2014 accounted for $39.7M and I expect this to be ramped up as they bring multiple compounds into clinical trials in 2015. I estimate they will have approximately 2.5 years (mid 2017) of cash before they will need to raise money again. The Alexion deal will help provide some relief as I fully expect additional milestones to be hit.
As I have noted in my thesis-the approved kinase inhibitors only target 5% of the 518 known kinases. If there is anything to take away from the BPMC story it consists that BPMC has transformative platform that will diagnosis new mutations of enzymes and allow them the ability to construct the lion share of kinases that have not be targeted by the approved inhibitors. The future valuation of the company lies their technology to construct new kinase inhibitors to attack a multibillion dollar market. I will go into an NPV valuation of their current pipeline but I would add a significant premium to my valuation given that they could do exactly what they did with Alexion. For Alexion, they partnered with them to build out a kinase inhibitor for a specific mutation in a rare genetic disease. The possibilities to identify hundreds of specific mutations and build these compounds to partner with new or existing companies for > $100M in milestones for each one is astounding. It reminds me of the niche Intrexon has where they have the ability to partner with hundreds of different healthcare companies and receive milestones/royalties on every single partnership.
For Systemic Mastocytosis, I assume there are 9,000 patients in U.S. and 20,000 worldwide excluding U.S. BPMC has stated that of this population 94% of them have the KIT-D816 mutation. This gets me a target population of 27,000 in total. Assuming that they penetrate 40% of the market and $198 or $8.30 per share. For HCC, the mutation (FGFR4) occurs in 30% of the population which gets me an addressable market of 5,000 patients in the U.S. and 56,000 patients international. Assuming penetration of 40% and pricing similar to SM, I get peak sales of $1.5B or an NPV of $438 or $18.25 per share. For GIST which is part of the BLU-285 program I assume $2 per share given the low occurrence of patients with the specific mutation. For these 3 indications I discount the success rate at 10% given the very early stages of the candidates I also discount the sales by 10% which is roughly the WACC of the company. Below is the valuation based on sum of the parts. In the last column I put what my current valuation of the company is $70 per share giving $1B in platform premium considering that they could create and partner a compound for hundreds of different mutations to bring in billions to the firm. Backing out the platform premium I believe fair value currently is ~$30 per share which does not include the Alexion partnership and excludes cash.

Positive catalysts
1. Will file an IND for BLU-285 in GIST in mid-2015
2. They anticipate filing an IND in mid-2015 and initiating a Phase 1 clinical trial in mid-2015.
3. Will release at least 1 new indication per year on a new mutation
4. Milestone payments & new partnerships for hundreds of different mutations worth billions
5. Granted Orphan Drug Status & accelerated approve
Negative catalysts
1. Clinical Risk--Difficult to recruit, sometimes mutations are hard to diagnose
2.Secondary Offerings Won't see much revenue until maybe 2020
3. Sector rotational risk
4. Many competitors in clinical trials focusing on protein inhibitors
4. May not receive orphan drug status or accelerated approval
Investment Thesis:
Blueprint Medicines provides a rare investment opportunity where personalized medicines can combat cancer. Many times cancer as a defense mechanism creates a new mutation in the DNA code from battling existing therapies. BPMC is able to diagnosis, predict and create small molecule kinase inhibitors to slow down the catalysts of kinase proteins with new mutations. The executive team is highly skilled and their in house proprietary kinase platform technology sets them miles apart from competitors. The approved kinase inhibitors only address 5% of the entire kinome, which creates a massively appealing opportunity in countless cancers. I will leave you with this, BPMC partnered with Alexion on one type of mutation for a rare genetic disease, imagine the scale and potential if they could partner 50 to 100 different mutations with a partner for each one. Billions of dollars in milestones/royalties. Highly attractive buy and hold.