Taiwan Semiconductor Manufacturing Company (TSMC) which was established in 1987 is the first dedicated semiconductor foundry. Its corporate headquarters are in Hsinchu, Taiwan. TSMC is listed on the Taiwan Stock Exchange under the ticker number "2330" and its American Depositary shares are traded on the NYSE under the symbol "TSM". One US ADS is equal to 5 Taiwan common shares.
The company held its AGM on June 09, 2015. The shareholders
1.Acknowledged the 2014 Business report and Financial statements.
2.Approved the distribution of a NT$ 4.5 cash dividend per common share.
3.Elected TSMC's 13th Board of Directors.
The Chairman Dr. Morris Chang mentions that the TSMC's share in the global foundry market reached 54 % in 2014 in spite of the increasing competition. He also dismissed the fear of loss of business in the advance business processes. The company would be moving to volume production of its 16nm FINFET processes in the second half of 2015 and also start receiving 10nm product tape-outs at the end of the year. As per Gartner Inc, TSMC(NYSE:TSM) gained market share in the semiconductor foundry business from 49.8% in 2013 to 53.7% in 2014 mainly due to success of advanced technologies of 28nm and 20nm.
The stock was in correction mode few days back mainly due to weak global cues and also the worries due to the consolidation in the semiconductor industry. Namely Intel(NASDAQ:INTC) buying Altera(NASDAQ:ALTR) for $ 16.7B. Altera is a major customer of TSMC but the loss of revenues do not have much impact for 2015 revenues. It could lead to 4-5% revenue loss in the next 3-4 years incase Intel gets the foundry business from Altera. This is partly offset by getting more business from Altera's competitor Xilinx(NASDAQ:XLNX) to TSMC.
The company came up with its May monthly sales data on June 10,2015 Revenues were NT$ 70.16B($2.27B) a decrease of 6.9 % from April 2015 and a increase of 15.4 % over May 2014. The company is on track to beat its 2Q 2015 guidance as the total of April and May monthly sales comes to NT$ 145.49B, which means the June monthly sales would have to exceed NT$ 58B-NT$ 61B.
2Q 2015 Guidance:
Revenues : NT$ 204B-NT$ 207B
Gross Profit Margin: 47.5% to 49.5%
Operating Profit Margin: 36.5% to 38.5%
The company is going to release its 2Q 2015 results on 16th July,2015.
Below is the distribution of 1Q 2015 revenue distribution by Technology.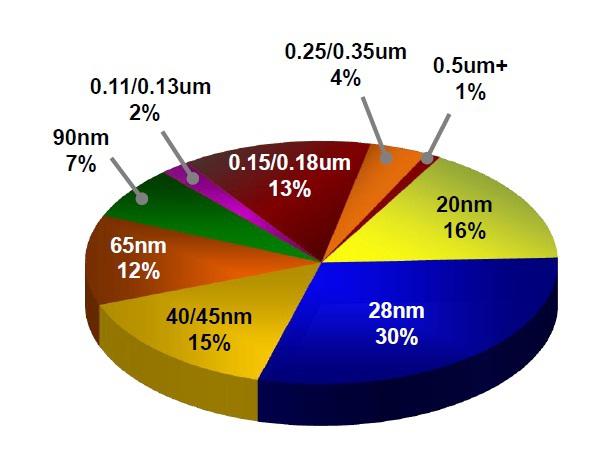 Source: TSMC Company website
Brief overview of the 1Q 2015 results
1Q 2015 revenues were NT$ 222.03B($7.1B) +49.8% when compared to 1Q 2014 (Management guidance was NT$ 221B to NT$ 224B).Gross Margin was 49.3% (Guidance 48.5% to 50.5%).Operating margin was 39% (Guidance 38.5% to 40.5%).Net profit margin is 35.6 %.Net income of NT$ 78.99B +65% y/y.EPS of NT$ 3.05 +65% y/y
The company has a Market cap of $ 121.69B. PE is 14.90 and a forward PE is 11.97. The company has good free cash flows which would help the company to constantly increase dividends or buyback shares. The company has a efficient management with the Chairman Dr. Morris Chang and his team having very good experience in the foundry industry.
Risks:
Profit margins which have been very good might come down due to rising competition. Meeting production demands is also a challenge during peak season. Taiwan General elections will be held in January 2016 which could see volatility in the stock.
Conclusion:
Its a good time to enter the stock after the recent correction. 1H 2015 was expected to be tough period for the company and the industry as a whole. We could see revenues and profits to increase in 2H 2015 and 2016 as the company will be increasing the market share in the advanced technology processes and the recent management assurance in the AGM is another good reason for a buy. Any positive surprise in the Apple(NASDAQ:AAPL) chip business to TSMC in the iPhone 9 and other new Apple product launches could also drive the shares higher.
Disclosure: I/we have no positions in any stocks mentioned, and no plans to initiate any positions within the next 72 hours.
Additional disclosure: This article is for information purpose only. Please make your own analysis before investing.