Amber Waves of Grain
Canada is one of the largest agricultural producers and exporters in the world. Blessed with rich soil, excellent growing conditions, and abundant water, Canada is – per capita – the biggest exporter of agricultural largesse in the world.
You haven't lived until you've been to a Lobster Feed in the Canadian Maritimes.  And from the bounty of seafood, potato and dairy from New Brunswick, Nova Scotia, and Prince Edward Island, crustaceans and fish from Newfoundland and Labrador, to the endless (I've driven it – when I say endless I mean endless) wheat fields of Saskatchewan, Manitoba and eastern Alberta, to the sunny, lush valleys of British Columbia ripe with fruits and wine, this is a nation blessed by Mother Nature.  And what isn't perfect for crop production does just fine as grazing land for cattle and buffalo.
The great central plains of Canada and the US are an agricultural breadbasket the envy of the whole world – and one which they will certainly come to in times of need.  Our financial industry may be screwed up (unlike Canada – see "Investing in the World's Soundest Banking System," part one of this trilogy) but the agricultural and water resources of the US and, especially, Canada, are both nations' foundation sources of true wealth.  Would you rather starve while taking pride in having the cleverest day-traders in the world or enjoy good food and good health in a nation with bounteous amounts of the same?
China is the #1 producer of wheat in the world with over 100 million metric tons a year.  The US is 3rd with 60 million.  And Canada ranks only 6th, with just under 30 million.  Of course, while China has more than three times the production, they also have 40 times the number of mouths to feed!  And the US, with double the Canadian output, has 10 times the population.  So which nation has grain to provide to others, do you suppose?
In different proportions, but in relative amounts across the board, the same also hold true for soybeans, potatoes, corn, cattle, milk, chickens, and other staples of a stable high-protein diet.
So which Canadian companies will benefit most as the world's population grows, people in emerging nations move up the protein chain, and demand for Canada's agricultural output skyrockets?
Highest among them, I believe, will be Potash Corp (POT).  As any home gardener knows, fertile well-aerated soil watered deeply but not too frequently yields the best crops.  To make the soil "fertile," you need "fertile"izer.  And Potash is the world's largest supplier of potash, phosphate and nitrogen, the three most important elements in that fertility.  POT's size and flexibility give them pricing power.  Right now, their stock is down from a high of 121 (NYSE:TTM) and up from a low of 47 in December when everyone just knew the world was coming to an end.  It's 88 right now.  At that price it is selling at 11 times earnings.  I don't care who you are or where your farm is – if you are producing crops, you need what Potash produces.
I would also play Canada's grain surpluses and the likelihood of continuing increases in exports via their two biggest railroad companies – because that's how you transport grain from all those farmers to the shipping terminals on the seacoasts.  Canadian National Railway (NYSE:CNI) and Canadian Pacific (NYSE:CP), which was in our core portfolios for more than 10 years, are fairly priced today.  But on any pullback, I'd be an aggressive buyer.
Then there's water.  I wrote about Canada's huge water resources and what a blessing that will prove to be in Positioning For When Water Runs Out.  Canada has the most water per capita of any major world nation, some 91,000 cubic meters of Internal Renewable Water Resources (I.R.W.R.) per person.  You can't beat that.  There will come a day when that resource may prove as precious as the most precious gems.
Below is an updated map of those nations which are experiencing or soon will experience a scarcity of water: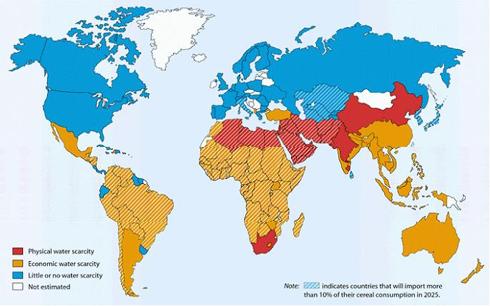 I have warned repeatedly on this site, in our financial letter, and in presentations to investor groups that those singing the Sirens' call for "emerging markets" are missing the point.  They are looking at today's news and extrapolating straight-line growth into infinity.  The Real World doesn't work that way.  Water is the most precious commodity on this earth.  Without potable water, we die of disease.  Without fresh water of any sort, we die of thirst.  Take a look at the water resources in the emerging nations.  Then take a look at Canada, the US, Europe, Russia and Japan.  Even if there were no current correlation, there will be one going forward.
That's why I choose to invest in those companies in those nations that supply what the emerging markets need, rather than in the emerging markets themselves.  The cream always rises to the top.  And Canada, with a low but highly literate, educated and skilled, population, incredible natural resources, and the most water per capita of any big nation on earth, now rises to the top.
Golden Threads and Silver Needles
If you believe that inflation is a constant in our lives and the likelihood of even greater inflation increases in direct proportion to the size and intervention into our daily lives of the national government, you want to own some precious metals.  If you believe the US dollar, given these wastrel policies, will decline in value, you need to own some precious metals.  If you'd like a store of value you can trust not to change with every political wind, you must own some precious metals.
Among the biggest gold producers in Canada are Barrick (ABX), Goldcorp (NYSE:GG),  Kinross (NYSE:KGC), Agnico Mines (NYSEMKT:AEF), Yamana Gold (NYSE:AUY), Lihir Gold  (LIHR), IAMGold (NYSE:IAG), Eldorado Gold (NYSE:EGO), and Franco-Nevada (FNNVF.)  In addition, if you'd rather own the physical metal without the headache of storing and insuring it yourself, you may want to consider the Central Fund of Canada (NYSEARCA:CEF).  Some of my fellow advisors have taken me to task for recommending a metals fund that sells at a premium, believing that ETFs like GLD offer a better deal.
Maybe.  But I haven't seen GLD through 40 years of investing like I have CEF.  If CEF says their gold and silver is actually in those vaults, and the regulators overseeing them say it's there, I believe it's there.  I'm willing to pay a slight premium for that kind of ability to sleep at night.
Of the big producers mentioned above, I wouldn't touch ABX with a 10-foot pole.  I don't trust their management to be honest and above-board.  I like GG a lot and have owned it for years, own KGC but only recently, and believe that AUY probably has the best potential of all the major producers in Canada.  And for a "royalty trust" situation where the firm owns royalty rights but does no (or little) actual mining, my favorite in gold is FNNVF.  I mean, any outfit that has Nevada in its name has to be OK, right?  Especially when its assets are in my part of the state, the part with wild horses, good hunting, open spaces and great skiing, not that other place down south!  Finally, if you like the idea of a royalty trust, I like Silver Wheaton (SLW) for the silver side of the house!
Bonus Section: Golden Voices
In addition to golden metal (and base metals, as well, in the form of nickel, zinc, copper, iron, rare earth metals, etc.) and golden fields of grain, I leave you with this list of just a few Canadians who have brought great song to our continent as singer/songwriters.  This is only partly tongue in cheek – I've spent a good bit of time in Canada, even fought forest fire there as a young whippersnapper, and I'd like to do my part to overcome the notion some have that Canada is a vast wasteland filled with extractable and exploitable resources but not much else.  In fact, Victoria, Vancouver, Toronto, Montreal, and Quebec are vibrant, thriving cities, and there are thousands of beautiful smaller towns and villages mixed in among all that gorgeous scenery.  And as this partial listing shows, they do OK in producing their share of cultural icons, as well…
Bryan Adams
Paul Anka
Leonard Cohen
k.d. lang
Avril Lavigne
Gordon Lightfoot
Kate & Anna McGarrigle
Alanis Morissette
Joni Mitchell
Robbie Robertson
Buffy Sainte-Marie
Ian and Sylvia (Tyson)
Celine Dion
Neil Young
If the much-ballyhooed "decoupling" of other nations' economies from the USA ever takes place, I believe that decoupling is less likely to come from Brazil, Russia or China than it is from nations like Australia and Canada – which can be loyal friends and allies and still have their economies less dependent on the US than on feeding and supplying the energy and infrastructure needs of the developing world.
Full Disclosure: Long POT, GG, KGC, AUY, CEF and FNNVF.
The Fine Print: As Registered Investment Advisors, we see it as our responsibility to advise the following: We do not know your personal financial situation, so the information contained in this communiqué represents the opinions of the staff of Stanford Wealth Management, and should not be construed as personalized investment advice.
Also, past performance is no guarantee of future results, rather an obvious statement if you review the records of many alleged gurus, but important nonetheless –our Investors Edge ® Growth and Value Portfolio has beaten the S&P 500 for 10 years running but there is no guarantee that we will continue to do so.
It should not be assumed that investing in any securities we are investing in will always be profitable. We take our research seriously, we do our best to get it right, and we "eat our own cooking," but we could be wrong, hence our full disclosure as to whether we own or are buying the investments we write about.