"And your inheritance is…
You get to take over payments on the family homestead when we go!"
For those thinking today of their kids' inheritance, or indeed of their own future, there is a new dynamic that must be taken into account: so many people bought much more house than they would have or could have or maybe even should have because (a) the financing was cheap, (b) the qualifying was easy to non-existent, and (c) because "real estate always goes up, at least in our (choose one: town, state, city, region, whatever.)"
Unlike those Pollyannas who believe that last statement, I see a likely continuation of turmoil for most single-family residential real estate markets for a number of years.  There are many reasons for this, most of which I've seen discussed elsewhere.  But there is one more that I believe adds gasoline to what may be a burning funeral pyre of household wealth: the percentage of net worth that is represented by a family's primary residence.  As a result of higher home prices during the Greenspan real estate bubble, people spent this "paper" wealth without actually having it in order to buy all sorts of consumables and steadily depreciating durables, rather than adding to savings and investment.
I read recently that the average percentage of their total net worth that currently-retired Americans have tied up in this one illiquid asset is somewhere near 80%.  More than three-quarters of most people's net worth consists of equity in their homes!  The numbers are roughly the same for Boomers. 
This fact has massive implications for both the real estate market and the stock market.  In order to pass a portion of their net worth to their children and grandchildren, or to pay for their living expenses as they live longer than ever before, many homeowners will have to pass the house in which they live on to their kids – or sell it in order to pay for their own assisted living or other expenses.
It seems to me that this reality will result in a very large glut of houses for sale, not because of the good tidings of monstrous appreciation but because current homeowners will have to unlock that equity to get money to survive on.  In the good old days of the first decade of this millennium, they could simply take out a second mortgage or get an equity line of credit on the house.  But not many bankers are going to be amenable to lending money against an asset that hasn't appreciated in years.
Because of this, I see Americans becoming far more willing, whether by circumstance or choice, to rent rather than own.  I think you can avoid that fate yourself by being aware of the trend and profiting from some of the implications of this scenario. 
One of those would be high-quality apartment REITs, by which I mean that both their apartments and their balance sheets are high-quality!  Some of the "vulture funds" recently established to buy apartment houses or entire developments of foreclosed rental properties may also do well.
Too many people are still relying on hope for a rebound in real estate prices, followed by 10% a year appreciation on the house they live in.  Worse, they fully expect to sell at the top when they leave it.  That's not a plan, it's a trap.  Over the past 20 years or so, Americans have accumulated more credit card debt, more student loans, higher car payments, and in general bought more "stuff", all the while believing that they didn't need to save for a rainy day because they were already engaging in "forced saving" by accumulating more equity in their homes year after year.  After all, "real estate always goes up, at least in our (choose one: town, state, city, region, whatever.)"
I said the stock market would also benefit.  Beyond your decision to buy or not buy the apartment REITs and vulture funds I discuss below, just being in the asset class of equities rather than the asset class of residential real estate may benefit you.  When the value of one's biggest asset is rising non-stop, it becomes an excuse to save less and to diversify less.  The logic becomes "Why should I diversify into tech or materials or health care when the house two doors down just sold for $780,000?" rather than, "Gee, tech is getting to be too big a part of the portfolio I'm relying on to fund my retirement; maybe I should diversify into some metals and bonds." 
The real estate wealth effect is a seductive force that encourages concentration rather than diversification.  Once people realize that it was a mistake to borrow and borrow against their home only to watch as it declines precipitously, they will be "once burned, twice shy" and anxious to diversify into other investment instruments like far more liquid stocks and bonds.  Stocks may be the best for younger retirees but for those who took a 30-year mortgage at age 55 and retired 10 years later, their forced home sale proceeds will likely find their way into the less volatile bond market, as they contemplate the now-mixed blessing of funding their lifestyle and mortgage payments for another 10, 20 or 30 years.
Real estate will have its day again but in the short to intermediate term I think the money to be made in real estate will be made (1) at the very high end where assets, not income, buys houses, often for cash; and (2) in rental homes and apartments which may be less grand than the current homestead but which leave money left over for living an enjoyable life.
There are three ways to profit from this state of affairs directly, of course: if you are young enough for it to make sense to purchase rather than rent, by all means do it.  A combination of low current prices and government confiscation of money from one taxpayer to assist another make it too attractive not to.   The legislation for taxpayer credits for buying a home may have been written by homebuilders, and passed by Congress, but if it benefits you, well, they've already taken the money from all taxpayers – if you qualify, you may as well take it.  They'll just find another, bigger piece of pork to dispense somewhere else to less effect, anyway.
The second way you might benefit, especially if you are one of those sellers who must sell to release your equity, is to assist those buying their home, perhaps by taking back some of the paper yourself.  After all, it is secured by a property you know well. 
The third way, if you have cash to buy, is to buy a home or condo with the intent to rent it to others.  There will be plenty of second-home owners this year and next who are willing to sell those second homes in desirable vacation areas for far less than they paid for them.  You may not get rich but you will give others the joy of staying in a beautiful place while paying down your mortgage for you.
Since the three approaches above involve direct participation and research specific to each deal, many readers will prefer the first two I mentioned: apartment REITs and/or vulture funds. 
As to the former, I think people may be resigned to selling their homes to get money to live on, but I believe they will be unwilling to move down in quality unless their circumstances force them to.  If their illusory "paper wealth" was $550,000 in "equity" and it's now reduced to just $250,000, they will still sell to get that $250,000 in cold hard investable cash, but the pain of doing so will be lessened if they move to an even nicer place than they left behind. 
If an apartment REIT avoided the temptation to stray from their normal, boring, business in the region they understood the best in order to rush, late in the game, into Las Vegas, Phoenix, Miami and other "hot" sectors -- buying at the top and getting no bargain in financing their late entry -- you can these firms selling at eminently fair stock prices, getting strong cash flow from properties that have not plummeted like those in the hot markets did.
Demand for these units will increase even if current homeowners don't convert to renting in numbers as great as I expect.  We are still a nation of immigrants, and legal  immigration is expected to continue unabated during these hard times at an average rate of 1.7-2 million annually.  Also, we are likely somewhere near the zenith of unemployment.  As employment increases in 2010 and 2011, demand will increase from people moving out of relatives' homes and shelters, as well as move-up renters renting better places.   Finally, many currently unemployed and those under-employed or anxious to change jobs as the times get better will prefer renting to owning simply because they need to stay mobile and unencumbered in order to follow their employment goals and dreams.
When it comes to the supply side of the equation, I see little new construction of multi-family rental housing as big projects will be severely limited by lack of financing.  Local banks, the source of most such financing, are less willing to loan to real estate firms after losing so much recently in foreclosures and builder bankruptcies.
So which firms do I think are most worthy of your attention?  Those with low leverage (low debt levels) and those with less exposure to previously-hot overbuilt markets like Phoenix, Miami, Las Vegas, Orlando and Tampa.  Both Mid America Apartment Communities (NYSE:MAA) and Avalon Bay (NYSE:AVB) qualify in these categories.
Here is where MAA's properties are located: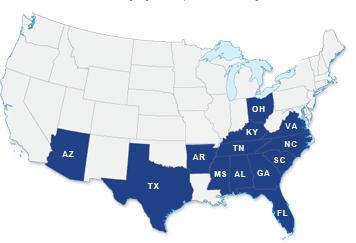 And here are AVB's.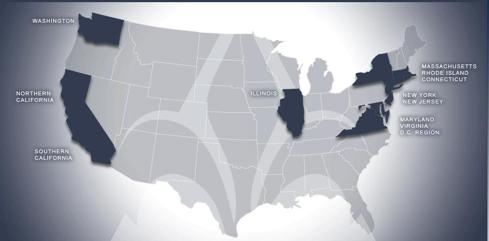 AVB is a bit heavier in California but their risk there is spread among many communities, some of which never became overheated and are thus still attractive.
Neither chased "growth", neither overpaid for properties at the top, and neither are over-leveraged.  Essex Property Trust (NYSE:ESS), BRE Properties (NYSE:BRE), and Equity Residential (NYSE:EQR) all do well in terms of their capital ratios but I don't like their high exposure to some California and Florida markets I consider still ripe for further problems.  (Of these, I consider ESS the best.)  Since their California portfolio is small, Post Properties (NYSE:PPS) might qualify for a top slot -- except their exposure to Atlanta, DC, Tampa and other formerly hot markets puts me off.
Among the vulture funds, I prefer those which buy properties in bulk from banks and brokers for resale or rental.  These funds buy properties that have already had the excesses wrung out of them, but sometimes bring their own problems in terms of having been abused or neglected.  That's why I prefer to buy these in a basket via publicly-traded funds like Colony Financial (CLNY)  and Crexus Investment (NYSE:CXS).  There are others, but I like the people behind these two, the experience of management, and the timing of their entry into the business the best.  Both are seeking apartment buildings where the developer has over-extended and is in need of immediate capital or is facing foreclosure on the entire project.  These funds ride to the rescue and take the liability off the developers' hands, albeit at a price the developer would not normally accept. 
Given my premise that more Americans will be renting in the future out of necessity, that employment will (slowly) pick up, that many workers will want to live in apartments for greater job-seeking flexibility, that apartment rental rates and prices will be rising, and that there will be a paucity of new construction financing, I can think of no finer possibilities for your consideration than those I've discussed here. 
Full Disclosure: Long AVB, MAA, CLNY, and CXS.
The Fine Print: As Registered Investment Advisors, we see it as our responsibility to advise the following: We do not know your personal financial situation, so the information contained in this communiqué represents the opinions of the staff of Stanford Wealth Management, and should not be construed as personalized investment advice.
Also, past performance is no guarantee of future results, rather an obvious statement if you review the records of many alleged gurus, but important nonetheless –our Investors Edge ® Growth and Value Portfolio has beaten the S&P 500 for 10 years running but there is no guarantee that we will continue to do so.
It should not be assumed that investing in any securities we are investing in will always be profitable. We take our research seriously, we do our best to get it right, and we "eat our own cooking," but we could be wrong, hence our full disclosure as to whether we own or are buying the investments we write about.