Last "Week's" 3 1/2 Days -- And The Coming 3 1/2
Please Note: Blog posts are not selected, edited or screened by Seeking Alpha editors.
Summary
Sent over the weekend to subscribers of Investors Edge, but updated for my Blog readers with current housing numbers.
First And Most Important, I Hope Everyone Had A Wonderful Christmas And That The New Year Will Be A Joyous And Prosporous One For You!
I'll Do My Best To Help, At Least With The Prospering Part.
The S&P 500, the proxy most investors use when discussing "the market," declined a nothing-burger 0.2% last week. If you owned $10,000 worth of all 500 S$P companies, you lost $20 on paper.
Energy and Consumer Staples continued to lead the downward sectors, with the entire investing world seemingly believing all oil and gas companies are DOA and no one needs to buy toilet paper for another 10 years. (OK, so maybe that last one is true.)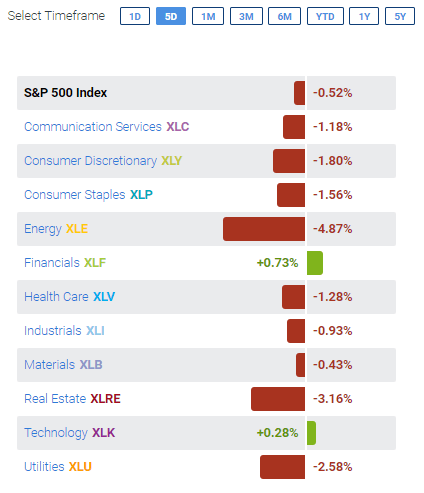 Source: Sector Tracker
The Financial sector was a big winner for a change. Banks got a big boost as Morgan Stanley predicted banks have are now 5% underpriced as a result of the Fed loosening the reins and allowing share buybacks for banks starting next month. Shares of Morgan Stanley (MS) rose 6.1% while Goldman Sachs (GS) added 5.8% and Bank of America (BAC) climbed 4.5%.
December is still up more than 2% so far after a good November and a horrible October. I still expect the quarter to be a good one, especially for our firm's clients.
If we had to pick a reason for the market's so-so 3 1/2 days, it would be the usual. Our legislators get us all excited pretending they will actually legislate, then they slip back into squabbling about whether the stimulus should include checks for $600 per approved person or $2000. Seriously, Congress. The dollar loses some value every day. Could you just make a flipping compromise and move on? We know $600 will get passed over a veto and a whole lot of people will get immediate relief. You can always add $1400 next week.
How about the coming week?
I'm guessing Congress, sniffing a lame duck, will pass something that will be veto-proof. That probably won't ignite a big rally since it is so heavily-discounted as happening already. The more important possible weight will be all the speculation about how the holidays will affect cases that are already near record levels. A new COVID-19 strain in the UK doesn't help, either.
Balancing these two factors will be, in my opinion, continued good news on housing, one of the key pillars of the American economy. The S&P Case-Shiller home price index for October comes out on Tuesday and Wednesday we will get November pending home sales due. I think this will carry many stocks at least a little bit higher. Thursday's jobless numbers are a wild card. But by then most of the Big Money will already be at their vacation homes so even a weak report might well be shrugged off.
INSERTED AS OF DEC 29 A.M. -- "According to the Commerce Department, total housing starts rose 1.2% to a seasonally-adjusted annual rate of 1.547 million units in November. The figure has narrowed the gap since February's figure of 1.567 million units. The reading surpassed analysts' expectations of 1.530 million units in November, per a Reuters' poll. Building permits, a construction pointer for the coming months, increased 6.2% to a rate of 1.639 million units in the same month." 
As always, I don't care what the market does week to week. I care about owning the highest-quality, best-value, growing companies.
Final thought: Robinhood opened 60% of all new brokerage accounts this year, leaving all 30 or so competitors like Schwab, TD, E-Trade and full-commission brokerages to pick up the crumbs. There will likely be a reckoning down the road. Remember, most online firms have average client portfolio values of $100,000 or more.
Robinhood does not divulge this information but I am guessing $10,000 would be more like it. Robinhood markets investing like a new video game. That appeals to a lot of people who may have tasted the thrill of victory, but not yet the agony of defeat. If investing is a game, it can also be a most dangerous game. Those with a few years experience know that.
A wonderful New Year to all,

Additional disclosure: Unless you are a client of Stanford Wealth Management, I do not know your personal financial situation. Therefore, I offer my opinions above for your due diligence and not as advice to buy or sell specific securities.
Seeking Alpha's Disclosure: Past performance is no guarantee of future results. No recommendation or advice is being given as to whether any investment is suitable for a particular investor. Any views or opinions expressed above may not reflect those of Seeking Alpha as a whole. Seeking Alpha is not a licensed securities dealer, broker or US investment adviser or investment bank. Our analysts are third party authors that include both professional investors and individual investors who may not be licensed or certified by any institute or regulatory body.