PALANTIR
There is more to come in terms of price appreciation for Palantir. But I think we will see lots of back and forth over the coming days and weeks. The company is concluding their Demo Day remarks as I write this. There are no specifics yet on PLTR's blog, media or press release website -- though I'm sure there will be by the time we all get up tomorrow.
One thing they may divulge is the date of their Q4 earnings announcement. I expect to see it sometime in February. The company plans to end the lockup period 3 business days later.
At least some of the early accredited investors, who got in for a song prior to the DPO (Direct Public Offering), are likely to sell at least some of their shares. Palantir might be a great company but it is hard to pass up a 1000% gain (I am just speculating) rather than waiting for the next 1000%. (Did I mention I was just speculating?) If there are a lot of early investors selling it will most certainly drop the price of the shares.
I would consider that a buying opportunity. Indeed, in my personal account I have sold 3 PLTR February covered call options and sold 6 cash-secured put options. If we get the volatility I expect I could have the calls exercised and lose 300 shares at a higher price, then be forced to buy 600 at a lower price. Oh, darn.
I hasten to add, if the above paragraph already reads as if it is written in Ancient Greek, this is why I do not write about options publicly! So many other things can happen, including my strategic buy-back of the options, extending by calendar date or strike price, etc. For clients, I will manage options, but I won't slog through those weeds here, I promise!
The point is, I did not sell just because PLTR took a wild ride up. While the possible retracement has already begun -- the stock was down 2.4% today, and is already down 3.9% in the after-market -- I want to keep a core position.
Is there anything that bothers me about Palantir? Well, nothing fundamental. But I hate it when anything I believe in as a great investment catches fire on Robinhood or Reddit's Wall Street Bets or any of the other "Investing is BORing, day-trading is FUN!" sites.
If you missed it, here is the market action in one such stock, GameStop (GME).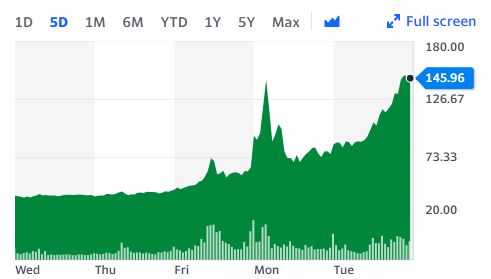 On Thursday the stock was 38.98. It closed today at 147.98, up 71.19 (+92.71%) per share. But that is not all. In the extended market hours today, it shot up to 209.26 +62.38. Someone is making money, you say? A few will get out but most will be greedy and cite Tesla and other skyrockets. Trust me. It will end badly.
Most of the people playing off the just buy anything with mo crowd find things like Palantir, with real fundamentals, way too boring. That's why I am happy in a way to see it coming back down here. My previous 1000% winners have all been companies that go up, then go down less, then go up, then down a little, then up. This "ratchet"-like rise means we shake out those who are just in it for a quick gain all along the way. But if you follow either of those sites (in my business I must, if only for my own amusement and bemusement) you will see PLTR popping up with some nonsense about how "someone heard" they will be the sole contractor the cloud or some other BS.
*********************************
Something just came up at my home. I must unexpectedly stop here, but I will have way more tomorrow. See you then!
Good investing,
Joe
I wrote this article myself, and it expresses my own opinions. I am not receiving compensation for it. I have no business relationship with any company whose stock is mentioned in this article.
Additional disclosure: Unless you are a client of Stanford Wealth Management, I do not know your personal financial situation. Therefore, I offer my opinions above for your due diligence and not as advice to buy or sell specific securities.