Sept 2020: "Why The Market Is Down 800 Points Today"
Please Note: Blog posts are not selected, edited or screened by Seeking Alpha editors.
Summary
The markets fluctuate.  Nothing goes straight up or straight down.
I selected Sept 2020 because on one day alone the Dow was down 800 points.
During such times -- or when it is up a like amount! - hyperbole reigns supreme.
Don't let such days or weeks upset your strategy.
Are you an investor or a day trader?
If the former, always keep your eye on why you are invested.  If "why I am invested" has changed, by all means change your portfolio!
If not, recognize that markets go up about 2/3 of the time and down 1/3 of the time.
Here is the S&P 500 you saw the month of September 2020, just 5 months ago, after climbing mightily from the depths of March 2020: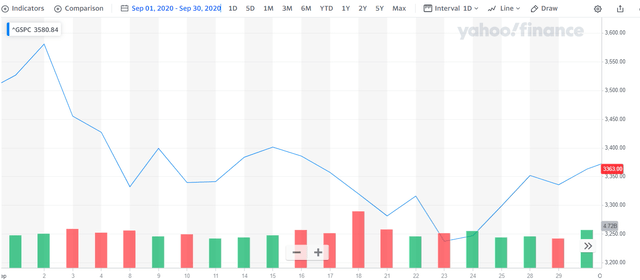 By the 21st, all was despair. The headlines told us we were never going to get the vaccine in time to stave off a Winter of Discontent as both flu and Covid were going to hit us with a double whammy.  They did not.
The election was up in the air. We were spending without any income. Most people were out of work. Etc.
The S&P 500 was down nearly 300 points that month, worse than the Dow. (Though 90% of the time it is the Dow that reporters report. Big numbers sound even scarier on the downside.)
Please remember that *no one knows* why the market rises or falls on any given day. That is because the market is comprised of thousands of hedge funds, pension funds, mutual funds and more, and millions of individual investors who might all get a wild hair to buy or sell based upon what others are doing or what the headlines are screaming.
"Who knows what evil lurks in the in the hearts of men? The Shadow knows." And The Shadow is dead. So nobody knows. But everybody has an excuse / reason -- after the fact.
Here is a snapshot of the market action for all of 2020: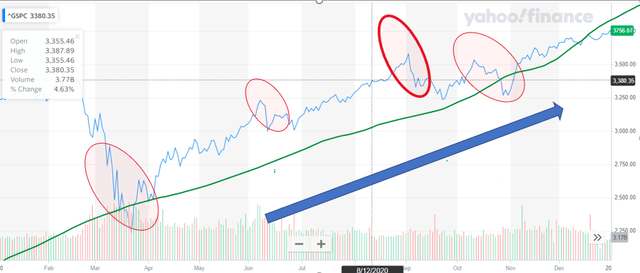 This chart shows that big bad September decline. I have highlighted it in bold red along with 2 other declines after The Big One in March. Notice that what seemed a rollover of a bull move was nothing more than a correction. I have often used the analogy of breathing in and breathing out. Every now and again as the market inhales, inhales and inhales on its way up, some little indicators tell it or force it to exhale. Having done so, it must inhale again and continue its climb *if* it is continue its upward climb.
I remain a student of fundamentals. Here is why I believe the US markets have further to climb after this correction, which will end at 3:27 EST today. No it won't. *No one knows* when it will end. Here is why I see continued strength, regardless of what today or this week hold for us.
(1) The 1st quarter of last year was horrible for corporate earnings. By comparison, this quarter ending March 31, should be incredibly good -- by comparison.
(2) We are moving slower than we would like but much faster than most predicted to distribute vaccine and vaccinate our people. If we get the bureaucrats to accept the help of military logisticians, it would go even faster. We know a thing or two about logistics and sustainability in the military -- our lives depended on it.
"Amateurs talk about strategy and tactics. Professionals talk about logistics and sustainability." -- Robert Hilliard Barrow, former USMC Commandant
(3) This means we are re-opening the economy faster than most realize. Hotels, cruise lines, airlines, restaurants and more will be the next to benefit. Workers will be coming back to work before the "We're from the government and we're here to help" helicopter money is even dispensed.
As usual, private companies and local grass roots Americans are moving faster than the politicians. They will still take credit, but who cares?
What To Do Now
Don't panic.
Use the opportunity to sell shares that showed extreme weakness or, if their volatility makes you crazy, exchange them for others.
Don't buy bonds or CDs.
Use the opportunity to add to your best positions with the best prospects.
Good, calm, rational investing,

I wrote this article myself, and it expresses my own opinions. I am not receiving compensation for it. I have no business relationship with any company whose stock is mentioned in this article.
Additional disclosure: Unless you are a client of Stanford Wealth Management, I do not know your personal financial situation. Therefore, I offer my opinions above for your due diligence and not as advice to buy or sell specific securities.
Seeking Alpha's Disclosure: Past performance is no guarantee of future results. No recommendation or advice is being given as to whether any investment is suitable for a particular investor. Any views or opinions expressed above may not reflect those of Seeking Alpha as a whole. Seeking Alpha is not a licensed securities dealer, broker or US investment adviser or investment bank. Our analysts are third party authors that include both professional investors and individual investors who may not be licensed or certified by any institute or regulatory body.