In Part I of this article, I made the case that if the mitigation of the environmental and economic impact is more pronounced and/or rapid than we now believe, a number of oil companies and oil service firms will do far better than their current prices indicate.  If the history of the other two biggest spills in history, that may very well be the case.  Here are two oil service firms I suggest for your further due diligence:
Oil Services, Onshore and Offshore
Weatherford International (NYSE:WFT) is one of the best-diversified oil service companies in the world.  With more than 50,000 employees in over 100 countries, WFT has 50 manufacturing facilities building rigs and equipment and 486 service locations (on every continent except Antarctica.)  As you can see below, in a comparison with Schlumberger, Baker Hughes, and Halliburton, WFT's compound annual growth rate exceeds any of their peers.
38% of the company's revenue comes from the United States and Canada; the other 62% comes from other nations.  Clearly, they are well-diversified geographically. I've commented before, in reviewing certain companies, that I liked their websites because they are not investor-focused.  It bothers me when I see a homepage clearly designed to appeal to investors, with the current price of the stocks squiggling across the top half and the company's latest investor pronouncements occupying the bottom half.  Give me instead a company like Weatherford that is clearly designed to elicit business from those within the industry. 
If you want to see just how complex the oil services industry is, may I recommend a visit to Weatherford's website.  There you can see the myriad  products and services that a  class outfit like Weatherford can provide.  By "covering the waterfront" (and what's below the water and on the land, as well) I believe Weatherford adds product and service diversification to its geographic diversification. 
The next two charts, courtesy of Ford Equity Research, compare WFT to a completely different set of peers and show not only where the company ranks compared to these competitors but also compared to its historical range in terms of price/book and price/sales.  As you can see, it is currently at the low end of these two key measures of valuation.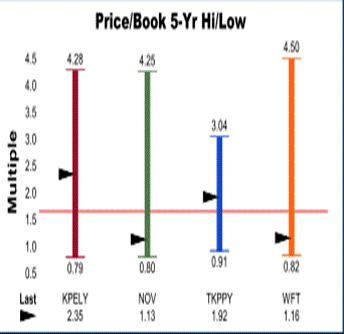 These charts show the current situation and the historical range for the company, but what about the future?  The three areas I believe Weatherford is strongest in are  shale, heavy oil, and deepwater services.   In the US, they are a market leader in services for oil and natural gas shale fracturing; in Canada they are a powerhouse in heavy oil extraction; and around the world they are respected as a leader in deepwater drilling.  I believe these regions and these specialties will propel Weatherford higher over the coming years.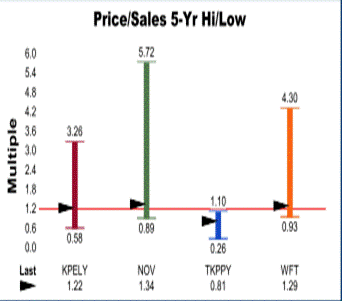 Oil Services, 100% Offshore
As a value investor, I want to own companies in a nation with good political and corporate governance.  Places like Canada, Australia, and Norway come immediately to mind.  This next recommendation comes to us from the Land of the Midnight Sun, which is also the land of harsh weather extremes and brilliant engineers.  The combination of the two has provided investors with a number of technologically-advanced opportunities within some of our favorite sectors. 
Seadrill Limited (NYSE:SDRL), as its name implies, is all about offshore drilling.  They, too, have one of those informative-to-potential-clients websites.  They do list their stock price, but I think only to avoid confusion between its price on the New York Stock Exchange and on the Oslo Stock Exchange.  (And that's stock listing is still smaller than the number of job openings they are posting on any given day -- right there on the home page!)
Seadrill is smaller than Weatherford, but also a purer play on offshore drilling.  They operate a versatile fleet of 48 different rigs for operations in shallow to ultra-deepwater areas in environments harsh and benign, using their semi-submersibles, jack-up rigs, tender and semi-tender rigs, and deepwater drillships to help their client oil and gas companies safely find and safely extract product from the world's oceans. 
Their workforce to allow them to do this consists of some 7,500 skilled workers, representing 50 nationalities, who operate in 15 countries on five continents.  And SDRL is still going full speed ahead in their chosen specialty -- they own the 2nd-largest ultra-deepwater fleet in the world (second only to Transocean, whose fleet averages 22 years old, while SDRL's is just 4 years old).  Seadrill also owns the biggest and most modern jack-up and tender rig fleet (RIG's fleet averages 28 years; SDRL's average is just 3 years old!) and, based on enterprise value, they are the  2nd-largest offshore driller in the world.  Their current contracted backlog is over $12 billion US.
Please notice I used the word "safely" twice above.  It is a word that appears regularly on SDRL's website.  When you have cut your teeth in the violent North Sea, you are either safety-conscious or an accident waiting to happen.  SDRL is serious when it says that it strives for zero injuries to people and no harm to the environment.  Two ways they do so are clearly stated in their written material: "We take the time necessary for thorough planning and execution."  Now there's a concept!  And "We respond immediately to unsatisfactory conditions."  I've crossed the North Sea in a storm; when you look outside and see 50 foot waves washing across the bow you gain immediate respect for the power of Nature of the even greater respect for those who have demonstrated a respect for it!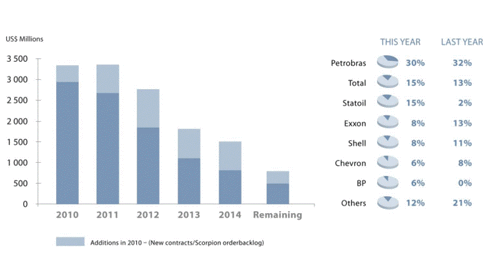 The biggest of Big Oil seem to agree.  The chart in the first column shows the firms that SDRL's backlog is comprised of.  Not a lot of likelihood of cancellation in this blue chip group!  Also on their website, under "Related Companies," they not only list all their affiliates but many of their competitors in deepwater drilling, as well, with direct links to their websites.  Now that takes confidence! To me it's like saying, "Here's our story; now check out our competitors.  You'll be back."
And I believe they will.  I discussed the age of their fleet above.  Why is this so important?  Because  the easy oil has all been found – the big companies hiring day-rate equipment now demand rigs with greater capabilities than the ones built 20 years ago can offer.  They are targeting possible finds in deeper water, extending deeper wells, and drilling into more challenging reservoirs in more remote locations.  To do this they need to use larger diameter well bores, bigger and more complex completions and advanced drilling fluids.  To do all this they need modern rigs designed for these more challenging environments.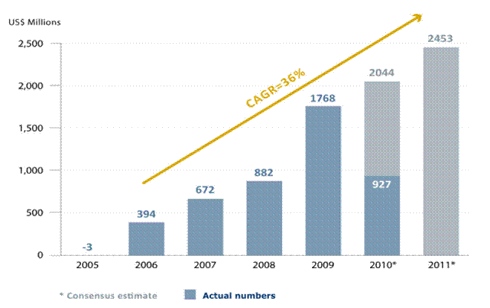 The company has built on its abilities in a typically Norwegian way: slowly, steadily, and keeping to their plan.  The results are impressive.  Unlike Weatherford, SDRL does pay a dividend.  Unlike most foreign firms that pay only twice a year, they pay quarterly.  And unlike many companies these days, they can afford to pay a hefty dividend -- just over 8.5% annually at the current price. 
Author's Disclosure:  We and those clients for whom it is appropriate own or are purchasing SDRL and WFT.  
The Fine Print: As Registered Investment Advisors, we see it as our responsibility to advise the following: we do not know your personal financial situation, so the information contained in this communiqué represents the opinions of the staff of Stanford Wealth Management, and should not be construed as personalized investment advice.
Past performance is no guarantee of future results, rather an obvious statement but clearly too often unheeded judging by the number of investors who buy the current #1 mutual fund only to watch it plummet next month!
We encourage you to do your own research on individual issues we recommend for your analysis to see if they might be of value in your own investing. We take our responsibility to proffer intelligent commentary seriously, but it should not be assumed that investing in any securities we are investing in will always be profitable. We do our best to get it right, and we "eat our own cooking," but we could be wrong, hence our full disclosure as to whether we own or are buying the investments we write about.