If current trends continue, there is no doubt that there will be wars fought in the 21st century over water.  Not oil. Not ideology.  Not theology.  Water.  Survival.
It takes somewhere between the three pounds of grain the National Cattlemen's Beef Association estimates and the sixteen pounds some environmentalists and vegetarians claim to produce a pound of beef.  I believe the truth lies closer to the cattlemen's numbers – all the ranchers I know, and I know plenty, graze their cattle where they consume vast quantities of weeds and natural grasses.  What business person wants to buy grain, adding to their cost of doing business? 
On northern-clime ranches, covered in snow in winter, ranchers have to provide hay or other feed to keep their cattle alive.  But often the supplemented feed is the garbage that is left after crops grown for human consumption have been extracted: things like almond hulls, tomato and other pomace, and a soybean meal that comes from the bean flakes remaining after the soy oil is extracted for those who demand only soy oil.  (Before any busybody with a need to tell others how to live gets their knickers in a knot, I just enjoyed my soy hot chocolate this morning --- while contemplating what kind of steak to put on the grill tonight…)
Whether you like the cattlemen's numbers or some other, one fact is inescapable – whether you are producing grain, meat, fruits or vegetables, you are using water – lots of water.  Fully 50% of America's fresh water goes to irrigate our crops and provide us with food.  Do you like whole grain bread?  I do.  According to Kansas State University, which might know a thing or two about wheat, it takes 151 gallons of water to produce one pound of wheat.
Concerned about world overpopulation devouring every bit of remaining food like locusts?  Then you are really concerned about the amount of available-for-use water.  The earth is comprised of 70.8% water and 29.2% land, but salt water comprises 97.5% of all the water on earth, fresh water just 2.5% -- and roughly 2/3 of that is locked in polar and glacial ice!  Humans will die if we consume salt water.  More on this in Part II.  Let's look today at the world situation for fresh water.
I have cautioned here and here that the headlong rush to buy emerging markets based upon their well-ballyhooed prospects, without conducting due diligence as to the problems they face in realizing those prospects, is folly.  Restricting my comments only to water…
…China has 1/5 of the world's population.  If life were fair, it would have 1/5 of the world's water.  It doesn't -- China has just 1/14 of the world's water supplies, and much of that is rank, dank, and polluted.  You think oil is important?  Try living without water.  Or with water too polluted to drink.  And problems have worsened considerably in recent years as the population burgeoned and factories dumped toxic pollutants into rivers and lakes.  A Chinese bureaucrat recently noted that 90 percent of China's cities and 75 percent of its lakes suffer from some degree of water pollution.   They have water – they just can't drink it.
Thanks to the World Resources Institute (http://earthtrends.wri.org/) we can compare the amount of Internal Renewable Water Resources (I.R.W.R.) on a per person basis from country to country.  Even with some of the world's largest rivers, China has just 2,173 cubic meters IRWR per person.  By contrast, Japan, also a rather densely populated nation, has 3,372 cu M per capita, Vietnam has 4,568 -- and India has just 1,211, barely enough to sustain life after taking into account agriculture, industrial, and consumption.
Since India is the BRIC 2nd-most-favored by the most analysts,  it's worth discussing in this context that, with all that crystal-clear show runoff from the Himalayas into some of the world's most renowned rivers, one would think that what water India has would be exceptional.  One would be wrong.  According to the World Health Organization, India discharges 95 percent of its untreated urban sewage directly into surface waters.  Of India's 3,119 cities, only 209 have even partial sewage treatment facilities, and just eight have full facilities. Downstream, the polluted water is used for drinking, bathing, and washing...
Those nations blessed by geography, especially in the higher and lower latitudes, with lots of snow and big mountains to filter pure water, are more fortunate.  Many in the middle latitudes are not so lucky (though some, comprising mostly rain forests, still are.)  The entire Mideast, for instance, has sand -- lots of sand.  And virtually no rainfall.  This includes Israel, but as you'll see in Part II, Israel has proven desalination technology – and the world's biggest desalination plant – and is, characteristically, already planning well for its future.
I first published the map below, courtesy of ITT Industries, in the September 2006 issue of Investor's Edge ®.  Nothing has changed since then.  Oil for water, anyone?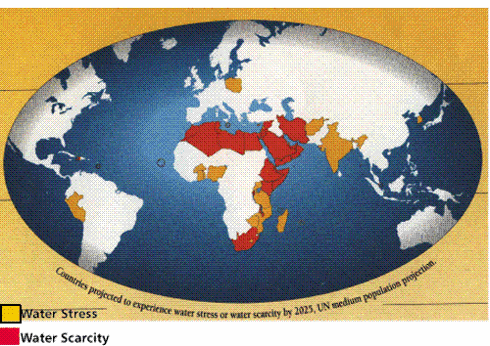 So who does have abundant water? 
Russia, half-covered with snow much of the year, has a surfeit of riches with 30,001 cubic meters IRWR per person, nearly 15 times that of China.  Maybe the Russians should be beefing up their border with China instead of blackmailing Europe over natural gas shipments.  All that fresh, clean water in Siberia has to look pretty good to China, a nation that, relative to its population, didn't have much to begin with and has soiled, sullied, dirtied, and polluted what little remains. 
Australia may have some of the driest deserts on earth, but on a per capita basis, their small population gives them 25,185 cu M of water per inhabitant, nearly as much as Russia.   Chile, with the absolute driest spot on earth, also has the snowpack of Patagonia, yielding 56,706 cu M.  And among the water heavyweights who had better start thinking about upgrading their homeland defense are Norway and New Zealand, with some 85,000 per capita, Canada with 91,000, Guyana and Suriname with about 300,000 each, and the undisputed champ, Iceland, with 599,944 cu M per person.
The US has nearly 10,000 -- not bad, considering we are ransacking the aquifers that took millions of years to fill in order to create false oases in the desert so this generation can have swimming pools in Las Vegas and Phoenix.  With this kind of developer-fueled profligacy, our grandchildren will reap the dust-bowl rewards.  But, for now, we can whistle past the graveyard.
Which companies are working to clean up our water supplies, help us use less in agriculture and other uses, and prevent the loss via transport?  I'll talk about most of the possible beneficiaries in Part II, which I'll be writing when I return to the office tomorrow night.  With 97.5% of the world's water comprised of salt water, we may well get our biggest bang for the buck in companies in that arena.  But there are companies working in the fresh-water world that will benefit mightily from their technologies and experience today.
I can't possibly do justice to these fine companies in the little space remaining.  But I can introduce you to them and discuss them in greater depth in the coming months.  Also, a caveat – if you are a regular follower you know that we are mostly in income and cash equivalents with lesser positions in precious metals and inverse ETFs.  We are not currently recommending any of the fine companies that follow.  We are recommending that you do your research now, however, so you are comfortable with the products and prospects of these firms and are therefore comfortable pouncing on them at what I believe will be lower prices.
First up is TETRA-TECH (TTEK).  This company does it all: consulting, engineering, program management, construction and technical services, all focused on resource management and infrastructure.  It is involved in the Big 3 going forward: water, environmental and alternative energy services. 
PENTAIR (PNR) has two primary business segments: Water and Technical Products. The Water Group is provides both products and systems used to move, store, and treat water. (The Technical Products Group is mostly about thermal management, designing standard and custom enclosures for electronics and electrical components.)
I don't want this to get too lengthy, so the last one I'll mention today is ITT.  It is not a pure play but, rather, a conglomerate (sorry! "Multi-industry company") that is in three primary areas.  Fluid Technology includes water and wastewater treatment systems, the pumps that make it all work, and related technologies. Motion & Flow Control provides products and services for the defense, aerospace, industrial, transportation, computer, telecom and marine industries.  And Defense Electronics & Services is a high-tech government contractor that deals with certain electronic systems and components, communications systems and engineering and applied research.  All are on the cusp of what the nation needs going forward.
Some people think because my firm currently, and uncharacteristically, has hedged short positions in order to protect our clients' assets, we are somehow not interested in the long side.  Au contraire!  Now is the time to be selecting the great firms that we believe will be available at even better prices during the dog days of summer.
I'll discuss my top "ag" and water play, LNN, a couple fine ETFs, and a whole bunch more, when I return to the office tomorrow night.
FULL DISCLOSURE:  We are not long any of these securities – yet.  But we're salivating at the prospect of buying them even cheaper.
The Fine Print: As Registered Investment Advisors, we take our responsibility seriously to advise that, since we do not know your personal financial situation, the information contained in this communiqué represents the opinions of the staff of Stanford Wealth Management, and should not be construed as personalized investment advice.
Past performance is no guarantee of future results, and it should not be assumed that investing in any securities we are investing in will always be profitable. We take our research seriously, we do our best to get it right, and we "eat our own cooking," but we could be wrong.  Finally, we will always disclose whether we own or are buying the investments we write about.