This article will look at the UGAZ/DGAZ Spreads I have been referring to in prior articles to compare and discuss repositioning opportunities that played out in Spread 1 (February to August 2013), and look at where we are in Spread 2 in order to consider trading strategy and opportunity.
If you missed the prior articles, you can read them at the following:
DGAZ Trade Target: Here
DGAZ Risk Analysis: Here
DGAZ and Leveraged ETF Performance Analysis: Here
Spread 1 Chart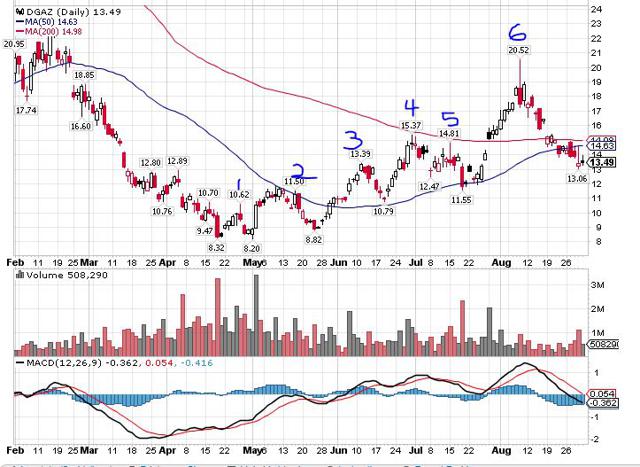 Notice first that going into the lows on DGAZ just ahead of the turn, there were small opportunities to reposition until the lows were flushed out. Any prices within a couple weeks of the lows, would have turned out to be strong cost basis for the eventual exit opportunity for nice returns, but being able to reposition cost basis down around 8.3 or 8.2 would certainly have enhanced the returns.
Lets review the repositioning opportunities (See blue numbers on chart to correspond):
After the 8.32 low, DGAZ ran to 10.62, 27% up move, offering the opportunity to sell shares and buy back as low as 8.20. Catching the high and the low would be a challenge, but offered a 23% re buy opportunity.
Next leg ran from low of 8.20 to 11.50, 40% up move, before returning to 8.82. That offered a 23% re buy opportunity.
Leg 3 ran from 8.82 to 13.39, a 52% up move, before returning to 10.79 offering a 19% re buy opportunity.
Leg 4 ran from 10.79 to 15.37, a 42% up move, before returning to 12.47, offering a 19% re buy opportunity.
Leg 5 ran from 12.47 to 14.81, an up move of 19%, before returning to 11.55, offering a 22% re buy opportunity.
The run to 6 representing the crossover peak of DGAZ vs UGAZ would have been the target selling opportunity for the range trade up with the ideal being 8.20 to 20.52 - a 150% return (not considering re-positioning opportunities).
Assuming a trader could reasonably catch these opportunities, profits could be significantly enhanced beyond the 150% move.
Now let's look at a DGAZ chart going into our current DGAZ/UGAZ spread for some analysis on where we are.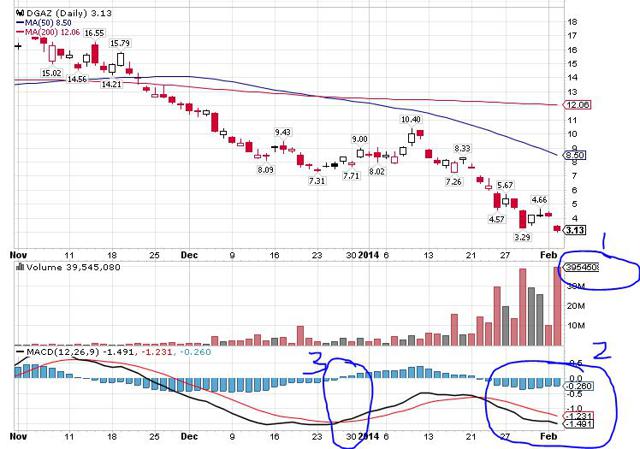 Some observations I would like to comment on to start with are, that on the spread charts I have provided, we appear to be at or very neat the maximum spread between UGAZ and DGAZ, looking for the low in DGAZ in order to begin the move up to close the spread. There is still risk for us to the downside and we need to keep our eyes on the fundamentals - the severe winter weather we have had to date, as well as the storage draws that have pulled the US to levels below the 5-year average. More Natural Gas injections will need to be made this year in order to replenish storage levels for next winter as well as manage through summer months while electricity demand will be up. Historically, these UGAZ/DGAZ spreads have always closed and DGAZ has crossed over UGAZ without any splits, however, there is only about 3 years of history on the UGAZ/DGAZ ETF's, and there is no guarantee that this time the spread will close as it has in the viewable history.
Now from the chart, where I have marked the numbers 1 - 3:
We are not alone in projecting that these price spikes will correct to the downside. Natural Gas prices are very much driven by the weather and following a severe winter, moderating temperatures and softening demand historically has provided softening Natural Gas prices. You will see that volume today in DGAZ was over 39MM versus UGAZ volume of only 2.7MM. This seems to indicate that most traders see that the upside is becoming more limited than the likely downside risk in Natural Gas prices and more are placing their investment thesis on lower prices in NG and higher DGAZ.
MACD is showing an oversold position still. With MACD below the line, a bullish confirmation has not occurred yet by a crossover the line to the upside. We need to watch for this confirmation to be more confident we have caught the bottom, or at least are in for a good bull side move.
The section circled at 3, shows an earlier MACD crossover that led to the prior bull run to 10.40; however, that was not the maximum spread in UGAZ/DGAZ and therefore, not the low in DGAZ.
Based on comments by traders I have been reading on Natural Gas, I think it is possible that the bulls push to try to get a finally rally tomorrow. Some are calling for high in the range of 5.4 to 5.7 and the extremes are calling for testing $6/mmbtu in Natural Gas. This could create a buying opportunity tomorrow going into the Storage report on Thursday, as most of the bulls are saying they want to be out before the storage report. The last few Storage reports have reported a little less draw than was estimated, causing a bit of a sell off each time.
A risk of course is, that we could have a report that the draws exceed the estimates and that might bring the bulls out for a final rally. At this time, this is what I anticipate to be the bottom in DGAZ for some time - if we did not already find it today. While there is winter weather this week over the course of the next 3 days that is really cold in the North East, temperatures across much of the US are beginning to moderate and the forecast so far is communicating this. The traders are talking about this now and how they want to be out before this happens and not be greedy on their upside.
One final note is, I am working on research and speaking with people I know in the Gas business to see if they can help me understand and anticipate the impact on NG pricing expected by the increased injections into storage required this year to replenish the low inventory. As I get more information there, I will share.
Disclosure: I am long DGAZ.
Additional disclosure: I may trade and reposition DGAZ shares based on dynamics associated with the Natural Gas Market. I may also trade in and out of UGAZ, or buy/sell calls and puts on BOIL or KOLD (2X Leveraged ETFs on Natural Gas Index).The thoughts and opinions in this article, along with all stock talk posts made by the Author, are my own and are shared on the basis of helping others learn, to provoke other points of view that help us all on our journey to become better investors. My posts are never intended to provide investment advice. Investors should always view multiple sources of information in their due diligence process.