For those who have joined in on DGAZ, these are interesting times and from here, we are all looking for the DGAZ bull. Natural Gas bulls once again took control last week. I've had some questions from several readers who are concerned about low storage levels of NG and how that might affect prices. Lets take a look at some of the dynamics, check where we are on some of the charts and see what we think still lies ahead for us.
First, on the EAI website, I found the following Supply/Demand model for Natural Gas.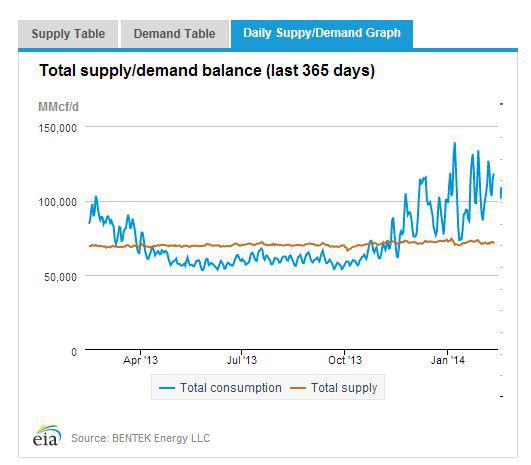 Supply:
The graph above covering from early last year through to roughly the current day, reflects how Natural Gas supply tends to remain relatively constant over time, with a mostly steady trend upwards. YoY, I read that last year, Production increased about 2% YoY.
Demand:
Demand over a year tends to fluctuate with much more volatility than supply, which is addressed with Natural Gas storage. You can see in the chart that during the cold winter months, demand spikes above the production supply so in order to meet demand during this time of year, withdrawals are taken from the many Natural Gas storage reservoirs throughout the US. The EIA site has tremendous information about the storage, growth in storage capacity, locations of the storage and types of storage if one is interested in going deeper into this portion of the story.
During the spring and summer months, demand falls below supply, a situation that normally reduces prices, and during this time, injections to storage are made in order to prepare for the next winter season demand spikes.
Storage:
Storage of natural gas provides our national network with load balancing relative to demand and ensures stable supply provides our businesses and residences with instant on power when we need it, avoiding disruptions in service.
Relative to understanding the dynamics associated with storage, lets look at the owners of storage facilities. Owners of underground storage for NG can include the following:
- Interstate pipeline companies
- Intrastate pipeline companies
- Local Distribution companies - normally own the pipeline networks that extend to residences and businesses as end-users of Natural Gas services
- Independent storage providers
Supply and Demand Market forces
NG Exploration and Production companies clearly have an interest in maximizing the price of Natural Gas they receive /mmbtu of production they sell to NG marketing companies. Because of the tremendous supply that has been discovered along with new fracking technologies used in our shale zones, NG saw some of the lowest prices in many years within the last 2 years, briefly trading below $2/mmbtu and having traded for a significant amount of 2013 just over $3/mmbtu. As a result of the abundant NG reserves in these shale zones, the rapid accessibility to supply, a number of E&P companies shifted their strategy to focus primarily on Crude Oil. This helped to stabilize prices a bit for those continuing to produce significant volumes of Natural Gas.
Storage Capacity Owners - Following a very mild winter at the end of 2012 and going into 2013, storage operators may have been more reluctant to build up the volumes of storage to levels of full capacity, despite low prices of Natural Gas. As one can imagine, the storage operators thrive on the cold winters to bring a premium to NG prices withdrawn from storage to help cover carrying and operating costs associated with management of the NG Storage. So, starting the winter season with relatively low storage levels, combined with a harsh winter season throughout the US, we have found ourselves in a position where demand has been greater than previous years and we have withdrawn more from storage than previous years resulting in storage levels significantly below the 5-year and 10-year averages. A chart below from the EIA site shows our current position.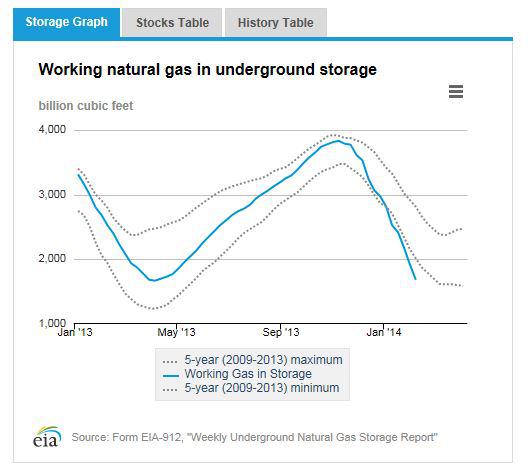 With knowledge of these things in the background, I think this will help to look at our current situation and think about what is ahead for Natural Gas prices and for DGAZ.
Natural Gas Pricing this winter
Natural Gas Prices have moved from around 3.4/mmbtu in early November, to more than 5.7/mmbtu on the recent spike in early February and closed on Friday at about 5.2/mmbtu. It is both the very high demand, the significant withdrawals and low storage levels that in my analysis, have driven Natural Gas prices up as much as they have - roughly 68% based on Natural Gas CME spot prices. Spot price distribution in the Northeast and other parts of the country have at times, seen much higher temporary prices.
My theory is that, having experiences these extremes in demand and the storage portion of supply and being at low supply levels, is the perfect storm that has caused NG prices to spike. But, I also believe is what will lead us to lower NG prices in the near future, as demand drops rapidly and storage withdrawals come to an end for this winter season and we begin to shift into the injection to storage season.
Storage operators don't want to pay high NG prices to replenish storage capacity they will have to carry over summer and fall months until we return to next winter withdrawal season. While they may be at low storage levels, I believe they will wait until NG prices fall before they purchase NG for injection into their storage facilities. Considerations will be there of course on forecast of NG prices and if the prices are expected to rise significantly, especially going into next winter season, storage operators may have some level of higher prices for purchase baked into their economic modeling.
From here, lets take a look at the Natural Gas Chart: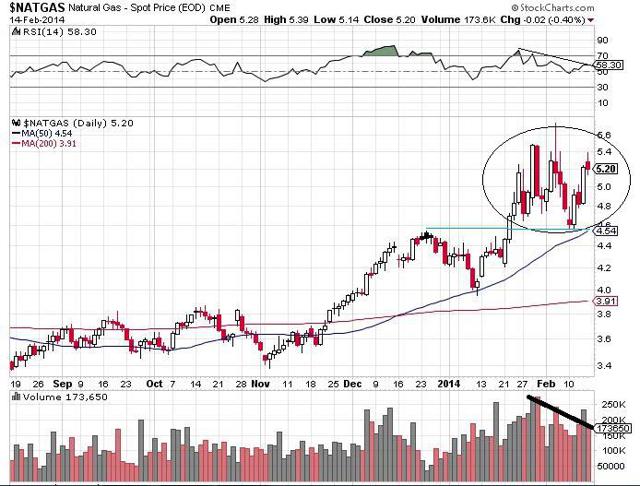 A quick glance at this chart and it certainly appears NG is on a big bullish trend and that prices could be headed higher. Bullish action has included:
- 50 day MA crossover the 200 day MA back in December and current prices well above the 50 day MA
- MACD has trended since December with higher highs and higher lows - a bullish indicator
So, on this basis, one could make the argument that we are headed for even higher prices on NG. So, lets look for any weakness that may exist in the argument to see if my theory has any support.
Studying RSI, we will see that RSI showed NG was in an overbought state in mid-December (RSI well over 70), and we had a correction in prices. Again, we hit an overbought position in late January and RSI is now trending lower. You will also notice that Volume is trending lower from late January to present. I think these are the indicators that represent where we are headed in Natural Gas. While possible we may see further price spikes, I think we are getting closer to the end of the spikes and already are beginning to see lower highs and lower lows. In fact, with the last major storm and a large storage withdrawal that exceeded estimates this week for the prior week, NG spiked but did not manage to even get back to the 3.4 level from an early spike, much less the 3.7 spike. From here, I expect this chart to break down and become more bearish in the near future.
Lets now look at an updated DGAZ chart.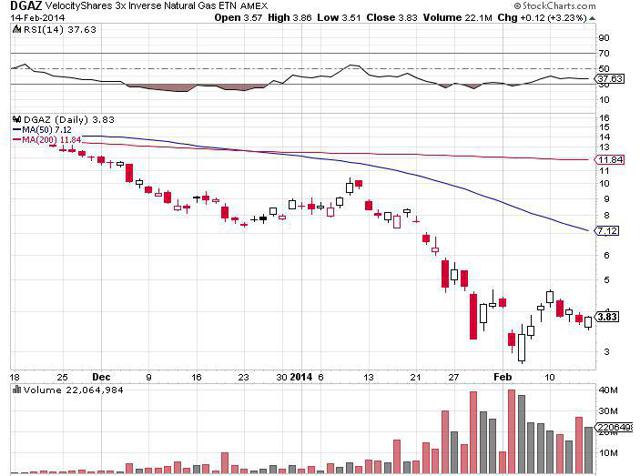 Despite the spike in NG prices this past week relative to the significant withdrawal on storage and the storm in the Northeast, this chart is still bullish. We received the MACD bullish crossover on Feb 10th and it is trending upwards, despite the price pressure.
Volume while it pulled back from peak, is still very strong for DGAZ. RSI is at 37.63, not showing we are oversold, but definitely at the low end of the range which shows we have some significant strength to gain here in the near future, especially if the NG price starts to fall down.
Conclusion:
Abundant access to US Supply should continue to pressure NG prices lower in the next few months, especially as demand falls and we work to the exit of storage withdrawal season to meet demand. Low levels of storage, while a concern going into preparing for NG pricing next winter season, I do not expect to drive storage capacity owners to have a desire to pay what they model as high prices. They will look for lower prices before beginning substantial injections to replenish storage at levels that will be profitable for them to carry.
While low historical storage levels will provide a little extra demand during injection season, my expectation is that this will have a small upward push on Natural Gas prices. My earlier projections were that during the next few months, we may see Natural Gas prices return to the range of 3.6/mmbtu. Perhaps the additional storage demand will hold prices up some and not quite achieve these levels. But, my anticipation is that will should come close to this level.
That being the case, I believe we have quite some room to run in DGAZ from current levels as mentioned in my prior articles on DGAZ. If my thesis is correct, I think we should begin to see lower NG prices in the next week or two and continuing as demand continues to fall. If this price action does not show up in the next several weeks, then I may have to re-evaluate, but for now, I believe we will be headed to lower NG prices and higher DGAZ here very soon.
Disclosure: I am long DGAZ.
Additional disclosure: I also am long BOIL puts. I may trade and reposition DGAZ shares based on dynamics associated with the Natural Gas Market. I may also trade in and out of UGAZ, or buy/sell calls and puts on BOIL or KOLD (2X Leveraged ETFs on Natural Gas Index).The thoughts and opinions in this article, along with all stock talk posts made by the Author, are my own and are shared on the basis of helping others learn, to provoke other points of view that help us all on our journey to become better investors. My posts are never intended to provide investment advice. Investors should always view multiple sources of information in their due diligence process.