For those who have been on the Natural Gas and DGAZ trade journey with us over the past couple months, you know it has been a wild ride. All I can say is, Wow! What a ride. And, why did I pick this year to write articles to share my thoughts, analysis and what I am doing in my own trading? At the same time, the learning opportunities don't get any better than this. The question I continue to have asked, and I continue to ask myself about finding the bottom in DGAZ is, "Are We There Yet"?
Who would have guessed we would have the most severe winter storm in many years that affected almost all of the US with much lower than normal temperatures and a long period of time creating record Natural Gas Demand and record withdrawals from storage against the 5-year and 10-year history. Then, a second one, and a third one! The Natural Gas bulls must love this winter more than many others in the past.
In this article, I want to go back to review the original assumptions from earlier risk analysis, consider the latest information on where we are on Natural Gas Fundamentals and perform additional analysis on what lies ahead from today.
The original assumptions I defined on my thesis were as follows:
1) Past performance patterns associated with UGAZ/DGAZ behavior will be indicative of future performance patterns.
2) Natural Gas prices within the next 3 months will revert to the target range of 3.4 to 3.8/mmbtu.
3) Winter severe weather has mostly passed and temperatures on average should continue to moderate during the next few months.
Evaluation of Assumption 1: This assumption was one that drove modeling of my trade strategy for DGAZ during this winter to the spring transition cycle. It is based on the pattern behavior of UGAZ and DGAZ to create a spread, then close the gap on that spread and cross back over. See chart below for the latest:

Circled spread 1, you can see how UGAZ and DGAZ diverged, and then closed the gaps where DGAZ came back to cross over UGAZ. In the smaller spread after this, you see the same pattern. Unfortunately, we will not know for certain whether this Assumption turns out to be true until after the fact. I still believe this is the pattern we will see. Based on the cycle of the spread, I would approximate us to be in the stage of the spreads highlighted in yellow with this latest spike in NG/UGAZ and still working the lows in DGAZ. One thing to note is during this spread, spikes in NG and UGAZ have been severe, which has caused additional NAV erosion in DGAZ driving us to these lows - below what I would have anticipated when developing my trade thesis.
Evaluation of Assumption 2:
There are arguments from bull and bear camps on both sides of this for where Natural Gas prices will return by the April/May time frame. Some bulls say we are going higher (I've seen some say $7/mmbtu and some up to 9-12 range). The bull arguments being - that there is more severe cold ahead, more record withdrawals on storage inventory that is lower than the 5-year and 10-year average.
On the bear side, there is the ample supply argument. EIA charts show that Natural Gas production continues to grow. We have ample reserves in shale zones and plentiful Natural Gas that can be produced at low costs. Many bears I still see writing that they believe we will see Natural Gas in the 3.X levels again in this time frame.
When I made this assumption, I did not know how severe our winter weather would turn out, or that we would make withdrawals on US storage levels to the extent we have.
What supports the bear side of this argument is that we are seeing the transition in weather patterns across most of the US - with the main exception being the East Coast, which has continued to be hit by severe weather. The month of March, since 2007 has been a Net Injection month into Storage, rather than withdrawal season (See Chart below)
Accumulated Injection-Withdrawal Days

 
 

1998

1999

2000

2001

2002

2003

2004

2005

2006

2007

2008

2009

2010

2011

2012

2013

2014

Jan

-450

-578

-570

-359

-495

-512

-561

-390

-602

-626

-489

-245

-447

-486

-598

-563

-593

Jan

-356

-446

-636

-404

-426

-308

-242

-283

-278

-375

-302

-479

-434

-306

-371

-523

-387

Feb

-324

-467

-403

-255

-384

-28

-111

-307

-125

-197

-219

-46

-249

-213

-152

-68

-224

Mar

-175

-76

-175

-142

-75

-159

72

-240

0

65

52

35

112

103

95

101

98

Apr

60

114

141

169

51

114

93

184

105

145

89

0

263

215

236

282

277

May

264

274

218

250

261

238

259

279

247

277

249

236

276

254

0

265

260

Jun

270

224

253

255

252

248

268

263

234

247

243

203

226

201

211

219

231

Jun

0

220

245

235

205

187

238

222

190

215

236

178

157

217

187

208

154

Jul

123

128

188

0

214

255

253

221

222

227

211

203

211

256

183

165

142

Aug

220

193

166

167

201

219

0

252

277

269

256

271

238

270

263

276

272

Sep

246

274

248

269

277

249

254

255

250

0

213

179

135

216

176

197

174

Oct

123

176

203

186

140

226

166

136

231

199

184

186

0

-188

-222

-178

-34

Nov

36

-197

57

-139

-51

-40

-34

-18

-81

-95

33

-74

-6

-94

-135

0

-493

Dec

-354

-406

-321

-354

-653

-276

-418

-379

-404

-477

-254

-390

-423

-474

-514

-295

-253

TOTAL

-317

-567

-385

-121

-484

414

238

196

266

-127

501

258

59

-30

-642

87

-377

 
 
Chart sourced from: http://www.firstenercastfinancial.com/energy/
Evaluation of Assumption 3:
This assumption was made when I wrote the article on Risk Analysis posted February 1st. This assumption has certainly been violated with continued severe weather across the US the first 2 weeks of February and more severe weather this past week on the East coast - although we see the moderating patterns across most of the remainder of the US. So, this would place some additional risk to my thesis and certainly earlier thoughts on Natural Gas Price Targets and DGAZ targets.
Analyzing where we are with Natural Gas Demand, Supply and Storage:
Lets take a look at current Storage levels and estimates:

Periods highlighted in green are already covered by EIA storage reports. The yellow highlighted periods are estimates taken from information on the First Enercast Financial Website where the Accumulated-Injection-Withdrawal days is referenced above. Still unknown is whether these estimates are accurate, or whether we will actually see net injections in the March periods as we have since 2007. At one time, I saw a Forecast on the EIA site for storage levels on April 1st that showed as best I recall - a best case scenario of 1,100 bcf and a worst case scenario of 960 bcf but have been unable to find that forecast model again.
From the EIA site, below is the current EIA model comparing where we are versus the 5-year and 10-year average for this time of year: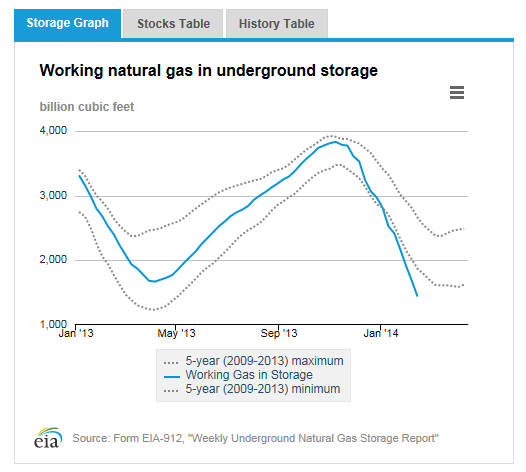 Supply continues to be an unknown. On the bear side of the argument, we have plentiful shale zone supply in the US and companies can ramp production rapidly, especially with incentives while prices of Natural Gas are elevated. We have all read about how many companies producing crude, will just flare off the Natural Gas because prices have not been conducive to the same levels of profitability as Crude. The severe weather has caused disruptions to supply but with milder weather now, these companies have been able to restore the production.
On the bull side of the argument, the bulls say, any production increases would take time to bring online and won't address the increased supply timely enough.
Relative to pricing in the next couple months, my thoughts are this. When spring weather proliferates across the US and this winter weather does subside, demand will drop rapidly and will fall below supply. Supply typically remains relatively flat across the year, while demand is where fluctuations occur - addressed in my prior articles but a good graphical representation here.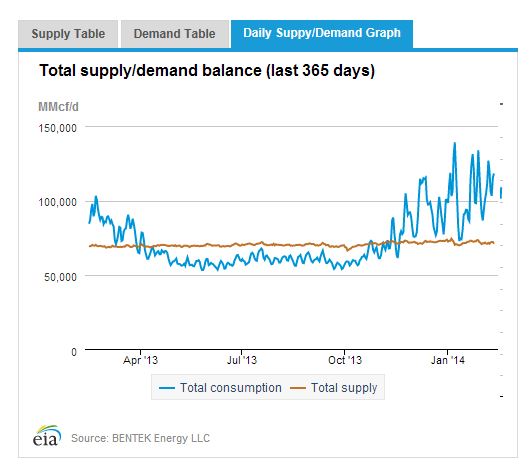 When demand falls below supply, Natural Gas prices will fall from these spiked, elevated levels. And, I suspect they will fall rapidly. From our investment perspective, the question is - to what levels will we fall? Will low storage levels continue to hold some elevation to the price? Certainly the bulls will try to hold this out over prices but it is yet to be seen how much a factor this is. If Supply is greater than demand for several months, then one possible view is that Storage doesn't matter. We don't need storage withdrawals during spring, summer and fall months. Now, if we are looking to what Natural Gas prices are going to do next winter - well, it will be important to evaluate around the end of October where our storage levels are then from the injection season.
What seems reasonable to me is this. Demand may be somewhat higher this injection season (March through October) than it has been in recent years to make up for the Storage shortfall. If commercial/residential demand makes up a good bit less than supply, but there is additional demand from Storage service providers (then net demand will be higher than prior years), and this will have some effect on NG prices. But, Storage providers are not going to be eager to replenish storage if prices don't fit their economic modeling. So, this will tend to temper the pricing to "reasonable levels" with all things in balance. Will that mean we get back to 3.6/mmbtu prices? Will it mean 3.8/mmbtu? 4.0/mmbtu? I'm not sure anyone has the answer to that question. But, for producers, the prospect of increasing margins because of even a continuous increase to 3.8/mmbtu over 2013 pricing levels, I would think would be compelling enough to drive up production rates.
Likely factoring in to some of this equation will be the continued actual versus estimated withdrawals or injections going into March as well as forecast or changes in forecast for injections over the injection season.
| | |
| --- | --- |
| April Estimated Storage | 1,100 bcf |
| 5 year average | 1,800 bcf |
| 10 year average | 1,600 bcf |
|   |   |
| Nov 1 Estimated Storage | 3,500 |
| 5 year average | 3,800 |
| 10 year average | 3,600 |
|   |   |
| Injection Season estimate | 2,400 |
| 5 and 10 year average | 2,000 |
Performing Analysis on DGAZ. Now let's take a look at DGAZ for considerations on performance against our trade considerations. First, we need to discover where the bottom is so that we can begin to make projections for what our move and potential is from the DGAZ trade.
Below is a current 3-month chart of DGAZ: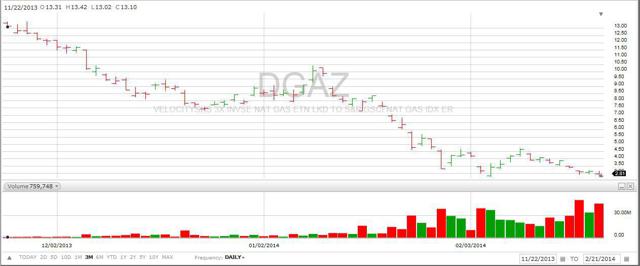 One looming issue is associated with what is known as the Widow Maker spread in Natural Gas - the March/April spread. Many stories can be found on Google searches - those who have made and lost based on betting the spread would close or not. Let's take a look at the Mar/Apr spread now. Below is a snapshot of the current contracts.
Natural Gas Futures Contracts
Delayed Futures - 12:10 - Saturday, February 22nd
| | | | | | | | | | |
| --- | --- | --- | --- | --- | --- | --- | --- | --- | --- |
|   | Month | Last | Chg. | Open | High | Low | Volume | Time | Chart |
|   | | 6.200s | +0.275 | 0.000 | 6.200 | 6.200 | 0 | 02/21/14 | |
|   | | 6.135s | +0.071 | 6.068 | 6.308 | 5.880 | 113326 | 02/21/14 | |
|   | | 5.012s | +0.156 | 4.848 | 5.047 | 4.816 | 117858 | 02/21/14 | |
|   | | 4.766s | +0.097 | 4.667 | 4.769 | 4.621 | 55358 | 02/21/14 | |
From the chart, you can see that Mar closed at 6.135 and Apr at 5.012. On Wednesday, the March contract expires and Natural Gas will be rolled over to the April contract. Let's consider what might happen here:
The spread does not close any further. March contract stays where it is and April stays where it is.
The spread partially closes
Mar moves down some and Apr moves up
Mar moves up and Apr moves up
Mar stays the same and Apr moves up
3. The spread fully closes - Mar moves up, stays the same or moves down some and Apr moves up to close the gap
The most likely scenario here, is contained in 2 above, as the expectation continues for milder climate and eventual entry into the injection season.
Weather forecast:
Putting near term pressure on the Apr contract, for which DGAZ NAV is already aligned to, is the forecast for more cold this upcoming week in the North East and extending into the Great Lakes later this week.
See link here: http://www.weather.gov/forecastmaps
With this forecast, which should already be mostly priced in and considering our recent experiences, this should tend in the coming week to hold up the Natural Gas prices and perhaps elevate it some, providing lower prices in DGAZ. With a warming trend in most of the US outside the areas affected by this storm, we should see a lower withdrawal number from storage on the storage report Thursday, which should start the process of correcting Natural Gas prices and providing some increase in DGAZ.
DGAZ rolls monthly contracts on the 5th through 9th day of each month. I analyzed the roll from the Mar to Apr contract to see what the impact on DGAZ prices was. I believe this process minimizes the impact on the rollover process from a front month contract to the following month by performing this on a measured basis over the 5 day period.
On Feb 6th, DGAZ closed at 3.60 - the day before rollover occurred. On Feb 13th, the day the roll was completed, DGAZ closed at 3.71. This was during a period where Mar contract prices continued to rise so the roll actually worked out well for holders of DGAZ. We were also spared the dramatic run up of Mar contract prices to over $6.3 in this recent spike - pending how much movement upwards the Apr contract may receive this week.
Conclusion:
My expectations are that we will see pressure on the Apr contract prices upwards a bit during this upcoming week, providing lower DGAZ pricing (and a buying opportunity) or repositioning opportunity if one has sold higher prices shares to look for lower re-entry on those shares - or, has held some reserves for better pricing opportunity.
Following the storage report next Thursday, I hope we see a lower withdrawal than expected and a rally in DGAZ. Further, I hope we will much more confidently be able to answer the question - Are We There Yet? - with, Yes. We have seen the bottom in DGAZ and are now set for a steady climb to close the UGAZ/DGAZ gap and find the crossover.
Risks for the Bullish DGAZ trade from here:
Additional extreme cold weather that would not be customary for this time of year beyond the current forecast causing withdrawals to continue further, and perhaps draw even more than worst forecasts to the downside at present
Pricing dynamics that hold Natural Gas prices up substantially relative to low storage levels and the need to replenish so much storage to prepare for next winter
Limitations to supply or injection capacity constraints
Continued violation of any assumptions
If the assumptions play out well and Natural Gas prices do recede to levels in the 3.6 to 4.0/mmbtu levels by the April/May time frame, I still see there being significant upside from these levels in DGAZ. If the Assumptions are blown, the risk factors turn out to be more substantial than expected and Natural Gas prices don't correct, then the DGAZ trade will be more limited in its upside during this time frame.
My thoughts on trading from here:
I plan to watch pricing dynamics on Sunday evening/Monday morning on Natural Gas and may consider buying some call options on BOIL - if it appears prices on the Apr contract may in fact be headed higher early in the week. I will also be looking for a bottom in DGAZ prices around Wednesday and Thursday morning prior to the Storage report, and looking for some level of rally in DGAZ following the report.
Based on that rally, I may sell some portion of shares of DGAZ. If we do find the bottom this week, or have already seen it, on the way up in DGAZ, I will still use the cycles to reposition shares more favorably by selling on rallies for greater than 20% moves and buying back on dips.
Then, if the assumptions and risk factors continue to make DGAZ life difficult, I would be forced to look for the right exit from the positions I hold in DGAZ and BOIL puts.
I am not compensated by any parties and have no affiliation with any products mentioned. Thoughts I share are on the basis of what I do in my own trading and collaborating with a broad base of interested individuals with the goal of driving greater learning and improving our investing capabilities. Sometimes my trades work out quite well and after years of learning, sometimes they don't work out. With all that we together have put into the thoughts and analysis on this trade thesis, it is my hope that we will all find a way to be profitable on our associated trades - as well as be better equipped with tools and learning need to make us manage future positions more effectively as well.
Disclosure: I am long DGAZ.
Additional disclosure: I also am long BOIL puts. I may trade and reposition DGAZ shares based on dynamics associated with the Natural Gas Market. I may also trade in and out of UGAZ, or buy/sell calls and puts on BOIL or KOLD (2X Leveraged ETFs on Natural Gas Index).The thoughts and opinions in this article, along with all stock talk posts made by the Author, are my own and are shared on the basis of helping others learn, to provoke other points of view that help us all on our journey to become better investors. My posts are never intended to provide investment advice. Investors should always view multiple sources of information in their due diligence process.