On Friday, I posted on Robert Edwards forum that I was exiting my long position on TNA at 65 selling into strength, as I just did not like the action last week as we found new lower lows and lower highs have been trending down.
Taking some time to study the chart, the 1 Month/30 Minute time sequence chart shows a descending triangle. These patterns I have read result in a breakout to the downside about 64% of the time. Prices can reverse and breakout to the upside and often when this happens, it can be an even stronger move.
However, tracking small cap stocks and the Russell 2000 Index lately, it has been trending weaker. Credit Suisse on Friday stated they believe small caps are in for more downside. One article on SA suggests that these downward pressures on small caps will drive increasing M&A activity, especially as large companies on the whole have large cash positions and favorable borrowing conditions.
Lets take a look at the TNA 1 Month/30 Minute Chart and the trend lines I have drawn: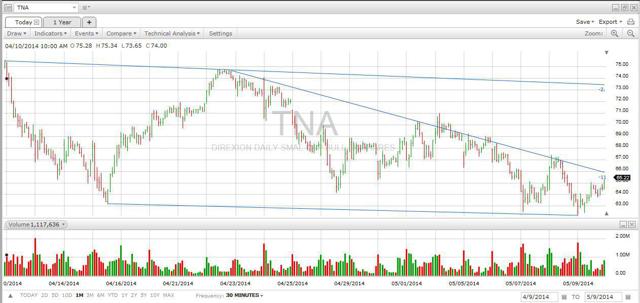 Based on this chart and the descending triangle, there is a 64% chance that we break the lower support around 62. If we close below the lower support, then I will consider entering a short position on TNA - note this can be done with the TNA Inverse, TZA, or by purchasing put options on TNA.
Interestingly, RSI is at 38.45, leaning toward oversold and MACD is pretty much neutral. If the prices on TNA gain sudden strength because of bullish markets this week and we close above 66, then I would consider a long position.
Short side break out:
- Buy on close below 62 and look for target at around 56. Stop area could be considered around 64 to 65.
Long side breakout:
- Buy on close above 66 and look for exit around 72.5. Stop could be set around 61.5, just below support.
I will be looking for the volume, action in the market indexes and behavior of the Russell 2000 to provide a sense for which way TNA is going to work in the near-term, and look to trade the breakouts if I'm convinced they are clearly communicating the near-term direction.
Here is some additional information helpful to trading the Descending Triangle pattern breaking out to the downside.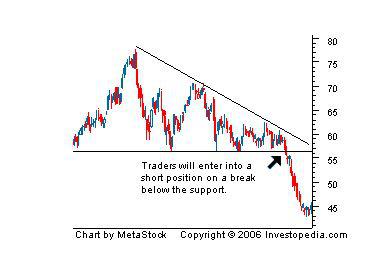 Disclosure: I have no positions in any stocks mentioned, and no plans to initiate any positions within the next 72 hours.
Additional disclosure: I sold out of my TNA long position and have no current holdings. Based on a breakout to the upside or downside of this pattern, I may trade long or short TNA or TZA and/or enter into long or short positions using calls, puts or spreads. The thoughts and opinions in this article, along with all stock talk posts made by the Author, are my own and are shared on the basis of helping others learn, to provoke other points of view that help us all on our journey to become better investors. My posts are never intended to provide investment advice. Investors should always view multiple sources of information in their due diligence process.