This past week, I published an article, TNA Retreating After Rally and mentioned how I had gone short on TNA at the top of the rally. Lets look at an updated TNA 3 Month Daily Chart to view how this trade worked out, what steps I took in my own investing, where we are now and what I think is ahead.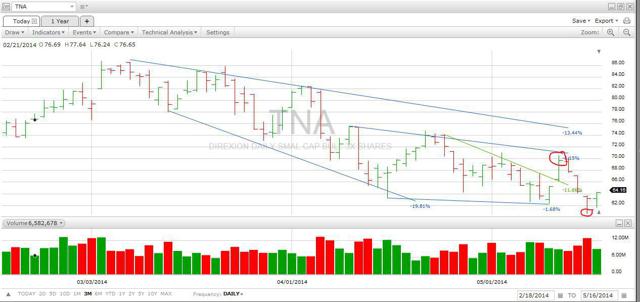 On 5/12 when the price crossed above 70, I accumulated short positions on TNA by purchasing weekly call options on TZA (the 3x Inverse of TNA). This move was very fortunate and timely as I was able to exit that position on Thursday, 5/15 for a 364% profit on that position. When you time a position like that, you always wish you would have had a much larger investment on the front-end! But, it was a fun trade regardless.
When I sold that position, I immediately took a position to reverse and go long on TNA, as my expectations are we are going back bullish from here. I was able to make this decision as the bear move was stalling, strength was returning to the long side on TNA and indicators like stochastics, RSI and MACD were showing a trend turn beginning. Further, if we view the 1 year chart, you will see that the blue line indicates the low support on TNA where we hit the lows on 2/5 before the rally and sure enough, this is where we found support.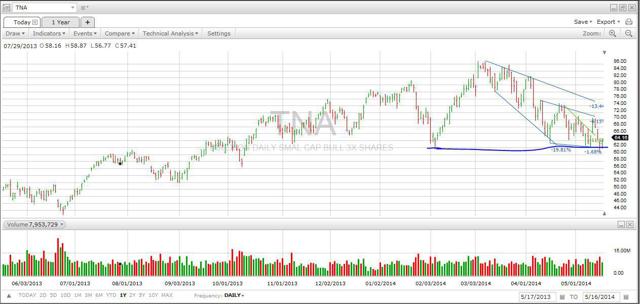 Because the Russell 2000 index has pulled back more than 10% at its lows, this has caused some analysts to come out suggesting the index is in a correction and it is going down another 15%, but I don't buy this based on what I'm seeing.
Here is a good article, in my opinion, taken from Fidelity's site this morning that provides some analysis based on facts and reasons that we should see bullish strength from here. Note especially toward the end of the article, where inflows back into the R2K ETF IWM are at their highest again in 4 years! Article link is here: https://news.fidelity.com/news/news.jhtml?cat=Markets.US&articleid=201405161956RTRSNEWSCOMBINED_BREA4F0RN_1&IMG=Y
Conclusion:
My current bullish position is trading weekly put options on TZA expiring next Friday, but I do see this as a good time to accumulate positions in TNA at these prices, especially looking toward a time horizon through the end of the year. I plan to trade the cycle trends and may consider adding a longer-term hold position in TNA that I would ride any volatility to get what I think will be a bull run by end of the year from these levels.
Disclosure: I am short TZA.
Additional disclosure: I am long TNA (via weekly put options on TZA). Depending on how TNA and TZA trade over the near-term, I may trade long or short TNA or TZA and/or enter into long or short positions using calls, puts or spreads, as well as consider going long TNA by purchasing shares of the ETF. The thoughts and opinions in this article, along with all stock talk posts made by the Author, are my own and are shared on the basis of helping others learn, to provoke other points of view that help us all on our journey to become better investors. My posts are never intended to provide investment advice. Investors should always view multiple sources of information in their due diligence process.