CLP ...think you're immune ? Slowing development = sell copper = not good for Chilean Peso and economy + USA tapering = selling of many markets and currencies.
Sure glad for any properties priced in Chile that did not buy when USD = only 475 to495 .... now at 555 for 1usd ... call it a loss of 60 to 70 pesos which is 12 to 14%!! not a good way to start off with an overseas purchase.... and glad did not do it ... and how many % points does the promoter group get? (probably not low, b/c they'll sell u/tell u it's "exclusive' like it's the only opportunity) ... no, no way, Jose
I'll pass on Chile for now.... Chilean Peso - has another10%+ to the downside ... a lot of hot money went searching for investment abroad , for yield and other purpose, as dollar was sabotaged via QE money printing, over several years. Much of that hot is going elsewhere these days, just the beginning of the "exodus" and reverting to new equilibrium. Look at the charts of several currencies and they are reverting to near or worse than their peaks in 2009 crisis time. Not a good way to begin an invest down 12-14$ + another 10% or more ... who knows how long the uunraveling will take .... and copper inventory/stockpiles continue to grow in China (biggest consumer of the industrial metal ,an important part of Chile's exports) .... so, i'll pass ... already saw what happened to that Mongolia currency from all that hype, too ... funny thing is the market/developed world collapsing is putting a lot of pressure / strain on the developing world - which would / could collapse first ? interesting.
of course this assumes the Chilean gov't does not intervene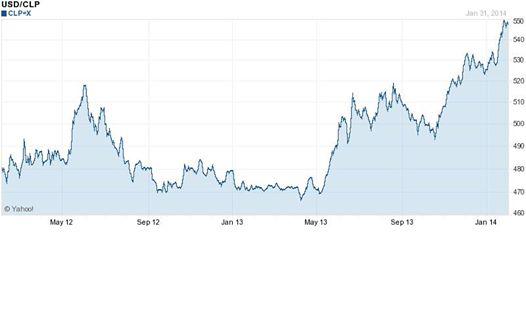 whoops , the Chilean Peso ...did it again ... again, why over past few months listen to those daily newsletter writers, one of which has been promoting Chile for 6+ months ...oops kerplunk goes the currency..... do your own due diligence ,,, the email from this guy/group of ppl says they have the BEST (not ok/pretty good, but THE BEST) experts ... doe not look that way
Chile economy slowing , mention that government may consider stimulus ...uh oh, that's like printing money (smth that some daily newslatters rag on abt other gov'ts of the world doing ... now may happen in Chile) http://www.tradingeconomics.com/chile/interest-rate