Neurometrix - Huge Upside Potential , Limited Downside
About:NURO Includes:LIVE, PLUG, SPEX
Summary
Huge growth potential based on the recent partnership with Omron medical devices into the China market and now targeting the Japan market as well.
The management is heading into the direction of growth based on recent developments updated on their last earning report including 1448 devices sold in Quarter 1 of 2014.
Recent development for an over the counter device to complement SENSUS will generate more revenues through the retail channels making it more available to the market.
(Editors' Note: This article covers a micro-cap stock. Please be aware of the risks associated with these stocks.)
Neurometrix (NASDAQ:NURO) is a medical device company that develops and market home use and point of care devices for the treatment and management of chronic pain , peripherals neuropathies , which affects over 50% of people with diabetes. The annual cost of diabetes neuropathies has been estimated at $14 billion in the United states alone. The company markets the Sensus Pain management system for treating chronic pain , focusing on physicians managing patients with painful diabetic neuropathy. The company also markets the DPNcheck device which is a rapid , accurate , and point of care test for diabetic neuropathy.
Earning report
Recent Earning report shows a lot of growth potential.Worldwide revenue from Sensus and DPNcheck increased to $473,000 from $349,000 reported in Q1 of 2013 , a 36% YOY increased loss was -0.21 per share which has improved from a net loss of $1.06 per share during the same quarter last year has $7.6 million in cash which can last thru the next few quarters.
That is a sign of sequential growth which investors should take notice of. EPS per year has been on the steady climb from year 2009 till 2013.
Based on diluted EPS -
Year 2009 EPS of (-$25.59)
Year 2010 EPS of (-$26.41)
Year 2011 EPS of (-$15.53)
Year 2012 EPS of (-$5.22)
Year 2013 EPS of (-$3.07)
EPS is now slowly creeping up into the positive territory and recent growth and penetration into the Asian markets has truly be reflected in their recent Q1 conference call for the year 2014.
Partnership
Neurometrix recently announce another major step by forging a partnership deal with DJO global to market their medical products in USA. There was also a collaboration partnership with OMRON medical; a major distributor of medical devices in China & Japan. This was truly the kind of move most investors were looking for.
During the first quarter of 2014, 1448 SENSUS devices were sold compare to 358 devices the quarter before.Now that is more than 400% climb from the previous sales.This growth reflects the continuing push by the management team to widen their products reached not only in the developed markets like USA and Japan but also into emerging markets like China and Korea.
Recent development
Neurometrix also reported on the Publication of Study demonstrating that NC-stat DPNcheck is effective at detecting Diabetic peripherals Neuropathy. Moreover, the study expands the large base of clinical evidence supporting the effectiveness of NC-stat nerve conduction measurement technology.
This was a another major step into the management relentless push on their medical product into this niche and barely untapped Neuropathy diabetes market as the study clearly shows the benefits of NC-STAT DPNcheck. The conclusion from the study shows that DPNcheck could be used as a confirmatory test for DSP (DPN). More of the study could be found in this link here :www.plosone.org/article/info%3Adoi%2F10.1371%2Fjournal.pone.0086515
As mentioned by the management team recently, NeuroMetrix has Submit Regulatory Application for NC-stat DPNCheck in Japan with the collaboration of Omron medical devices. This was further strengthened with the addition of Dr. Jiro Nakamura who will be a valuable resource in the launch of DPNcheck into the Japan market
Management has also announced that the team is into the development of an over-the-counter chronic pain therapy which will complement the SENSUS device. The device through retail channels can expand the overall market for its wearable pain therapy technology and accelerate growth.
The management has also launched its second Generation SENSUS device. As quoted by the CEO ,
The launch of our second generation SENSUS device demonstrates our scientific capabilities in wearable medical technology and commitment to continual innovation. Feedback from patients and physicians on the over 2000 first generation devices in use has been positive and provided us with a road-map for further improvements, many of which are incorporated into the second generation device," said Shai N. Gozani, M.D., Ph.D., President and Chief Executive Officer of NeuroMetrix.
What struck me was this ; as quoted by the CEO stating
Opportunities to develop wearable therapeutic devices for a variety of medical conditions.
The team could be doing more R&D on the device not only for specific diabetes related neuropathy but could also be used for other medical conditions as well.
Investors would like to see more PR news on this development in the near future.
Management team has also announced that the team is into the development of an over-the-counter chronic pain therapy brand that will complement the SENSUS devices.
Substantial progress was also made during Q1 towards the commercial launch of DPNcheck in Japan , including the key filling ; pending approval will be ready in Q2 of 2014.
RISK
Company recently announced $10 million shelf which did not sit in well with investors but closer look indicates that no price was set. The management will likely exercise the shelf only if the stock price move up big as it has less than 5.24 million shares float with about 30.87% owned by insiders and 10.00% owned by institutions. Short interest is 14.17% of the current float based on shortsqueeze.com.
CONCLUSION
Recent 13G filing by institutions like Blackrock inc & Sabby management couple with recent positives from company business update could once again maybe bring this stock price to the levels we saw in year 2010-2011 onwards as seen on the chart below.
(click to enlarge)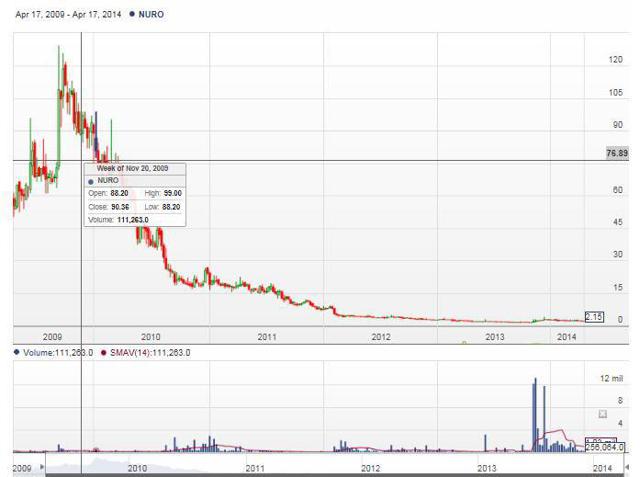 The 5 year chart may look frightening for most investors but professional chartist will notice big volume picking up late last year and early this year. Nice risk/reward play here as the current stock is priced at $2.15 which we believe is at a bargain. The timing is right for investors to buy now as the management is delivering all the right moves especially for the long term investors who has been with this company when the EPS was $120 in 2009.
This chart reminds me a bit of the recent plug power (NASDAQ:PLUG), Livedeal (NASDAQ:LIVE) or even the Spherix (NASDAQ:SPEX) mania which all had huge EPS few years ago and bounce off a bit of that based on strong PR news and investors awareness primarily due on speculative plays. Neurometrix is lesser of a speculative play now than it was a few quarters ago primarily based on the management cost cutting measures and the vision which the President and CEO Mr Shai .N Gozani has for this company.
The company is moving in the right direction by targeting the two biggest Asia markets for diabetes related condition in china and Japan including collaborating with the major medical distributors. Long term investors should put this on their radar and see the growth potential it has all based on the fundamentals and technical analysis which was presented in this article.The recent Q1 conference call clearly shows the path to growth and the bullish forward looking statements which the Management and its team has projected.
Thank you for reading this article
As always please do your own due diligence & invest small when dealing with low float stocks.
Disclosure: I am long NURO. I wrote this article myself, and it expresses my own opinions. I am not receiving compensation for it. I have no business relationship with any company whose stock is mentioned in this article.
Disclosure: I am long NURO.