Discover Covid's Secret Keys Of Profitability
Please Note: Blog posts are not selected, edited or screened by Seeking Alpha editors.
Summary
Retargeting is the key to digital marketing success and key to grow your revenue.
Robotics Process Automation is a new and effective method to cut cost for business.
Examples of companies that used both processes effectively.
The key indicator of success for any commercial ventures would be profitability. Profitability is defined as revenue minus cost. We can improve revenue by being more productive in sales or better at reducing cost. Companies can leverage on technologies to generate more sales with the same number of sales employees. They can also reduce their cost by increasing the working capacity of their existing manpower.
The ideal condition would be the combination of both. For instance, as the company's sales increase by 10 times, the company would just need to have double our manpower cost due to efficiency gains. The secret keys to unlock such profitability are not well known and would be discussed at length in today's article.
In today's Covid environment would be physical goods and services could now be sold via digital channels. Therefore, the ability to sell online had become vital as people stay away from traditional channels such as malls.
Get $10 in Sales for Every Marketing Dollar with Retargeting
There are various marketing and advertising methods out there with varying degree of efficiency. As entrepreneurs, guessing can be expensive. Instead, we can rely on consumer survey such as the one below. They provide us with a sense of the efficiency of each marketing method.
Source: Adroll
As you can see in the table above, the top method would still be Search Engine Optimization. Advertisement come in a close second, followed by influencer marketing and social media advertisement, email marketing, referral and news story.
For instance, 3E Accounting leveraged on multiple marketing methods to justify their multi-million expansion efforts overseas. They were ultimately proven successful in generating considerable returns after just 12 months of seeing digital marketing results.
An important marketing rule is that consumers need to see your advertisement seven times before purchasing it. This means that they need to see a combination of marketing strategies and retargeting technology to bring it to their attention 7 times. In other words, when you set your marketing budget, you need to have cross channel synchronization across SEO, Ads on Website, Facebook, Instagram, Email and so on.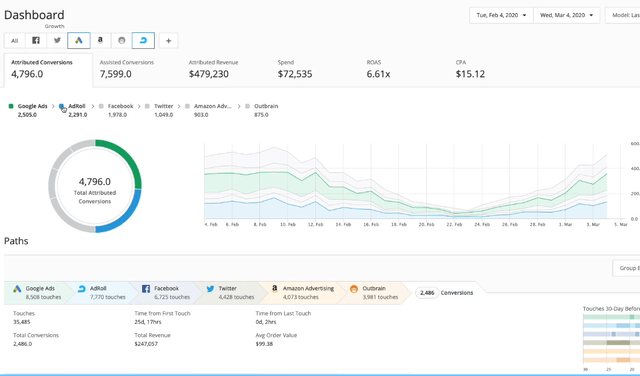 Source: Adroll
In other words, you require a unified dashboard that tracks your advertisement spending across different channels and consolidate your marketing budget. Studies have shown that retargeting returns 10 times your advertising dollar in terms of sales. In addition, retargeting data allows you to discover what you did wrong in your advertising campaign. Common mistake include targeting the wrong audience, having insufficient information to ease the silent objections of client. You can discover these mistakes and put up a more effective campaign.
Leverage on Robotic Process Automation to Cut Cost
In robotic process automation, there will be two main hurdles for companies to overcome: management and technical. The management hurdle of automating process is to get over the preference of automating tasks and to work as a team instead of a silo. The technical hurdle is to find the right external team which can understand the workflow and plan out the right method and technology with the ability to implement it.
Cost is an inevitable part of business and it is derived from the workflow. The key challenge of automation to cut cost like the chart below. That came from a notable manufacturer of healthcare equipment which had spent the last 20 years in automation. That company was richly rewarded by the market for Covid inspired demand and their cost efficiency.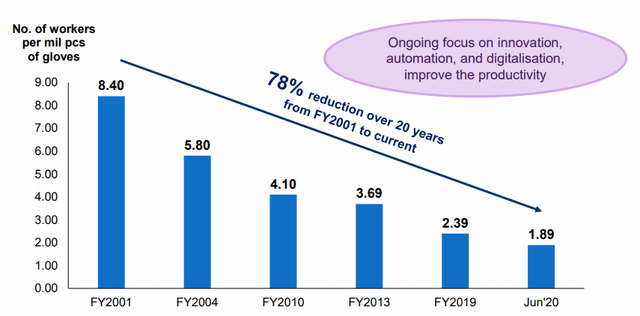 Source: Top Glove
Beyond the factory, automation can also happen in the office. For a real life example, we can turn to (ARW) Arrow Electronics, the procurement specialist in sourcing for electronics components for factories. As you can imagine, this is a highly complex project where you have to balance the technical capability, quality and cost of the components from multiple sources.
Arrow Electronics had built their enterprise system around the procurement process which earned them $28.7 billion in revenue in 2019 as a Fortune 500 company. Some of the repetitive processes automated by Arrow were the process of sending out request for quotation and sending out of customized proposals. Yes, the production of customized proposals can be automated now with Kofax robotic process automation with reduced the cut and paste errors. Their workflow automation meant that they could cut down months of approval in the work process, which allowed them to cut manpower cost and also facilitated quicker closure of projects with clients.
Do or Die
Covid-19 is an extreme game changer. We had witnessed extreme swing in profitability for companies. Companies which did well before Covid had suffered extreme losses today. Singapore Airlines and SEA are the two perfect examples.
Technology has proven itself to be the key differentiator between success and failure in today's business climate. If your customers can't walk to your store anymore, your only viable option is to reach out to them via their laptop or mobile phones. What used to be optional is now compulsory. It's do or die now.
Seeking Alpha's Disclosure: Past performance is no guarantee of future results. No recommendation or advice is being given as to whether any investment is suitable for a particular investor. Any views or opinions expressed above may not reflect those of Seeking Alpha as a whole. Seeking Alpha is not a licensed securities dealer, broker or US investment adviser or investment bank. Our analysts are third party authors that include both professional investors and individual investors who may not be licensed or certified by any institute or regulatory body.