I took a look at AIA (1299.HK) amid its rapid price drop due to I&I (India & Indonesia) concern. My thoughts are as follows, be mindful that this does not constitute any investment advice or solicitation to trade.
I. AIA basics
- good mgt
- I&I are not its major mkt. HK, Thai, Sing, China, Malay constitutes 85% of its operating profit and new business. Indon does have some importance among AIA's "other markets", but its absolute profit contribution is too low to impact the overall company
- profit growth trend intact.
II. Current I&I problem is not as systematic as 1997
- Asia inflation as a aftermath of worldwide QE impacts all Asia countries, but AIA's major markets seen inflation moderating c.f. I&I
- Budget and Fiscal deficit not a (big) concern in these countries c.f. I&I
- The sytematic problem of funding & currency gap of 1997 is not happening today. (back then, Asian Govt, Semi-Govt & Corp borrowed massive short term loans in USD to fund its long term investment in Local Currencies. They thought they could take advantage of the interest rate and FX advantage, but the huge funding gap blown them off in 1997)
- The I&I issues are not new. Even the Asia concern is not new. Asian currencies started to depreciate Q1 this year already.
- Taking THB as a representative of AIA's major Asean mkt, it does not show the rapid depreciation as IDR.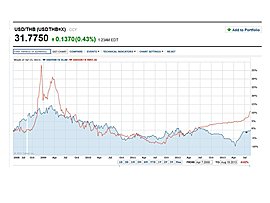 III. AIA valuation and technicals
- Reasonable (even a bit cheap) valuation among peers both in terms of historical PE and PB. Given its intact profit growth trend & good mgt, prospective PE is cheap.
- Upward price trend intact
- channel & 250 DMA support @ $32-33
- strong volume support @ $26-29
IV. Reference to AIG stock price back in 1997
- Stock price of AIG, Holding of AIA, went down by 30% max in 1998, that translates into $26- for AIA. Don't think we'll get there.
- Price resumes uptrend afterwards. That's typical for the price movement of well managed companies.
- AIG price went down badly in 2007, but the reason behind is not repeated in today's macro or AIA.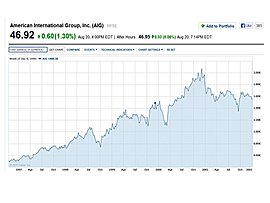 All the financial history reminds human beings not to be too arrogant, not to be too greedy. The Universe is operating with a much bigger and universal rule along its 18 billions years of history. Respect God always.
Disclosure: I am long AIA.