11 Nov 2013
Thanks for the Talentum from God that my last few calls work OK. I'll continue my blog here with Yahoo blog shutting down.
Macro
My view on the macro adjustment from my June blog maintains: "asset prices need to gradually migrate from liquidity-driven to fundamentals-driven. The adjustment also has a political dimension: China new power still trying to stabilize itself. On timing of Fed tapering, massive tapering not expected until end 2014 as unemployment rate could not go below 6.5% Fed first target before then."
So under this macro environment, only the sound companies with good management, niche products, decent margin and growing profit trends will perform sustainably, without sexy upsides though. So the entry point is important. Chasing the laggards won't work, unlike classical phenomenon towards the end of a bull market, as new liquidity is not entering into the market.
Yes, I think US is approaching the final phrase of its 5 year-old bull market. We'll probably have another 12-18 good months referencing to the life of previous bull cycles. More thoughts below.
US
S&P has crunched a major technical resistance, the triple top, since year 1995, thus it should not stop here. It has at least 5-10% further upside benchmarking the PE of the previous cycles since '95. The target of 2,000 points (@ '95 turn-around PE of 27.5) is also the 150% target between the '09 low and the triple top. Average Earnings per share is also in intact uptrend. Details self-explanatory in the chart below.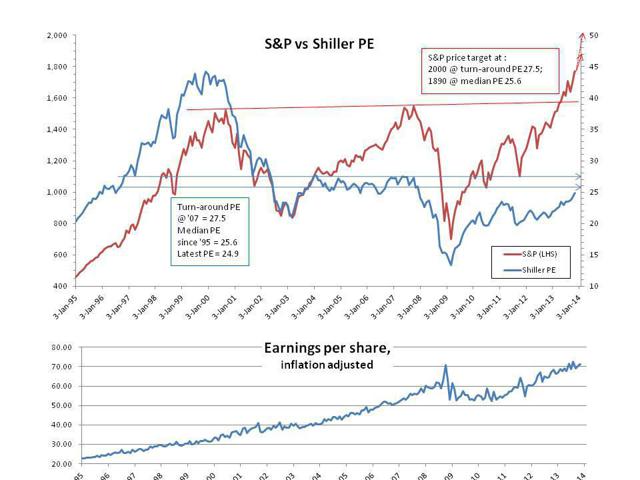 China
Many street commentaries are wishfully thinking that the current Party Meeting would boost equities prices. I do not think so. SHCEI index is also not responding that way.
While specific policies might help equities prices of related sectors, an overall boost is not likely, because Premier Jia is still continuing his reform mode, which means easy liquidity is not likely. Premier Jia is adopting the "politically conservative, economically liberal (政緊經鬆)" approach, the wide gap between the two can easily result in social instability. Thus a clean and powerful Govt is required. That's why Jia continues his reformative clean up in the Govt & SOEs. Therefore, easy liquidity not likely. But I do not think tight liquidity around end of June to continue as general stability is important for China's reform.
Note that 3 month SHIBOR is currently settling at higher levels compared with that before the June squeeze - 4.7% c.f. 3.9%. Confirming my view above that easy liquidity not likely.
The weak mgt quality of general Chinese companies means that they need liquidity to drive asset prices up, as they do not have the ability to deliver profits growth to support higher asset prices.
Contrasting the US mkt's bull trend, SHCEI is still in its 4 year bear trend. With neutral liquidity and relatively low valuation, SHCEI could find support at its double bottom of ~2,000 points; after which could provide 10%+ upside.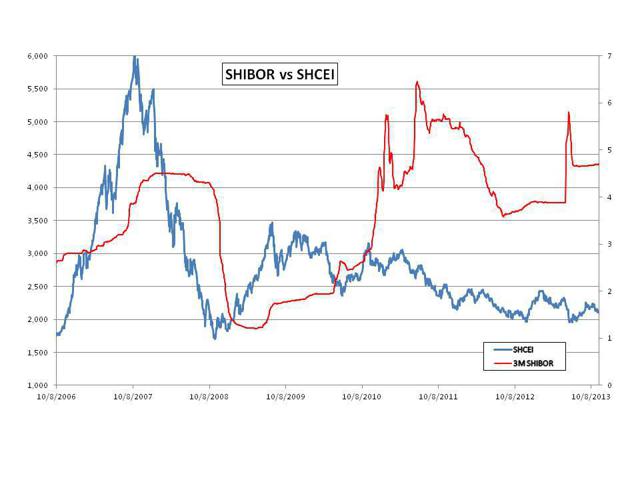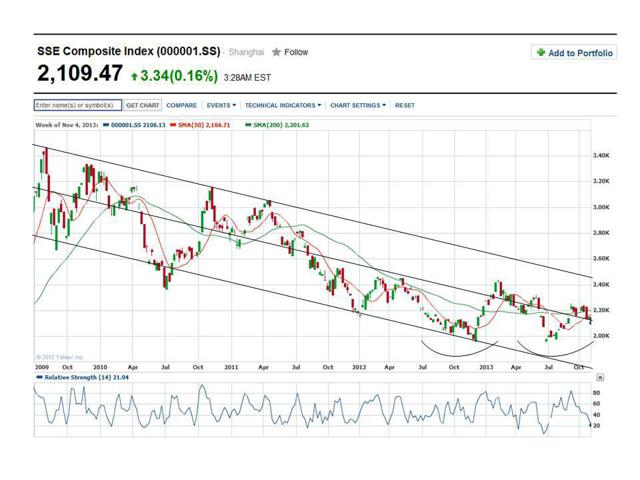 HK
HSI has been caught between US and China since the past 10+ years. This characteristic holds well since 2009 - US resumes the bull, China still in bear, HK naturally is rangebounded. With US liquidity mildly tapering, China liquidity to be stable, HK liquidity should be relatively stable; thus rangebounding in the upper half of the range, ie 22,000 to 24,000 for the time being.
Gold
Bitcoin price went up 350,000 times in the last 4 years post Financial Meltdown, partly due to the limited supply of Bitcoin, compared with increasing supply of real monies USD, EUR, JPY etc. Against that background, Gold price should be supported against my moderate US tapering view. Yet technically, we have not seen the bottom for Gold yet, as clearly demonstrated in the chart below - whenever Gold price turns, the Gold Miners index always turns earlier and turns more. We have not seen relationship yet.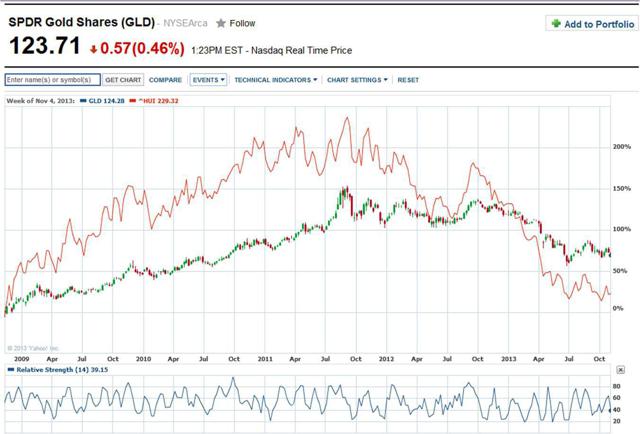 Help the Philippines
If my prior blogs had been useful to you, please share part of your gains to help the Philippines, not only the typhoon victims but also other parts of the country. Virtually their spring harvest are all blown away, which is normally the family's whole year food supplies.
Disclaimer
I'm sharing my investment views out of my prior work & investment experience, not out of a licensed entity. The above does not constitute any invitation to trade.