Whole Food Markets (WFM) slashed 10% after-hours post results release. WFM's results are not bad at all - sales of $3.6 billion (vs 3.7 billion estimate), a 10% increase; EPS $0.44 (vs $0.42 estimate).
The market reactions are quite a replicate of recent Nasdaq releases, namely FB & AAPL - Price dropped amid fair/good results.
While the market would justify itself with all sorts of reasons for its revenge on these companies, does the collective price action indicate a pattern or warning sign?
It might be too early to jumpstart a conclusion, but the following chart worths a monitor - WFM led the prior Nasdaq trend reversals when the latter topped.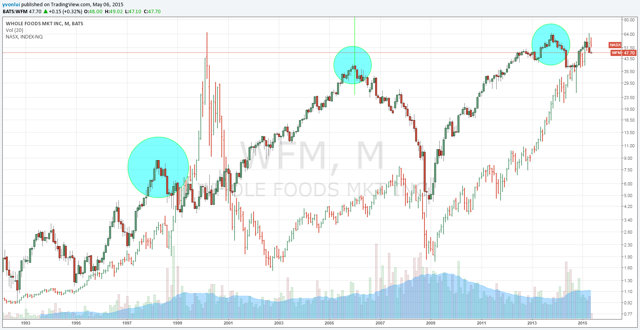 Disclosure: The author has no positions in any stocks mentioned, and no plans to initiate any positions within the next 72 hours.