After reading my articles on dividend growth investing and retirement, you may want to know more about how I use the Best Real Time Dividend Portfolio Tracker to track income and unrealized gains and losses on my portfolio. Below you'll find some screenshots to demonstrate how it works: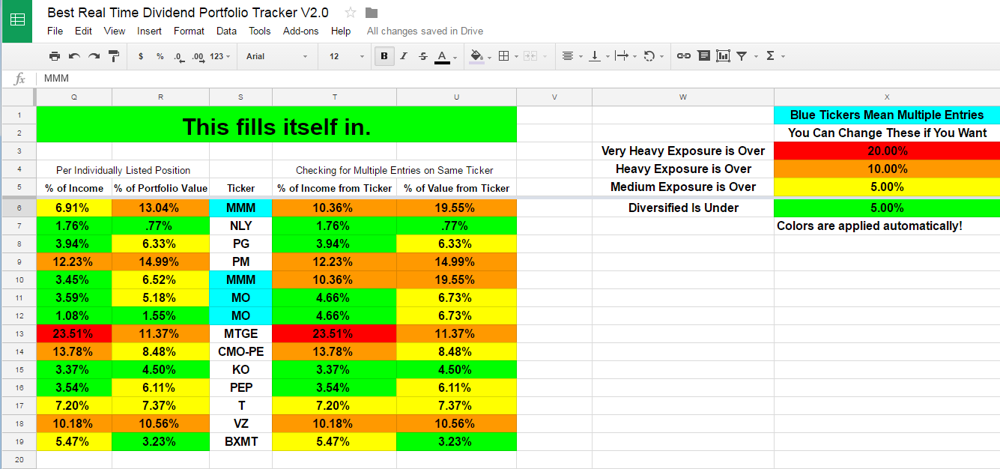 The portfolio list comes with a few example positions to demonstrate how it works. Simply go to:
After buying it, you can go to "File -> Make a Copy" to create your own copy. Then simply enter the tickers, share count, and average price to have the rest of the portfolio fill itself out.
Since I recently finished building this product, I put it on sale for under $20. This tool is designed to be user-friendly and it works in your browser with no software to install.
The Best Real Time Dividend Portfolio Tracker will track:
1. The dividend Income each position is generating on a per share basis and in total.
2. The annual dividend income on the total portfolio.
3. The percentage of the income coming from each position.
4. If there are multiple positions in the same stock, it will break down income per position and per stock (seen in picture 2)
5. The yield at current prices and the yield on cost.
6. The recent share price (usually within 15 minutes or so).
7. The total cost of the position and the fair market value at current prices along with any capital gain or loss.
8. The percentage of the portfolio's value allocated to any individual position or stock (see picture 2).
9. Percentages of income and portfolio value allocated to individual positions (calculated automatically) trigger changes in the color coding for those positions to indicate concentrated of risk.
If you have any questions, I'm happy to help.
How To Buy (Updated):
http://bit.ly/BestDividendPortfolioTracker
Comments are full of great discussion. You may find your questions are already answered there. I'm happy to respond to messages or through e-mail to buyers contacting me from the ecrater.com website.
Disclosure: I/we have no positions in any stocks mentioned, and no plans to initiate any positions within the next 72 hours.
Additional disclosure: I built the spreadsheet tool listed in this article. Proceeds from sales go to an account I control. I own some of the stocks shown in the demonstration screenshots.