This was previously posted for subscribers. I wanted to get a public release before the earnings announcement. I'll aim to have a public article, but there can be a delay on publication. This instablog was the quickest way to ensure a timely release.
Granite Point Mortgage Trust (GPMT) is sliding in share price as it faces correlation with other mortgage REITs. The same issue has lowered the share price on Blackstone Mortgage Trust (BXMT). Nothing fundamentally bad has occurred for either of the mREITs. The quick increase in bond yields since late December coincides with expectations for more hikes in the Fed Funds rate. That would help commercial mREITs like GPMT and BXMT grow their core EPS faster in 2018 and 2019.
Correlation
I pulled this chart to demonstrate how absurdly the market is behaving: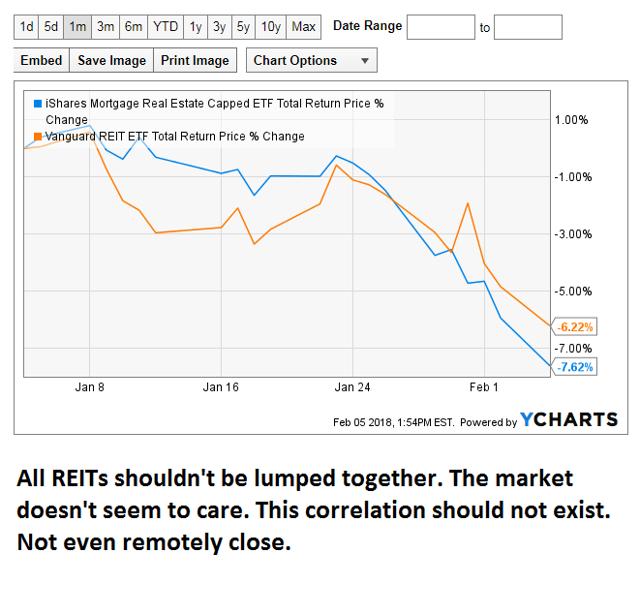 Correlation is dominating price movements. Fundamentals are taking a back seat. The mREITs and eREITs are extremely different vehicles. They have very different fundamentals. Quite simply, there should be very low correlation between VNQ and REM. Instead, the chart shows the two having extremely strong correlations.
I believe this is the same factor hurting share prices for the commercial mortgage REITs. Investors are focused on implications for the residential mREITs and the stampede is catching the commercial mREITs.
Valuation
My rating for GPMT remains a strong buy. This isn't intended as a one-month play. The fundamentals dominate returns in the long run, but a mix of fear and greed dominate returns in the short run.
Q4 Earnings Estimates
After talking it over with another analyst, I decided to revise my estimates on Q4 earnings. I was projecting for a mid-point in the very high $.30s. Instead, I'm revising to expect $.35 to $.36 as the most likely range. My expectations for 2018 are not materially influenced. No impact on 2019 or beyond.
My price targets are not changed.
Dividend Expectations
I continue to expect at least one dividend increase in the first half of 2018. It could be Q1 2018 or Q2 2018. It could happen for both.
Outlook
While GPMT remains a strong buy, I would be very cautious with any allocations to the residential mREITs. GPMT is a commercial mREIT, so their fundamentals are looking better rather than worse.
Disclosure: I am/we are long GPMT.
Additional disclosure: There is no financial advice. I'll attempt to have some form of public article, but this instablog was the quickest way to ensure I get the update out to my followers.