Massive fourth of July sale!
Join The REIT Forum before we hike our annual rate to $800 per year. During our 4th of July sale, you can get your first year for only $480 and all renewals for only $600.
You should try our free 2-week trial to see for yourself.

Performance:
The REIT Forum began in 2016 and we've carefully tracked returns in each year. Below you can see how our returns compare with the largest REIT ETF (VNQ) and the largest Preferred Share ETF (PFF):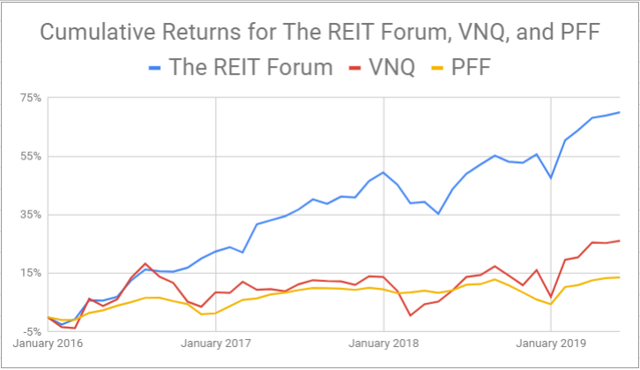 In the works @ The REIT Forum
We've created several guides over the years to help investors better understand their investments. One of the newer ones we've created is a guide to reading price history charts across several stocks for subscribers of The REIT Forum. When we are reviewing our prior choices, we like to measure the relative performance of similar stocks. Even if investors don't consider themselves "traders", they need to consider the importance of the change in value over long time periods.
If you've followed us for a while, you are probably aware of our guide to preferred shares and our guide to real estate. We are extending both of these guides significantly and will be releasing them soon. We've also created an extended guide to dividend captures for subscribers.
With your membership to The REIT Forum, you also get access to these tools:
Safe Income Portfolio
This tool is designed for investors who are less familiar with REITs or want a simple way to evaluate which REITs would meet their goals. It has a simple layout and we've screened out the REITs we consider too risky for long-term choices.

You'll also see we have analysis links on several of these stocks. Those links will take you to a research report on that individual REIT. These research reports are also exclusive to subscribers.
To make it easy for investors who prefer a simple tool, the same spreadsheet also has a tab for preferred shares: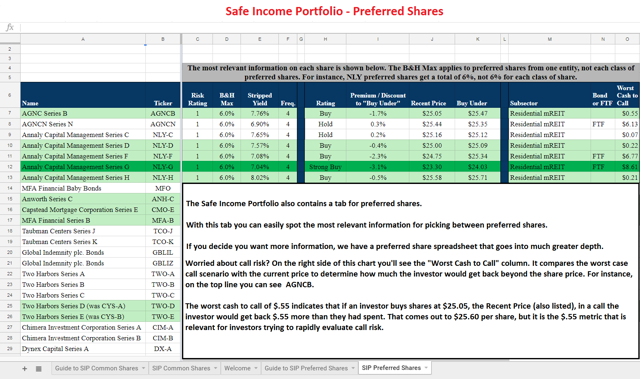 When you're looking for more detail, check out our other spreadsheets.
Within the Safe Income Portfolio, you'll find shares are ordered based on their risk ratings. We suggest investors who want to focus on building a long-term income portfolio should look to put the heaviest weight on shares with risk ratings of 1 and 2. They should avoid investments rated 4 or higher as those investments carry substantially more risk.
Common Share Spreadsheet
The common share spreadsheet goes into greater depth on discussing the individual stocks. For the money manager or experienced investor in REITs, the Common Share Spreadsheet is an ideal tool: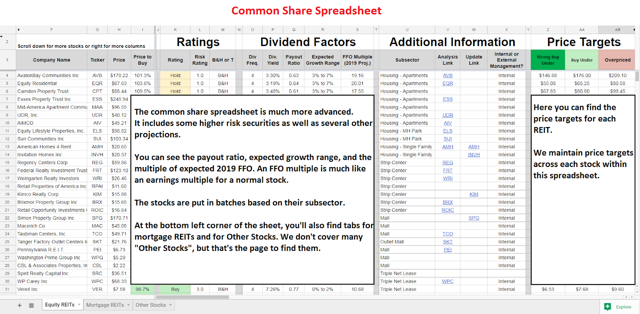 Preferred Share Spreadsheet
Perhaps you're more interested in joining our service because of our coverage on preferred shares? The Preferred Share Spreadsheet was designed for you.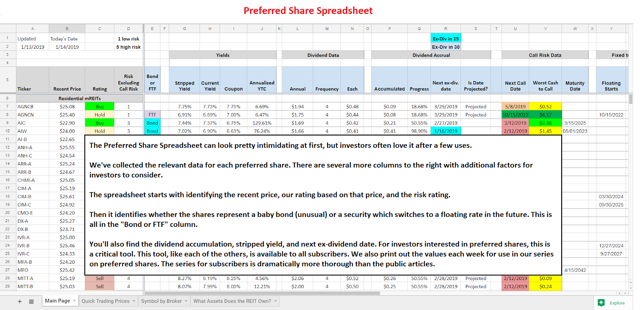 CWMF's Portfolio
Want to know which shares we're invested in? We follow our own buy ratings and invest the vast majority of our portfolio in REITs. Over 90% of our portfolio is regularly invested in 3 major assets:
REITs

Preferred Shares

Cash intended for REITs and Preferred Shares
You can see our allocations (both current and past), along with the returns on those positions, using CWMF's Portfolio: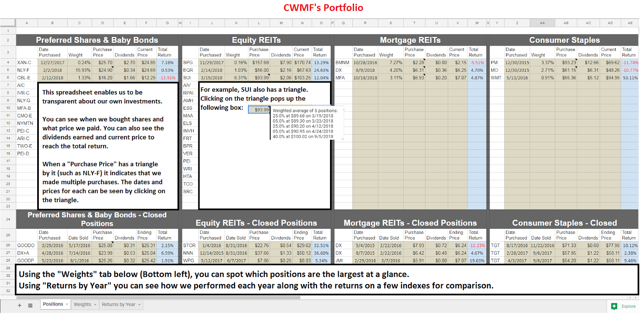 How Do You Access These Tools?
You'll want to be using a desktop browser to access The REIT Forum. Seeking Alpha's app is very limited. If using a browser on a mobile device, you can go to the top right corner and choose "View Desktop Site".
This next image demonstrates where to find the "Tools" button and how our research is organized once you get inside the service: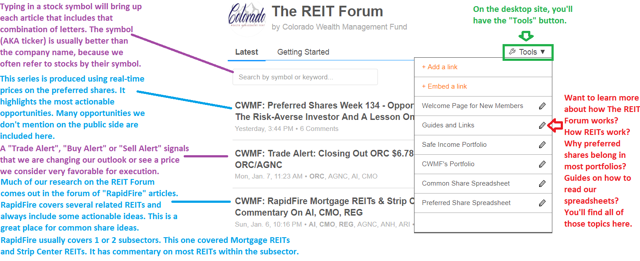 If you want to quickly find some investment ideas, you can hop into our most recent articles on Preferred Shares, RapidFire, or a Buy Alert. Any of those articles will immediately provide you with actionable opportunities for shares to buy.
What is in Each Kind of Article?
When we prepare the Preferred Shares article, it uses charts from the Preferred Share spreadsheet.
When we prepare RapidFire articles, they use charts from the common share spreadsheet.
A "Buy Alert" generally contains only a little analysis. It refers back to prior articles that laid the groundwork for the idea. The point of a Buy Alert is to draw investors attention to an opportunity where we believe the reward significantly outweighs the risk.
SMS Alerts
We also offer SMS alerts which can be sent as text messages to phone numbers within the United States (for most carriers) and to any e-mail address worldwide. The SMS alerts coincide with Buy Alerts, Trade Alerts, and Sell Alerts to ensure subscribers get the alert promptly even if they haven't had time to read all the articles.
There is no additional cost for this service. It is available to any subscriber of the service.
Membership Prices:
Annual subscription: $600/year

Monthly subscription: $70/month
Ranking
We are in the top 1% of bloggers and recently ranked #8: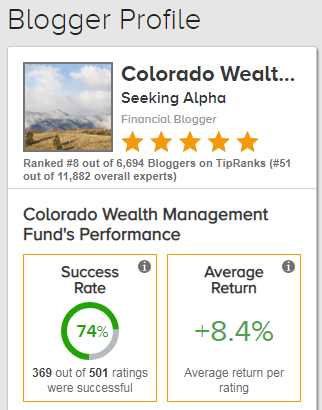 Source: Tipranks
Out of the top 25 bloggers on TipRanks, we have the largest amount of sell ratings at 20%. This means we don't only find great opportunities for you, but also keep you out of poor investments.
Join today and try the service with a 2-week trial!
Look forward to having you try the service,
Colorado
Disclosure: I am/we are long several of the reits and preferred shares we cover.