It seems that there is a lot of talk lately about solar stocks. So I thought I'd look at TAN, which is an ETF that focuses on solar related stocks. You can see the top ten holdings in TAN at Yahoo Finance.
The top holding is First Solar (NASDAQ:FSLR) and it has been in a solid uptrend since last summer. Other notable holdings are SunEdison (SUNE), SunPower Corporation (NASDAQ:SPWR) and SolarCity Corporation (SCTY).
SCTY just went public last December. It closed its first day trading at $11.79 and closed yesterday at $41.35. Its chairman is Elon Musk who seems to have the golden touch...co-founded PayPal, Tesla Motors (NASDAQ:TSLA) and founded SpaceX.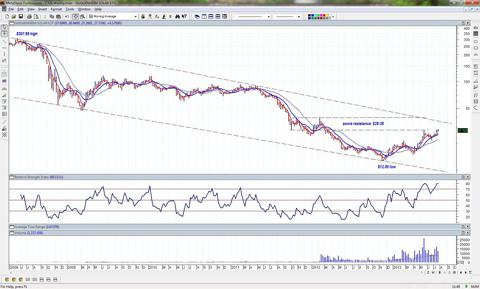 TAN Weekly
So let's take a look at TAN. The chart above is a weekly chart. Again, click on the chart to enlarge it. TAN has been in a solid downtrend since 2008. It started trading April 14, 2008. The high trade was $307.99 and the low was $12.59 during the week ending November 16, 2012. A loss of 95.9% of its value! It has been in an uptrend since then and could hit the top of the channel around $35/share but could also run into resistance in the $28-38 range as noted on the chart.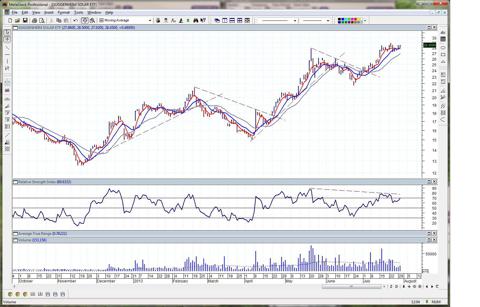 TAN Daily
This next chart is a daily chart of TAN, so you can see the uptrend from November very clearly. It has been stair stepping its way higher and is now in its third push. It could run into resistance in the $28-38 range as I mentioned above. My moving averages haven't rolled over yet. It is showing some bearish divergence on the RSI indicator but I usually prefer to see that over a 3-4 week time period on a daily chart.
So at the moment TAN continues to ride the waves higher. But since this is the 3rd wave up, you should definitely know your exit plan and trail a stop of some kind. You can always get back in.
Disclosure: I have no positions in any stocks mentioned, and no plans to initiate any positions within the next 72 hours.