First a brief level set on these ETFs. SMH is the Market Vectors Semiconductor ETF. The fund consists of semiconductor stocks. Semiconductors are embedded in technology of all kinds as well as manufacturing equipment and advanced products. So investors look at these stocks as an indicator of the economy and thus the stock market.
XLF is the Financial Select Sector SPDR ETF. This fund consists of leading financial stocks like JP Morgan, Citigroup, American Express, Bank of America and several others. Again the strength of financial stocks is an indicator of the strength of the market.
XHB stand for SPDR S&P Homebuilders ETF. As you can surmise, this fund consists of leading homebuilding stocks. Again this is an indicator of economic strength and leads the market. Home building stocks topped out in 2006, well before the stock market topped in 2007.
I am not providing in-depth analysis of each of these charts here, but wanted to compare these 3 ETFs to the Dow Jones Industrial Average(Dow) to gain some perspective on where we are with the market. Looking at the first chart of the Dow, you can see that we have pushed to new all-time highs and the close on Friday rests at the highest point in history. (With all these charts you can click on them to enlarge.)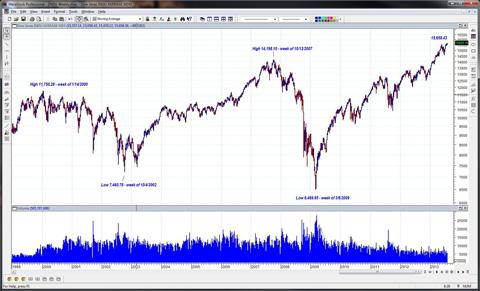 Dow Jones Industrial Average Weekly
The SMH chart shows a totally different picture. Its high was $101.56 the week of June 23, 2000. It has been down and then sideways ever since. Its low was $15.25 the week of November 21, 2008 and to date has only recovered 28.4% of its move from 2000 to 2008. Note, when you look at my charts, you have to pay close attention to the numbers as the y-axis is semi-log.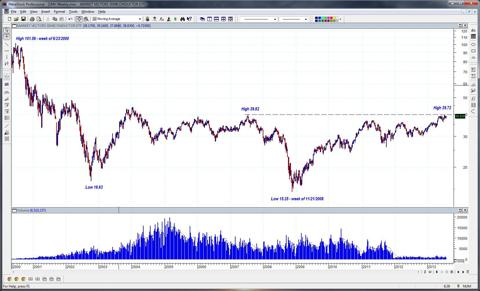 SMH Weekly
I was originally taught to use semi-log paper in charting and have used it ever since. It shows the percentages correctly. For example, a 1 inch move on the chart in the lower prices is exactly equal to a 1 inch move at the higher prices. I could put Fibonacci retracements on the chart but didn't want to clutter it at this point. But again, we have only recovered 28.4% and have not moved to new highs. We are close to exceeding the high in 2007 but the SMH high in 2007 wasn't anywhere close to a new high like the Dow.
The XHB chart shows that it is above the 2007 point on the chart where the Dow topped out, but the real key here is that the XHB high was in 2006. XHB led the stock market in topping out over a year in advance. It now appears to have broken its uptrend from 2011.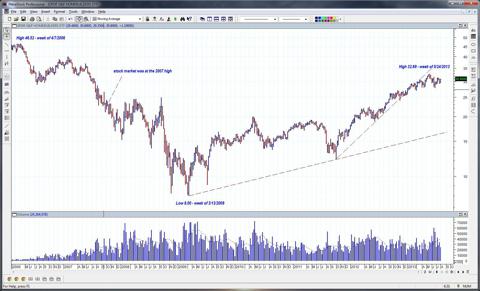 XHB Weekly
XLF is even more pronounced. The selloff in late 2007 into early 2009 was extreme. It has only recovered 44.4% of its loss. If you pull up weekly charts of Bank America (NYSE:BAC), Citigroup (NYSE:C) and AIG the charts will blow you away.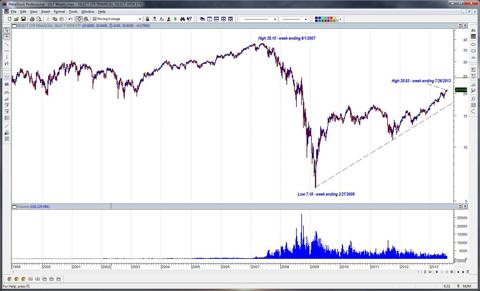 So what does this all mean. My take is that even though we are pushing higher, some of these key funds are not even close to mirroring the Dow's performance. That gives me heartburn. The music can stop at any moment. The Dow may not be running on the strongest legs. Sure we can still push higher but if these ETFs start to trend lower, then keep an eye on that exit door, because it could become a stampede.
Disclosure: I have no positions in any stocks mentioned, and no plans to initiate any positions within the next 72 hours.