I last posted about gold on July 9. Lets see how gold has performed. We are looking at GLD which is the ETF for gold. The first chart is a weekly chart of GLD. As you can see, the week ending June 28th, GLD hit a low of $114.68. Right into the support range I show on the chart. It has since rallied over the last few weeks.
My RSI indicator shows bullish divergence providing some support for the bounce and the volume on the low week was lower than the volume on the previous spike low, thus indicating that selling power was weaker. But note, we are still in a very strong downtrend, although it may be trying to turn here.
GLD Weekly Chart
Now let's take a closer look. The next chart is the daily chart of GLD. As shown in my earlier blog, GLD broke down out of a Descending Triangle and achieved the target objective. It has since bounced and basically pulled back right to the lower boundary of the Descending Triangle. Notice that on the RSI indicator, GLD became overbought by pushing RSI above 70.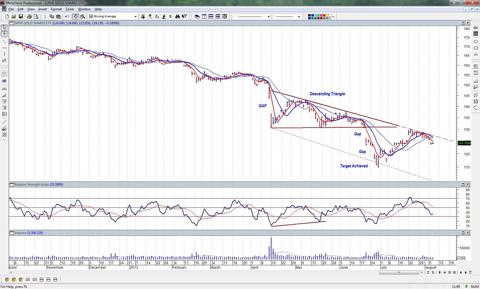 GLD Daily Chart
Over the last two weeks it has started to roll over. Also I extended the down sloping part of the triangle to show how the trendline extends. It will be interesting to see if the trend continues or whether it pushes up through the trendline to move higher.
Today GLD is trading 126.80 at 11:00 am CDT +2.65, so it is very close to the trendline. There is a saying among traders. When it comes to trends, "TUB". Trust Until Broken. Right now the trend is still down.
Disclosure: I have no positions in any stocks mentioned, and no plans to initiate any positions within the next 72 hours.