I follow 36 stocks on a daily basis. All of these stocks are under $85 per share and two-thirds of them are less than $50 per share, mainly to keep the option prices somewhat reasonable.
All of these stocks have high betas which means they magnify the percentage move made in the market.
They also all average a minimum of 1 million shares traded over the last 50 days. I want highly liquid stocks. As a result they should all have options that are actively traded.

DDD
So for option trading that's the type of stock I follow. One of my stocks ignited this morning and the other hit the afterburners. 3 D Systems (NYSE:DDD) blasted off for a 7.14% gain on the day. Apparently Citi came out with a buy recommendation on DDD this morning. The stock exploded. Is it a buy, let's take a look.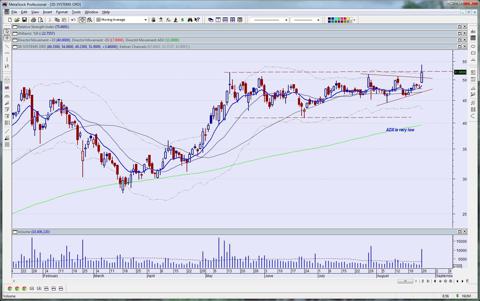 DDD_08262013
It's tempting but I'm not buying calls on this just yet. See my "ADX is very low" note on the chart. That's a note I put on the chart several days back when I saw the ADX get to 10 and then 9. Very low ADX readings many times signal a big move coming, you just don't know which way.
Also I had put dashed lines on the chart at the top of the move that occurred on May 14 and the low on June 24. This was a possible trading range. I want to see DDD close above that dashed line (51.93). It didn't do that today. Volume was huge today but it was huge on July 29 also. Notice the similarity to July 29. We'll see how tomorrow plays out.
QIHU
QIHU is the ticker symbol for Qihoo 360 Technology Co. Ltd. This is a Chinese Internet stock that provides internet and mobile security products in China. QIHU was up 7.75% today after it released earnings before the market this morning.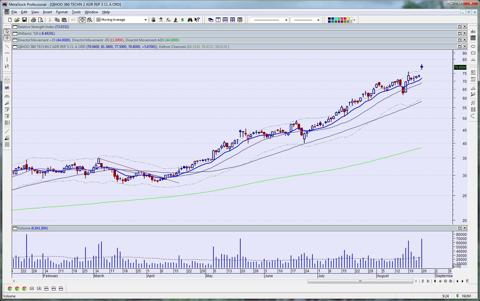 QIHU_08262013
Would I buy here? No. This stock has had one heck of a move since early April at $30 per share to today's close at $78.80. Volume was huge today at 6.8 million shares vs the 50 day average of 2.5 million shares. The last few times volume reached or exceeded the neighborhood of 7 million shares, it was a short-term top which pulled back or had a sideways consolidation.
This move with the gap in prices today has the feel of an "exhaustion gap". I'm not saying I would buy puts or short this. I am just saying I would not buy calls at this point. We'll see how much fuel those afterburners have in them!
Disclosure: I have no positions in any stocks mentioned, and no plans to initiate any positions within the next 72 hours.