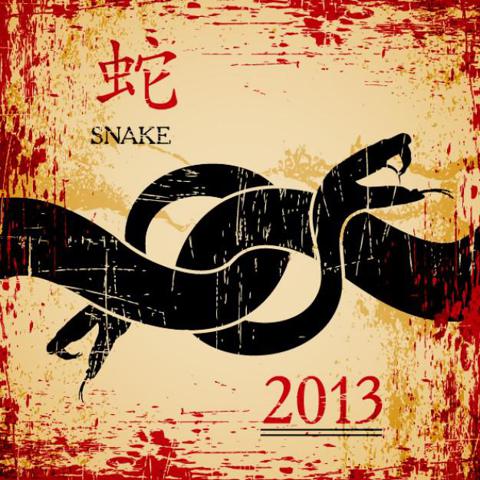 There have been many articles and much discussion about China's economy this year. High debt levels, housing bubble, economy hitting the wall...all kinds of concerns about their economy. China's economy is 2nd largest in the world and it is the most populous country with over 1.35 billion people, 19% of global population and 4.3 times the United States' population.
And it is the Chinese Zodiac Year of the Snake. Not sure what that implies for the economy, other than maybe it's slithering along, winding back and forth, not galloping ahead like a horse. I last discussed China in my post titled "The Global Economic Stagecoach" on July 14th. In that post I said "So it seems the big question is China. Will it start to wear on the other horses or will it catch its breath, turn around and head higher again? My thought is that if the Shanghai Composite breaks the 2008 lows, it will negatively affect the rest of the team and could be serious trouble for the global economy."

China Stock Market
So far the 2008 lows have not been broken and it seems the Shanghai Index may actually be turning around. Let's take a look at the Shanghai SE Composite Index. In the chart below you can see that it went to a lower low in June and has now turned up. A couple of things to note. First we don't have a higher high followed by a higher low so downtrend is still officially intact. But a downtrend line from January has broken.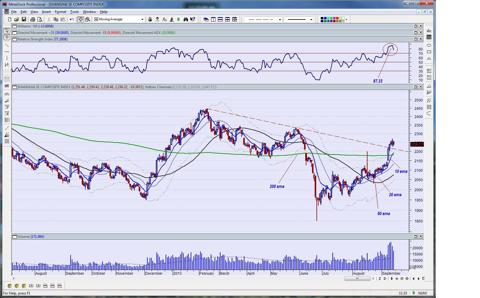 Shanghai Composite Index
The August and September move occurred on huge volume increase. And the Relative Strength Index (RSI) is very strongly overbought, more than January of this year. The RSI(10) had a reading of 87.33 on Thursday. The Shanghai Index has not had a reading this strong since April, 2007. When it started its big bull move from 2005-2007 the first time it hit 87.33 or higher on the RSI was on May 10, 2006 when it closed at 1545.69 on its way to the peak of 6124.04 on Oct. 16, 2007.
So I am not predicting that it will hit 8,000 or anything like that. My point is that this move appears to have power behind it, similar to 2006. Let's see if it can take out the February 18, high of 2,444.80.
Chinese Technology Stocks
Ok, so I don't trade the index but what about Chinese stocks. I follow 7 Chinese stocks at the moment. Baidu Inc. (NASDAQ:BIDU), considered the Google of China. This is getting a little pricey at $142.64. Currently I prefer to target stocks priced around $85 or lower. This helps folks who may want to trade options with a smaller trading account.
The other stocks are Ctrip.com International Ltd. (NASDAQ:CTRP). I think of this as the Expedia of China. It closed at $48.46. Qihoo 360 Technology Co. Ltd. (NYSE:QIHU) a competitor of BIDU, closed at $87.86. Sina Corporation (NASDAQ:SINA), an online media company, closed at $83.04. Sohu.com Inc. (NASDAQ:SOHU) provides online media, search and gaming, closed at $64.75. YY Inc. provides an online social platform, closed at $45.96.
Youku Tudou (NYSE:
YOKU
)
And Youku Tudou Inc.(YOKU) operates an internet television company that some call the 'YouTube of China'. It closed at $26.83 on Friday, up 8.9% for the day on 11.2 million shares. That was the highest volume "up" day in the last 12 months. I watch all of these stocks and currently have no positions but I did sell my October 22 calls on YOKU on Friday, minutes before the close.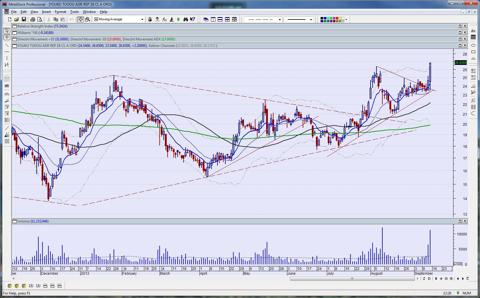 YOKU Daily
I got a buy signal, then bought calls on August 30th. YOKU was really starting to test my patience as it proceeded to move sideways but the moving averages were all aligned and it looked like a possible swing move higher. So I held tight.
But after sitting with this for a couple of weeks, when I got the move on Friday, I had to take my profits. I am not complaining, as it was a 93.1% profit. I do think that YOKU may move higher but I am hoping I get a pull back to below the 10 ema first, to provide a setup to get on board again.
I got out because the range for the day was one of the highest for the year with huge volume and it closed outside the Keltner Bands. So it was time to hear the cash register ring.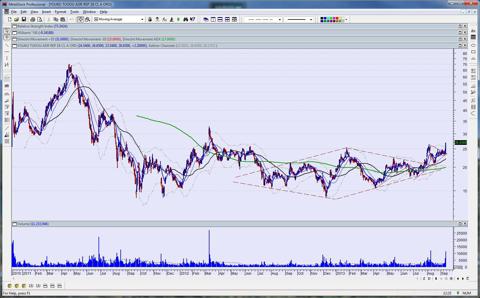 YOKU Big Picture
If you look at the second chart, you see what looks like a large diamond formation that could be signalling a major bottom in this stock. So YOKU could very well be on its way to much higher ground, I just want it to pull back a little first. Maybe it's time to learn a little Mandarin.