Hewlett-Packard (NYSE:HPQ) has struggled lately. The stock had a good rally from December thru March then developed a Rising Wedge formation as it continued to push higher after that.
I first blogged about the rising wedge on July 26th HPQ Rising Wedge and then again on August 15th in Is the Music About to Stop Playing for Hewlett-Packard (HPQ)?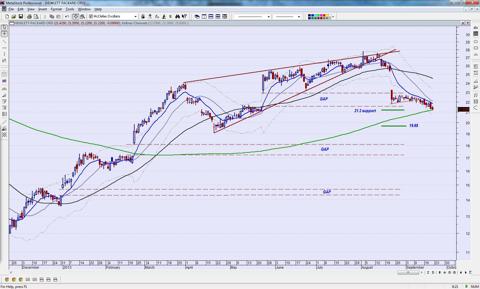 Hewlett-Packard Update
So where are we now? Since the initial break on August 22nd, the day after their earnings announcement, the stock went sideways for 14 trading days. It then started to slowly roll over.
On my chart you can see the large Gap that finally got filled on Sept. 17. The support line at $21.2 is exactly where it closed on Friday. It is also sitting on the 200 day moving average (green line), so there is the potential for buying support to come in here.
If it breaks down from here, it will get support at $19.68 and then around $17. So the secret here is understanding that typically Rising Wedges like this will retrace the entire length of the wedge. That will take it to $19. And usually the move happens very quickly. The sideways move for 14 days kind of surprised me.
Hewlett-Packard Turn Around?
Now notice that the 50 day moving average (black line) is above the 200 day. That hasn't happened, to this extent, since mid-2009. So even though HPQ is dealing with this sell-off, if it can get its legs, it could resume the upward journey.
Right now the short-term trend is down. Too soon to buy , but put it on your watch list. What do you think about the outlook for HPQ?
Disclosure: I have no positions in any stocks mentioned, and no plans to initiate any positions within the next 72 hours.