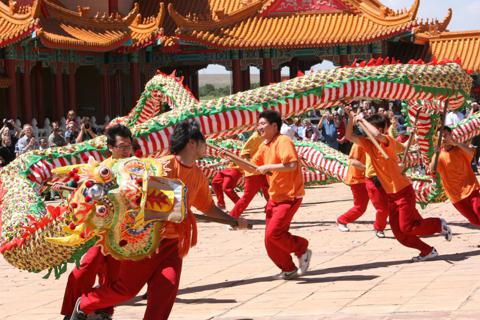 The Chinese New Year occurs on Friday January 31 this year. It is the year of the Horse. So welcome all you horse lovers! It turns our I checked on my birth year and I was born in the year of the Horse (not saying what year).
Chinese New Year..new moon
So why does the Chinese New Year start later than the western New Year? And why does it change every year? I honestly didn't know but wanted to find out, so asked OZ, I mean Google. It turns out that the Chinese New Year starts with the first new moon of the year and lasts until full moon which is 15 days. It changes every year depending on lunar cycle but occurs between January 21 and February 20.
Biggest Holiday of the Year
This is a big Chinese holiday. It is now commonly called the Spring Festival since the adoption in China of the Western calendar in 1912. So the Chinese join in celebrating New Years on January 1 each year but also have the Spring Festival.
The traditions surrounding the Spring Festival are many but the focus seems to be family and ancestors. Of course it is also becoming just a great time to get away and relax. Interesting fact I learned from the History Channel is that San Francisco claims its Chinese New Year parade is the biggest celebration of its kind outside of Asia.
Travel and Leisure
So, many Chinese are travelling for the Chinese New Year. Therefore in tonight's video on China I am focusing on Chinese travel and leisure stocks. We'll take a look at 4 fairly active stocks and reference a few others also. Here are the primary focus:
CTRP - Ctrip.com International Ltd. Provides travel services for China. I believe it is like the Expedia or Priceline of China, but has a broad list of services that it provides. Founded in 1999, company is headquartered in Shanghai.
QUNR - Qunar Cayman Islands Ltd. It is a subsidiary of Baidu,Inc. (NASDAQ:BIDU) and provides online travel commerce platform for travel service providers. Founded in 2005, it is headquartered in Beijing.
HMIN - Home Inns & Hotel Management Inc. Operates over 1800 economy hotels in 266 cities in China. Founded in 2006, it is headquartered in Shanghai.
HTHT - China Lodging Group, Ltd.. Company provides business and leisure travelers hotels under six brands. Operates over 1,000 hotels in China. Founded in 2007, it is headquartered in Shanghai.
Other lower trading volume stocks include China Eastern Airlines (NYSE:CEA), China Southern Airlines (NYSE:ZNH), Country Style Cooking Restaurant (NYSE:CCSC) and Guangshen Railway (NYSE:GSH). By lower volume I mean the 3 month average daily volume on these are all less than 50,000 shares.
In the video I also take our weekly view of the Shanghai Composite Index. The United States stock market continued its push to the upside, so we take a quick look at it also.
Here is the link to my YouTube Channel for the video which I can't seem to post into this blog.
Disclosure: I have no positions in any stocks mentioned, and no plans to initiate any positions within the next 72 hours.