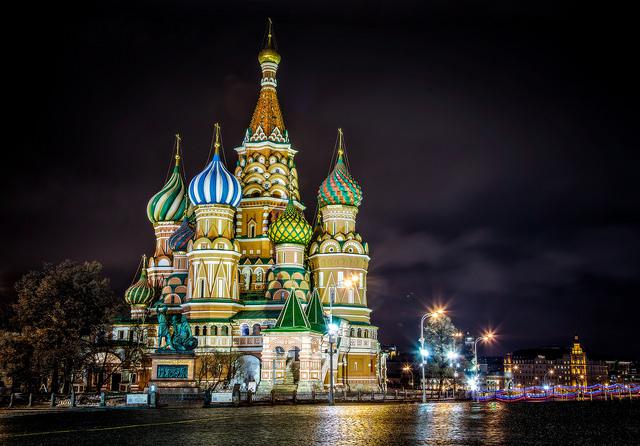 St. Basil's Cathedral, Moscow
Today is BRIC Wednesday. We will look at U.S. markets then take our weekly review of Brazil, Russia, India and China. My focus this week is taking the pulse of what has happened in the news over the last week or so with the BRIC countries. I also review 5 Chinese stocks.
China
China inflation numbers released last Friday showed that consumer prices rose 1.8% from the earlier 12 month reading. This is down from the 2.4% reading last month. This is the lowest annual reading in 18 months. Some economists raised concerns about deflation showing its ugly head.
China continues to throw its weight around regarding its borders. It has been widely published that China has reinforced its stake to what it perceives as its country borders. There have been the confrontations with Japan and the Philippines in the East China Sea. I
t is now pushing its interests in the South China Sea with oil drilling in what Vietnam considers its territory. It was also reported that China ship(s) rammed Vietnamese ships. In retaliation mobs set fire to dozens of Chinese factories in Vietnam. Unfortunately many of those harmed were Taiwanese operations, as the mobs went out of control. These South China Sea disputes have gone on now for several years.
Russia
The Ukraine crisis still simmers with the Ukraine government claiming that the country is on the verge of a civil war. The EU confirms what the United States had said, that Russia's 40,000 troops are still on the border of Ukraine.
Russia is hitting back at the United States space program and related technology issues. Russia is now saying it doesn't want to support the ISS after 2020. It is also holding up shipments of rocket engines to the U.S. The Russian engines power the Atlas rocket that puts our military satellites into orbit, believe or not. It is also threatening certain GPS sites.
India
The economy is struggling with factory output declining in 4 out of the last 6 months reported. In addition consumer prices rose for the latest month rose 8.59% from a year ago. In 2013 consumer prices averaged about 10% increase.
The India stock market as measured by the S&P CNX Nifty 50 Index, continues to push higher and higher into record territory. Prices are buoyed by optimism surrounding the election. The final results aren't due out until Friday but exit polls are pointing to Mondi as the winner. The perception is that he and his Bharatiya Janata Party will be able to facilitate change in an economy that seems to be stagnating.
Brazil
The big event for Brazil this year is the World Cup which starts next month. Brazil just deployed 30,000 troops to help guard the borders and increase security. This will be a test for Brazil's preparedness with the Olympics coming up in 2 years.
In Focus
In today's video we focus on 5 of the most active Chinese stocks today: MPEL, YY, YOKU, QIHU and BIDU.
photo by Iwillbehomesoon