Ending Diagonal Pattern
There is a clear chart pattern that is showing itself on the Dow Industrials (DJIA), S&P 500 (SPX) and New York Composite Index (NYA) and that is the ending diagonal triangle. If you have watched my videos, you know that I have talked about this for a while now.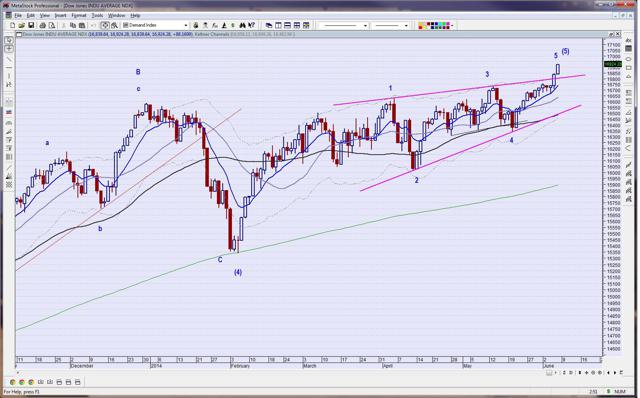 Dow Jones Industrial Average, Daily Chart
The shape of the pattern has changed some on the DJIA, but has held solid on the SPX and NYA. Now we are getting a "throw-over" of the top line of the diagonal. Let me quote from the bible of Elliott Wave theory, on p.38 of the Elliott Wave Principle by Frost and Prechter (1978):
"...the fifth wave of an ending diagonal often ends in a "throw-over", i.e., a brief break of the trendline connecting the end points of waves one and three."
Other Signs
But some things that I like to see at a top like negative divergences on the indicators of the indices and key ETFs leading the market down just aren't there now. The XLF is pushing higher without negative divergence and the same for SMH which actually has a trend being confirmed by the ADX. The XHB is the main one that has broken down.
The VIX just broke to a new low and therefore the positive divergence pattern that was in place, is negated. It can still bottom and turn higher, just that the last two bottoms in January and August, came from positive divergence on the VIX.
The Short Term Trading Index (OTCQX:TRIN) is not at an extreme reading yet, but could be close. And the Hi-Lo Index just shot up on Friday to its highest reading since October with 365 more stocks hitting new 52 week highs than lows on Friday.
So we are getting mixed signals. I am keeping a close eye on the ending diagonal pattern because after all you never know when and how it will be different this time. With the VIX at 10.73 there is clearly no fear in this market at all.
What's Up with the VIX?
And some quick math on the VIX. The market hasn't closed with a VIX this low since Feb. 23, 2007. And since January 1, 1990 there have been about 5, 837 trading days...66 closed with a VIX less than where we closed on Friday. That's 1.1%.
So no fear and plenty of complacency in a market at historic highs...let's keep an eye on that ending diagonal pattern.
In Focus
In focus today are Apple (NASDAQ:AAPL), which is about to start trading with the 7:1 split, Amazon (NASDAQ:AMZN), Apache (NYSE:APA), Diamond Offshore (NYSE:DO), Tesoro (TSO) and Valero (NYSE:VLO). On to the video.