Cheesecake Factory (NASDAQ:CAKE) at the current price of $33* is an interesting investment proposition. Selected financial indicators (see chart below) as per the third quarter of 2012 show that the company's performance is one of the best in recent history. Yet, its P/E multiple of 16.7 is paradoxically the lowest since 2009. The undervaluation is confirmed by Price-to-Self-financing (i.e. market cap divided by cash flow from operations before changes to working capital) of 9, which did not decline as much as the P/E multiple but remains at the lowest level in two years. The common-sense explanation for the divergence of the valuation from the improving performance is that the market anticipates a reduction in consumer's discretionary incomes and rising food inflation. The latter was confirmed by the management's 2013 guidance where they said they are planning for 3-5% inflation. Although the inflation will reduce the operating margin (perhaps by as much as 80 basis points if 2011 inflation of 4-4.5% will recur), the valuation, which the market currently places on CAKE seems to be unfairly low.
Two of CAKE's competitors, Brinker (NYSE:EAT) and Darden (NYSE:DRI), are undergoing similar undervaluations without an accompanying significant deterioration of their financial performance. Thus, in my mind, the casual dining segment is out of favor with the market and we are presented with an opportunity to invest in a quality business at fairly low prices. I am inclined towards CAKE as its leverage is half the size of its selected competitors. Also, CAKE generates enough free cash flow to fund share repurchases and dividend payments whereas both EAT and DRI have to tap their credit facilities to distribute capital to their shareholders.
One of the risks that is difficult to account for are future impairments; at the end of 2009 CAKE recognized $26 million of impairment charges in relation to its four Grand Lux Cafes and another $1,5 million in 2011 in relation to one Grand Lux Cafe and two Cheesecake Factory restaurants. Currently there are 14 Grand Lux Cafes and the comps at these restaurants declined during Q2 and Q3 by 2.9% and 2%, respectively. Although dis-satisfactory, two quarters of declining comps do not necessarily presage further impairment of assets as prior to the recognition of the $26 million charge comps at Grand Lux Cafes were declining eight consecutive quarters and at double the current rate.
CAKE's pipeline now includes three to seven new franchise openings in the Middle East as well as five to seven company-owned new restaurants in the U.S. over next two years (for reference purposes CAKE operated 173 restaurants at end of Q3 of 2012 and opened three and six restaurants in 2010 and 2011, respectively).
I feel confident about the company's prospects but more importantly about CAKE being undervalued vis-a-vis its improving financial performance and recently purchased shares of CAKE in my account.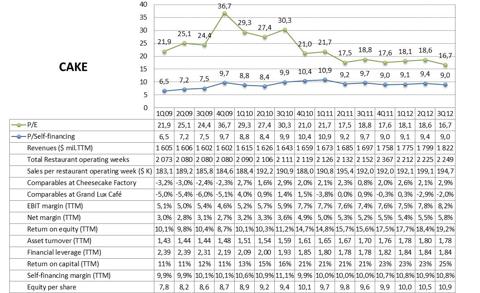 Financial data is sourced from sec.gov. Stock price is sourced from finance.yahoo.com. Company guidance is sourced from conference transcripts at www.seekingalpha.com. Multiples are calculated as the average of closing prices during a given quarter divided by the last reported trailing 12 months financial figures. Self-financing margin is calculated as cash flow from operations before changes to working capital divided by Revenues. Self-financing excludes non-cash income statement adjustments, which at times can cause severe fluctuations in earnings, and thus is more meaningful as a price multiple.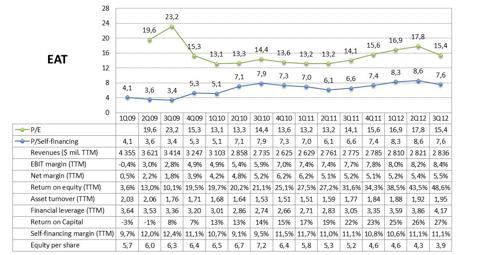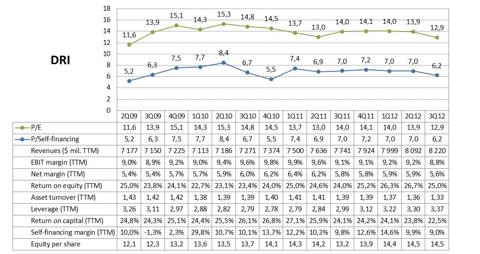 *price as of Jan 30th, 2013
Disclosure: I am long CAKE.