Note: The Instablog Post is my opinion that I have reached by collecting and analyzing public information. Please complete your own due diligence before you invest in any stocks mentioned in this article. I am long GALE and I have no positions in INSY or TEVA.
On March 4, 2014, Insys (INSY) announced record sales of its drug Subsys. Subsys is the first and only sublingual spray for breakthrough cancer pain. Similarly, Abstral, by Galena (GALE), is the first and only fentanyl sublingual tablet for the management of breakthrough cancer pain. There are some similarities and of course some difference.
Similarities
Both are very fast acting
Both are sublingual
Both cost roughly the same
Both offer one month free trial
Both are much faster at addressing breakthrough pain than Fentora or Actiq which were the market leaders. They are made by Teva Pharmaceutical.
Differences
Abstral is a sublingual muco-adhesive tablet that dissolves under the tongue within seconds. As the tablet dissolves, the adhesive makes the tablet stick to the surface of the tongue as the pain medication absorbs through the skin.
Abstral is more convenient and it is easier to use. No container to activate or discard.
Subsys is a sublingual spray that comes in a plastic container that must be disposed of correctly in case there is leftover medicine in the container.
Subsys contains no adhesive so if the patient swallows, part of the pain benefit may be lost.
Risks - Fentanyl Class of drugs
All fentanyl medications are controlled Class A drugs
Common side effects are nausea, headache, sleepiness/tiredness and dizziness.
Overdose of fentanyl can result in death.

Quick-dissolve Abstral tablet dissolves in seconds.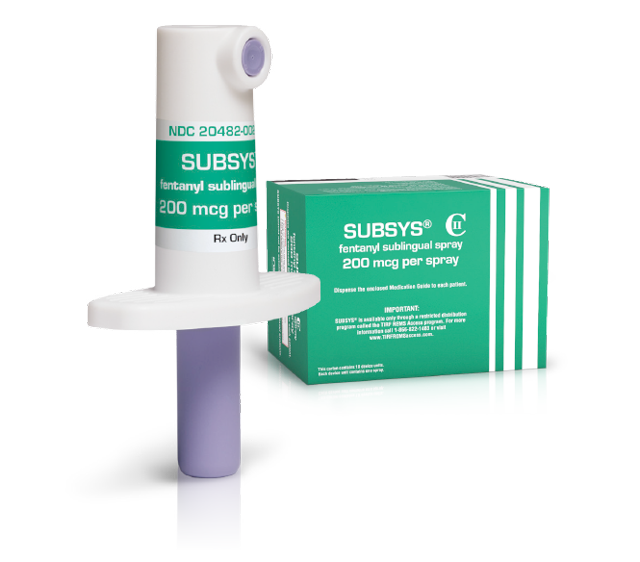 Subsys spray container
When Subsys became available to patients in mid-2012, existing fentanyl medications were slower to absorb. Patients with break through cancer pain were hungry for a fast acting pain medication and Subsys fit the bill. Subsys was an improvement over existing technology but Abstral solved some of the problems that Subsys created.
Subsys comes in a plastic container. The inconvenience of carrying multiple containers in case the patient has a multiple pain episodes is very inconvenient. Disposing of the used Subsys containers properly incase trace amounts of medicine are left in the container are a huge hazard as children or pets can easily overdose on the leftovers. Abstral tablets offer a better option for many patients. Abstral tablets are conveniently packaged in a tablet blister pack. The tablets dissolve completely under the tongue and the packaging can be discarded without any fear of children consuming residual medication.
Subsys' Rapid Market Share Grab
So, how did Subsys steal so much market share from the other branded fentanyl manufacturers? Simple - a better mousetrap. Insys started selling Subsys around 2 years ago when no other fast acting break through pain medication was available. The two dominant branded fentanyl medications prescribed to patients for breakthrough pain were Fentora tablets which took 15-30 minutes to dissolve and Actiq lollipops which took up to 45 minutes to dissolve. In both cases, the whole tablet or lollipop had to be consumed to get the full dose.
Subsys sales are shown below for the last 7 quarters:
June 30 2012 $1.2 million
Sept 30 2012 $2.6 million
Dec 31 2012 $4.8 million
March 31 2013 $13.7 million
June 30 2013 $18.5 million
Sept 30 2013 $28.4 million
Dec 31 2013 $39.2 million
Along comes Abstral which officially started selling in the last quarter of 2013. Even before the official launch, Abstral had booked some sales.
Sept 30 2013 $1.2 million
Dec 31 2013 To be released March 10-14
From the Orexo (ORX.ST) Q4 2013 report,
"Galena's re-launch of Abstral in the beginning of October 2013 proceeded according to plan and the company established commercial operations, initiated manufacturing of the product and secured subsidized prices for Abstral patients during the second and third quarters of 2013. The US market for fentanyl - based products for breakthrough pain has stabilized after declining for several years and amounted to approximately USD 360 million (SEK 2.3 billion) during the past twelve months. Since the re-launch in October, Abstral has attained a market share of about 5% in terms of the number of prescriptions, a significant improvement from the existing demand."
Speculating About Abstral Sales
The Orexo annual report mentions that the fentanyl market is approximately USD $360 million. Does the 5% prescriptions mentioned in the Orexo annual report mean $18 million in sales? Probably not. That would be would be fantastic but hard to believe in a single quarter. The branded fentanyl market is approximately $160-200 million. 5% of that would be $8-10 million. That's still a fantastic number but that seems a little high too. With the startup selling costs, licensing fees and promotion discounts I estimate that Galena's first full quarter of sales of Abstral will be $3-5 million. This would still be farther ahead than the Galena CEO had mentioned in his last quarterly report.
Speculative Stock - Figuring Out Risk and Return
Galena has had a lot of positive and negative publicity in the last few months. Lately, multiple lawsuits have been filed for actions that the insiders may have done that some people may feel were inappropriate. One lawsuit filed is a "derivative action" against the insiders which means that a shareholder is suing the insiders for actions they may have done that may have hurt the company. If this lawsuit is successful, the insiders will have to reimburse the company from their gains. Other lawyers are filing class action lawsuits claiming inappropriate behavior by the insiders for hiring a stock promotion firm and selling their stock at the recent peak.
I, for one, believe in the presumption of innocence. If there is proof that the insiders have harmed their shareholders, they will have to pay for their indiscretions. If there is no proof, then they will be exonerated. Either way, lots of time and money will be spent on these legal actions. This will hurt the company by taking these key insiders away from working on their real jobs of moving the science forward. If the CEO is found guilty, he will be replaced and the company will get back on track.
In the Midst of Chaos There is also Opportunity." - Sun Tzu.
The current chaos with the lawsuits creates an opportunity to buy Galena stock cheap! At the current price around $3.50, I strongly believe Abstral sales alone can carry this stock forward. In addition, Galena has a whole pipeline of other products that they are working on that make this stock highly undervalued.
The extra kicker in this stock is that as Abstral sales increase, Galena becomes more interesting as a takeover candidate for Teva Pharmaceutical (TEVA). Teva is losing market share of its sales of Fentora and Actiq to Abstral and other competitors. Teva has an existing relationship with Galena. Galena and Teva very recently entered into an agreement where Teva will handle the development and regulatory process in Israel. Teva will conduct at least four clinical trials of NeuVax in Israel. Teva is clearly interested in NeuVax and Teva is interested in Abstral. Teva could easily buy Galena and keep the drugs they like and sell off the rest.
Disclosure: I am long GALE.