It was a good day for precious metals, especially following the release of the FOMC minutes.  Silver had began the rally early, then gold and miners joined the party after the Fed minutes.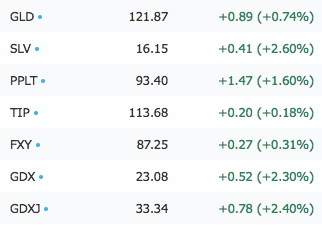 Gold and silver reversed their momentum trends, and it is possible (likely?) that gold could head back up to $1,300, which has proven to be a brick wall recently.  I remain cautionary for gold because it appears to be over-valued to "safe havens."  In addition, the OPEX magnet 12 days from now is in the range of $1,255.  I will look for the momentum trend to reverse itself before stepping back in to short.  Geopolitical risks could change the game on short notice.

JPYUSD and Gold
I decided to change my approach to covering USDJPY and instead use the JPYUSD currency pair (the inverse).  This is beneficial because JPYUSD has positive correlation with gold (as can be seen on the chart below).  USDJPY has inverse correlation and can be confusing - even to me.  In addition, JPYUSD has similar price action to the FXY ETF and the CMEGroup offers JPYUSD futures.  As you can see, I multiplied JPYUSD by 10,000 make the prices more readable.
JPYUSD has an upward trend while it battles its exponential moving averages.  It has an OPEX magnet near its 50 day moving average below, but that won't be relevant for another week or so.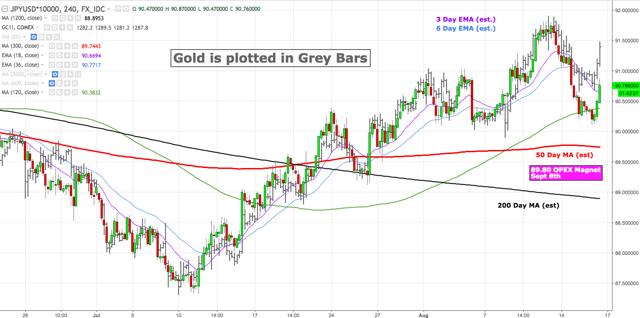 Gold bounced off of an upward trend line and avoided a bearish MACD cross.  If gold rallies for two more days, then it could be both over-sold and near $1,300.  This could be ominous.  A possible outcome could be bullishness into the weekend, with a corresponding Sunday night smackdown.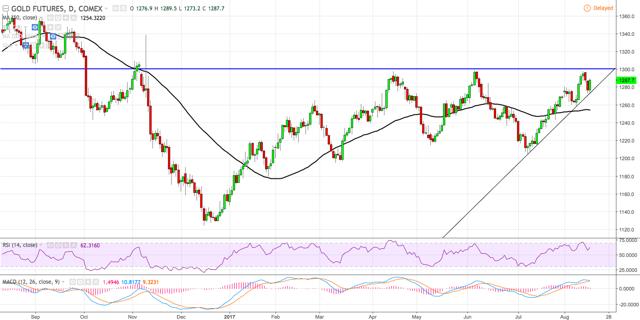 Generally, I like to avoid trading against the algorithmic momentum traders, so I bailed on my GLD short when the price moved back above its EMAs after the Fed meeting.  I scalped a small gain.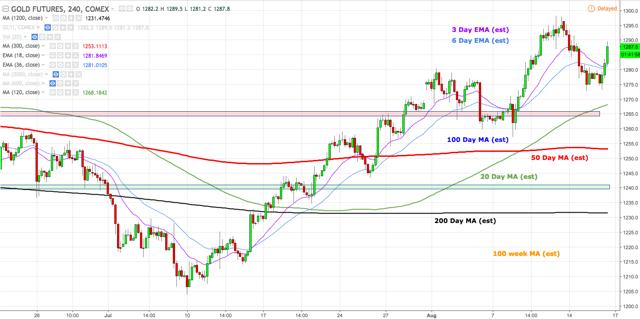 Gold continues to become more and more over-valued to safe havens. Meanwhile, the COMEX open interest continues to increase, which could make the COT report unfavorable.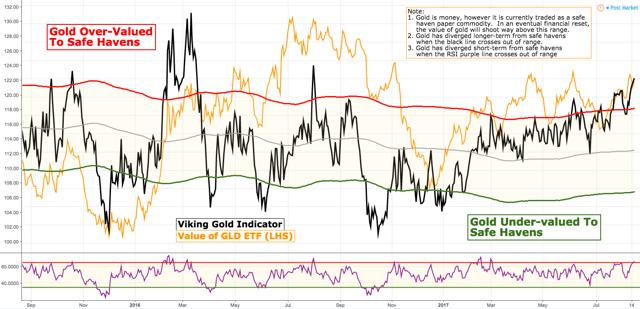 Silver
Silver had a nice run today, and closed above its 200 day MA.  If it remains above $17/oz, silver could be a great buy.  But if gold indeed falls, silver will likely fall with it.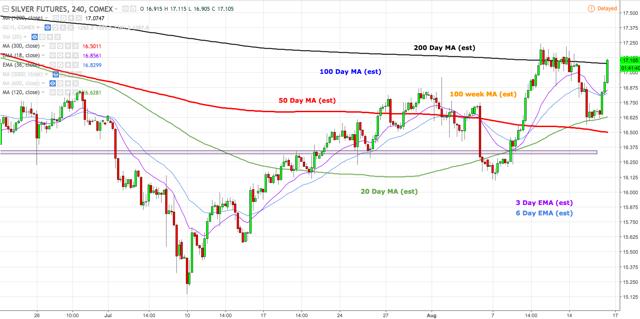 Silver remains neutral in our safe haven indicator.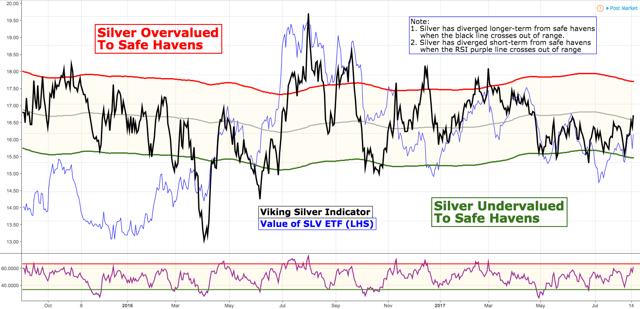 Miners
Gold has out-performed miners this year.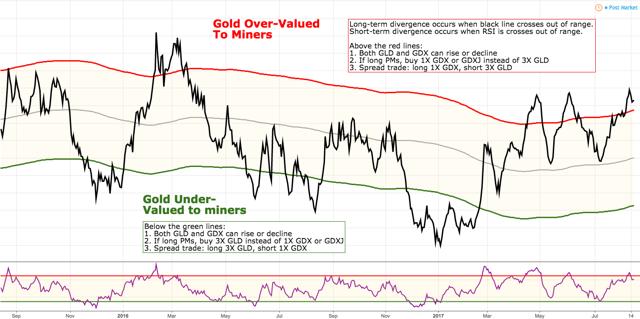 I still believe that GDXJ would be a superior risk-reward option for investors rather than GLD.  If I am wrong on my short-term outlook for gold, then GDXJ has more potential upside than GLD or GDX.
OPEX Magnets
Here are the calculated OPEX magnets for gold based upon yesterday's settlement price.  The gold OPEX magnet is so much more influential than the silver OPEX magnet that I have excluded it.

For an introduction to OPEX price magnets, please read my introductory article here.
Current Positions
Here are the current securities that I am holding in the precious metals and related currencies.  I tend to "leg in" to positions in ½ size increments.  A full position would be the max allocation that I would want – in dollar and/or percentage terms.
| | |
| --- | --- |
| Security | Current holdings |
| SPDR Gold Trust ( GLD) | None |
| iShares Silver Trust ( SLV) | None |
| Vaulted Silver | Core position of 5-10% of investable assets |
| Platinum Trust ( PPLT) | None |
| Vaneck Gold Miner ( GDX) | None |
| Vaneck Junior Miner ( GDXJ) | None |
Disclaimer
This article was written for information purposes, and is not a recommendation to buy or sell any securities.  All my articles are subject to the disclaimer found here.
Disclosure: I/we have no positions in any stocks mentioned, and no plans to initiate any positions within the next 72 hours.