Beginning with 3rd quarter earnings releases, I will be issuing earnings forecasts for select energy companies.  Having enjoyed a twenty-five year career in energy, commodities and biofuels, I focus on energy companies in general, and those companies who manage a commodity "spread" in particular.  I was a co-founder of a biofuel company that was launched with a friends and family investment in 2006, and was ultimately sold in 2015.  I have extensive experience in financial analysis, commodity trading and risk management.
The firms which I will publish earnings estimates include: CVR Refining, Inc. (CVRR), PBF Energy, Inc. (PBF), Pacific Ethanol (PEIX), Green Plains, Inc. (GPRE), REX American Resources (REX), Renewable Energy Group (REGI), Darling International (DAR), and Future Fuels (FF).  In the past, I have uncovered opportunities where the street consensus estimate was off by a significant amount. For each of the companies I cover, I create detailed income statement forecasts based upon commodity prices and public company information.
Subscribers to Commodity Conquest will get an exclusive early look at these earnings forecast estimates.  I have already begun to create and refine my forecasts for 3rd quarter, and I expect some surprises!  Click on the link above or below this article to learn more.
Past Success in Earnings Estimates
In my very first Seeking Alpha article, I nailed a significant beat in earnings for Pacific Ethanol (PEIX), and the stock rallied substantially immediately upon earnings release.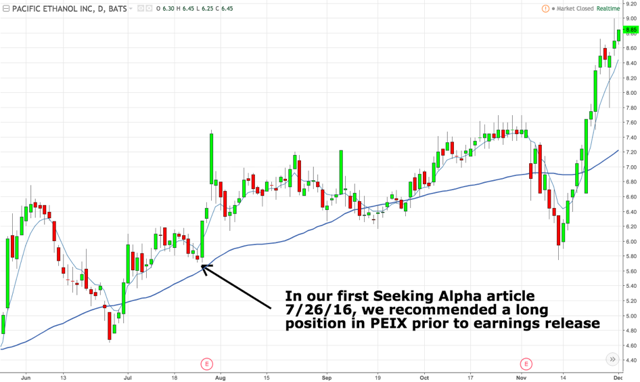 In November of 2016, I published a long recommendation for Future Fuel (FF) the day prior to earnings release, and the stock rose 50% over the next few weeks.
In late May and early June 2017, I issued a long recommendation for PBF, and the stock rallied on its over-sold condition.  Prior to earnings release, I anticipated bad news and sold right near the peak (this is all verifiable in the Commodity Conquest timeline).  After the stock fell, I bought it back before its next up-leg.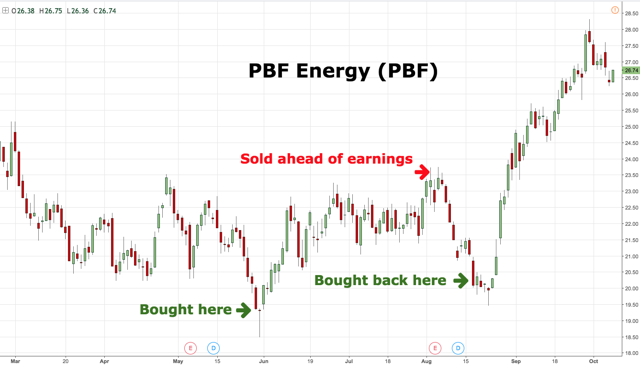 Commodity Conquest
In my Commodity Conquest service, I provide daily and weekly updates on the gold and oil markets.  In addition, I generate deep value and high conviction stock picks.  Beginning in June, 2017, my first three "trade of the month" picks generated returns of 15%-25% in the first two months, and my fourth pick has earned 13% in 11 days.
This month, I am running a special discount on the annual subscription rate. In addition, subscription rates will increase on November 1st.  If you sign up now, you will keep your subscription rate for the life of your subscription!
Disclaimer and Notes
All charts above were taken from Trading View unless otherwise indicated, and all tables were created by Viking Analytics unless otherwise indicated.
This article was written for information purposes, and is not a recommendation to buy or sell any securities. All my articles are subject to the disclaimer found here.