OPEX Price Magnets: Powerful Tools In a Trader's Toolbox
The OPMs are powerful tools in an investor's or trader's toolbox.  Similar to sentiment indicators, the OPMs should be used in conjunction with technical analysis, fundamental analysis, COT reports, and other tools.   The OPMs provide specific values where mean reversion might be expected – based upon actual financial positions taken by large traders.  As a result, the OPMs might be viewed as a more precise tool than sentiment indicators. 
Today's Summary
Here is a summary of yesterday's settlement OPEX Price Magnets ("OPMs") for gold, WTI crude, natural gas, S&P futures and EURUSD futures.  Here are some highlights:
The natural gas options are pointing towards a possible rebound in price.  Not only is the Price Magnet much higher than the futures price, the options weight is very high.  There is an EIA natural gas storage report today at 10:30am.
S&P Futures is a new addition to the OPM Report!  The futures price and Price Magnet showed high divergence two days ago, but much of that has been corrected.  The notional value of the March 2018 S&P Futures is higher than the market cap of the SPY ETF.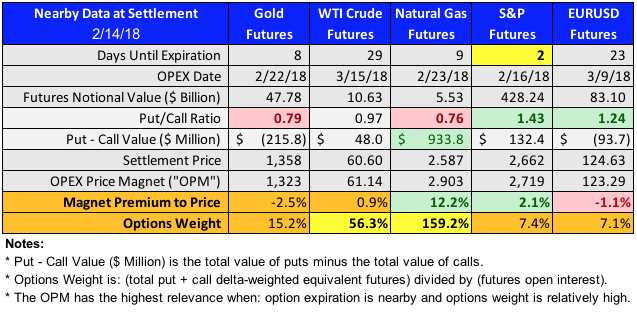 Gold Futures vs. Price Magnet
The gold options market did not participate in nor confirm the price spike yesterday.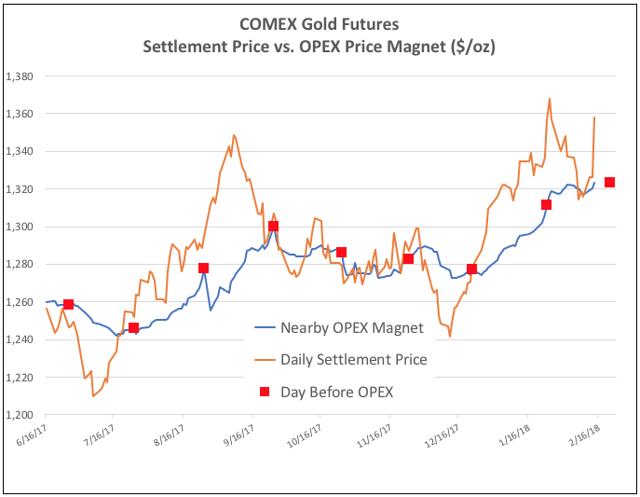 Crude Oil Futures vs. Price Magnet
March OPEX was yesterday, and the April futures and Price Magnet are currently in balance.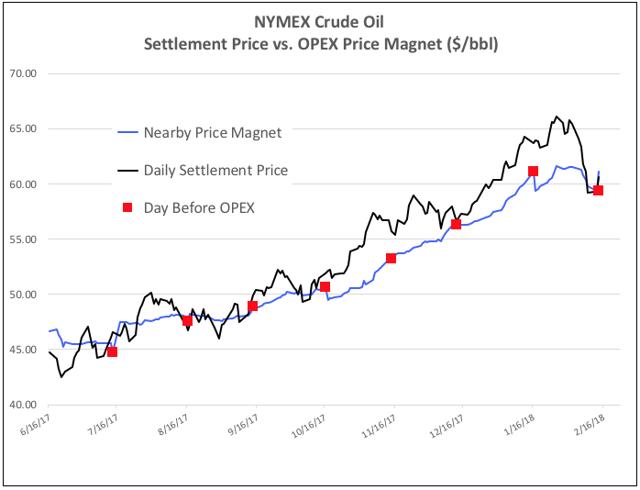 Natural Gas Futures vs. Price Magnet
The natural gas futures price over the past two months has tended to revert to the Price Magnet immediately AFTER the option expiration date.  Large traders can profit from this dynamic by rolling futures positions into swaps.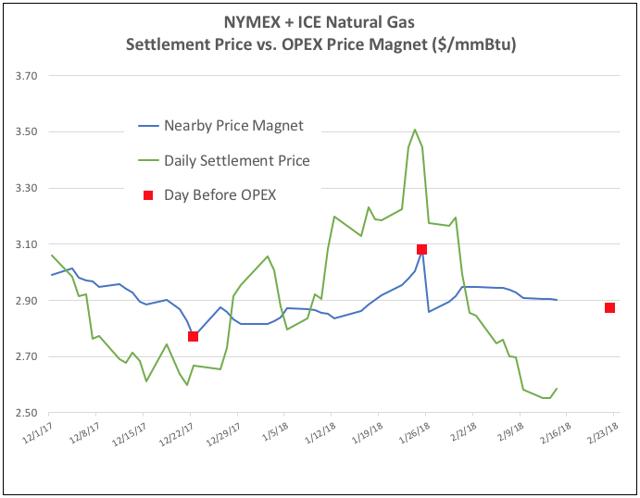 S&P Futures vs. Price Magnet
After the recent market sell off, I began calculating and compiling the S&P Future Price Magnet data.  Tomorrow's option expiration is very notable, and over the past week, a considerable amount of negative option delta and positive option gamma have been relieved.
EURUSD Futures vs. Price Magnet
The EURUSD Futures have shown meaningful convergence towards the OPEX Price Magnet ahead of option expiration.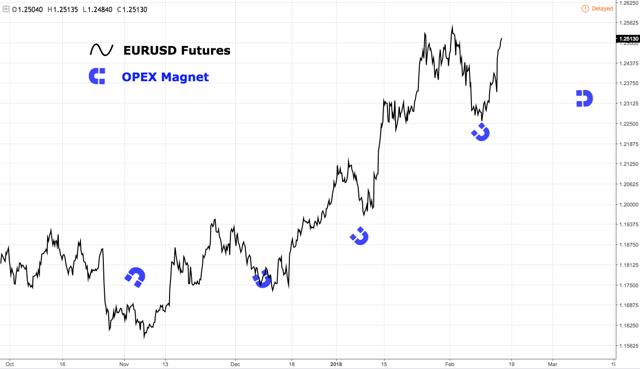 Disclaimer & User Agreement
This article was written for information purposes only and is not a recommendation to buy or sell any securities.  Click this link for a full Disclaimer.
This report may not be reproduced or distributed by any means without express written permission from Viking Analytics.
Disclosure: I/we have no positions in any stocks mentioned, and no plans to initiate any positions within the next 72 hours.
Additional disclosure: I am long natural gas futures.