Background and Approach
I invest in a portfolio of stocks and commodities that have low correlation to one another.  This enables me to optimize risk and return.  I record three different kinds of trades: 1) coverage trades (the stocks I that I research with fundamental analysis), 2) portfolio trades (longer-term allocations to uncorrelated assets), and 3) swing trades.  My general intention is to allocate a maximum of 15% to any position.
I swing trade stock indices, commodities (and/or related ETFs) based upon several indicators, incuding: the OPEX Price Magnets, COT report, and technical analysis.  My average hold with these swing trades is about a week.
I will usually have more cash over the weekend than I have during the course of the week.
End of Week Portfolio Allocations
Here is a summary of my current positions and current view of the swing trading potential of the commodities that I cover.  For more information on the Commitment of Trader's report, you can visit the CME Group website.

Week In Review
Here is a summary of my prior week's trades and adjustments.   This was my first full week back from a long vacation, and it was easily my best week of the year.  I should take vacation more often! I completed four successful intra-week swing trades, and I booked profits in REX and GPP long positions, among other trades.

S&P Futures
S&P futures seem to have an important support level in the $2,720 range.  I am neutral at the moment, but expect to see technical support, launching to another higher high in the current trend.  I expect equities to break down later this year, perhaps after another low volatility summer.  If the S&P again challenges and breaks its 200-day moving average; however, volatility will pick up again.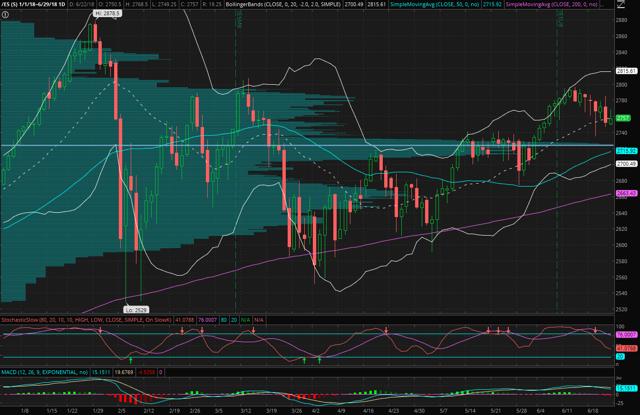 S&P Op-ex Price Magnet
Since launching the SPX Price Magnet report in February, I am 5 for 5 in trading the SPDR S&P ETF (SPY) and/or the Powershares QQQ (QQQ) into option expiration.   I publish a daily Op-ex Price Magnet report which costs subscribers as little as $1 per trading day.
At the moment, the Price Magnet is in balance with the current value of the S&P 500.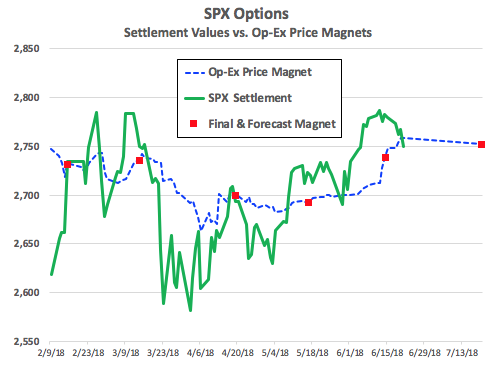 S&P COT Report
The largest eight traders (the "smart money") in the S&P futures significantly reduced their short position, and added to their long position last week.  Overall, the COT report is cautionary, but I almost gave it a neutral rating due to the big positioning changes.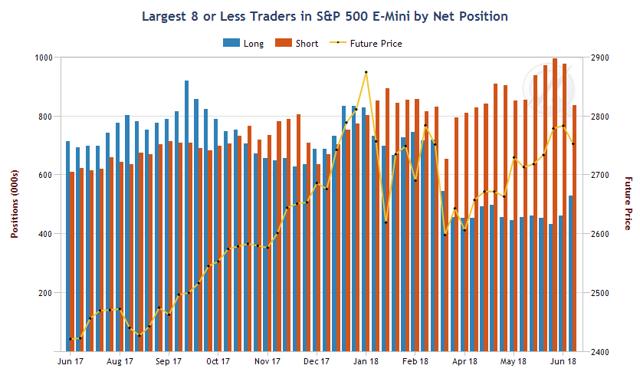 Disclaimer
This article was written for information purposes and is not a recommendation to buy or sell any securities.  I never intend to give personal financial advice in any of my articles.  All my articles are subject to the disclaimer found here.