It's the moment all the banks have been waiting for: A fed rate hike.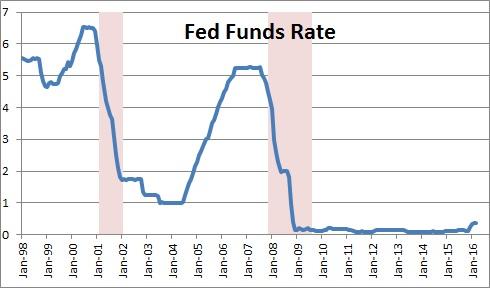 Source: www.numbernomics.com/nomicsnotes/
The market has priced in today's rate increase and appears to be expecting several rate hikes in 2017. As a result, banks have become overbought.

Source: Google Finance
How Banks Generate Interest Income
A bank's business model depends on borrowing short term deposits and lending to companies and indivudals. We call this Net Interest Margin (NYSE:NIM). When interest rates are compressed, NIM falls and so does bank profitability. While the Fed's rate increase today will help bank profitability, it's not a silver bullet. NIM is still at record lows at many banks and will only rise gradually. Keep in mind that many loans are originated at a fixed rate and will not rise so quickly. On the other hand, rates on CDs and short term savings products will rise quicker and that actually hurts a banks funding costs. Overall, increasing rates will help NIM and help banks.
The post election run-up in bank stocks can be classified as "irrational exuberance" as former Federal Reserve Alan Greenspan might say. Banks still face enormous challenges aside from operating in a low rate environment. Regulatory risk, competition from non-bank financial institutions, and rising labor costs are all examples of serious threats to bank profitability.
Wells Fargo (NYSE:WFC) is a perfect example of an overpriced bank stock. The company has a black eye from their fraudulent account scandal and is currently dealing with more regulatory probes. Furthermore, Wells Fargo has more branches than any other US Bank and will face rising labor costs as minimum wage has increased in several states. The company has already announced plans to close many branches and will face costs related to that restructuring. All factors considered, Wells Fargo appears to be expensive compared to peers.
You can read more about Wells Fargo in an article by fellow SA author Chris Lau.
How to Trade WFC
Personally, I purchased WFC back in October when the stock was teading near $44 per share. After the election, I sold WFC above $50 and held no position. As WFC shares went above $52, I created a short position and I maintain that short position.
Investors could achieve a short position in WFC by selling the stock short, buying a Put option, or selling a Call option.
Disclosure: I am/we are short WFC.