I have been asked by one of my reader to implement a sector rotation strategy for the European market, I thought it should be an interesting idea to try and replicate existing sector rotation strategies that worked successfully for the U.S. market and adapt them to the Euro600 sectors.
For this small project I used iSHARES Euro600 sector ETF's:
Health care- EXV4
Technology- EXV3
Real Estate- EXI5
Utilities- EXH9
Construction & materials- EXV8
Industrials goods and materials- EXH4
Insurance- EXH5
Food and beverages- EXH3
Chemicals- EXV7
Retail- EXH8
The reference market is Euro600 index- EXSA.
I back-tested the ETF's from 1.1.2010 until 10.10.2013 using few basic momentum strategies: three months, six months, twelve months momentum and combined period momentum.
It was very surprising to find out that none of the basic momentum strategies outperformed the market which exhibited total return of 22% and Max draw-down of 20% during the back testing period.
I tried to use an advanced strategy involving momentum, price action analysis and trend following (more about advanced sector rotation model), this strategy showed out-performance resulting in total return of 37% with Max draw-down of 7% and sharp of 0.57. On an annual basis the advanced strategy offered out-performance of only about 3%, but with better risk parameters.
Back-testing equity graph of the advanced strategy:
(Click to enlarge)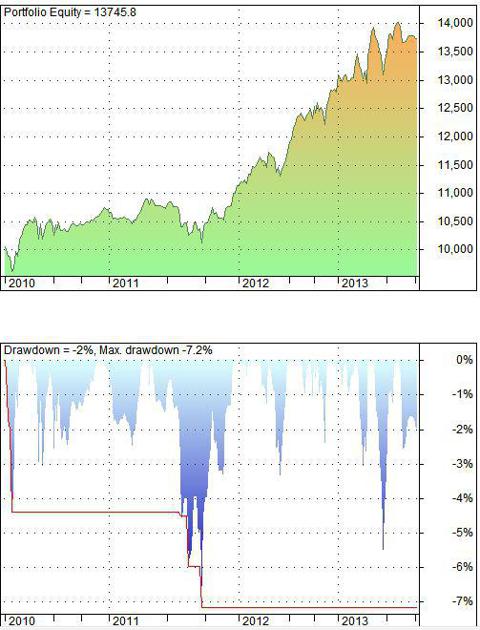 For comparison, back-testing basic momentum strategies on the U.S. market shows about 3% of annual out-performance while the advanced strategies show about 8%, with better risk characteristics in both cases.
So what is the reason for these differences between the U.S. market and European market? My assumption is that momentum based strategies did not work so well on the EURO600 market since the EURO600 sector ETF's represent sectors from different countries in Europe that do not always share a high correlation. For example, if the retail sector in Germany is bullish it does not necessarily mean that that's the case for Spain. The European countries economies are not as correlated as the states in the U.S. market, resulting in negative implication on the trend characteristics of EURO600 sectors.
So for now, if nothing changes with the trend characteristics of the Euro600, I will stick to U.S. market sector rotation strategies and so should you.
Tomer Elran
Disclosure: I have no positions in any stocks mentioned, and no plans to initiate any positions within the next 72 hours. I wrote this article myself, and it expresses my own opinions. I am not receiving compensation for it. I have no business relationship with any company whose stock is mentioned in this article.