I have been researching Aflac (NYSE:AFL) as a good, long-range growth company. However, it may be a good short in the near term. Their management appears to have a great deal of foresight and takes measure to protect profitability during down economic times. This appears to be one of those times that management is battening down the hatches in preparation for an economic tsunami. Net earnings currently look as though they are growing, but investment gains are masking declines in operating earnings.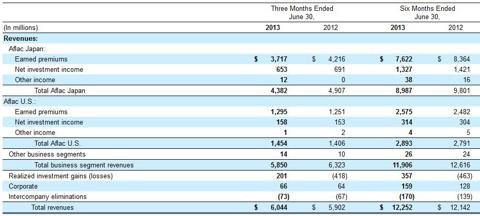 Source: www.sec.gov/Archives/edgar/data/4977/000....htm
Consistent Profitability
Aflac has been consistently profitable, even during the 2008 financial meltdown. The decline in equity in 2008 was due to the decline in value of its own Treasury stock held on its books during the financial meltdown and not due to operating losses. I believe that the ability to weather 2008 without operating losses, while so many companies had their entire retained earnings wiped out, is a sign of disciplined management and a captive market. Because Aflac provides a much needed safety net, I believe that policy holders are unlikely to miss payments, even in the face of an economic downturn. However, this focus on profitability may mean that management may deliberately allow for a decline in policy exposures in unprofitable markets.
Potential for Growth
As traditional safety nets decline, Aflac is poised to fill some of the gaps. According to Aflac's financial statements, the reason that Japan is such a big market for them is that the Japanese people know their government is already overextended. They turn to Aflac to plug some of the holes in the public safety net. Due to declining birthrates globally, most countries are facing similar issues. A country's ability to provide services to an increasingly elderly population is primarily a function of immigration policy. Japan has one of the most restrictive immigration policies in the world and can be seen as a bellwether for all other countries competing for young immigrants. As public safety nets falter globally, Aflac is uniquely positioned to plug some of the emerging gaps.
Exposure to Japan
Japan currently represents 72% of AFLAC's total revenues and JGBs represent 35% of their portfolio (down from 39% on 12/31/12). However, management appears to be well aware of the weakness in Japan for the past five years and is has taken steps to mitigate potential losses. AFLAC is likely to come through whatever global turbulence awaits us in a stronger position than it entered it, but will likely face severe headwinds due to its Japanese position in the coming year. This will likely create a significant buying opportunity for value investors.
Price Targets
During the economic crisis of 2008, Aflac stock price dropped to $33.71 per share. It dropped further to $11.34 in 2009, following the release of their 2008 10-K. The stock finished 2009 over $46 per share. The stock has yet to reach its all-time peak of $67 set in 2008. While I believe that Aflac is properly valued at its current price/earnings multiple, we have to recognize that the earnings driving that multiple are not as robust as they could be. Once declines in operating earnings are fully felt in net income, the price should drop even if Aflac maintains current P/E multiples. If Aflac takes a hit to investment income, due to the BOJ's inflation targeting and their significant JGB holdings, then the declines could be even more precipitous. I believe that Aflac is a good short for the time being and could present excellent buying opportunities under $30 per share sometime in the next 2 years.
Disclosure: I am short AFL.