Company background
MOMO (MOMO) is one of the largest location-based social media platforms in China. With an innovative social networking app, MOMO's primary users are 20-30 years old students/professionals looking to know someone new and nearby. Many young people who recently moved to a new city due to school/new jobs seek to expand relationships and find entertainment through mobile apps, and MOMO arguably has built the best product for those people in China.
Financial analysis
The company generated $1.32B revenue in 2017, with a growth rate of 199%, 313%, and 138% in the last three years. As one of the fastest growing company in tech space with >$1B market cap, MOMO is currently trading at 17.4x 2018 P/E and 13.8x 2019 P/E, below S&P 500 tech sector median P/E of 20.2x and 18.4x, respectively.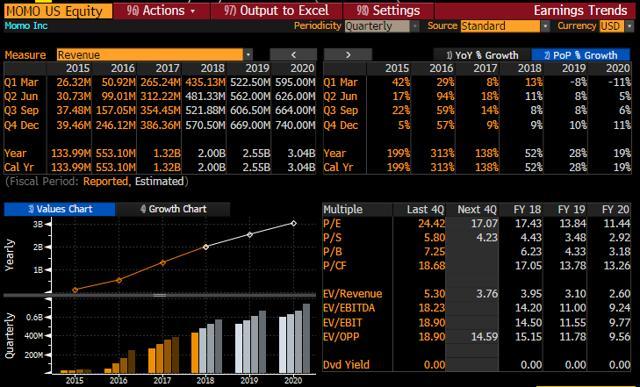 Source: Bloomberg
In the past seven quarters, the company has been consistently beating sell side estimates on earnings and sales. The average 12-month target price is $55.6, representing a 25% upside to the stock at 17x 2019 P/E.
Event path
Last week, a research firm Spruce Point issued a short-selling report on MOMO titled "Mo(mo) Money Mo(mo) Problems". The report pointed out several questions on the company and predicted its stock price would face at least a 30% to 50% downside risk, and investors should sell the stock.
One day later, MOMO company issued a press release saying the company "believes that the report contains numerous errors, unsubstantiated statements and misleading conclusions and interpretations regarding events relating to the Company". However, damages have already been taken by the shareholders. On the days before and after the short report, MOMO trading volume surged and the stock was down around 10% within a week.

Source: Bloomberg
Our thoughts
We are an asset manager based in Asia. In the past, our team has seen several privatizations and acquisitions of Chinese ADRs listed in the US. One of the most common reasons for privatization is that stocks are too cheap, cheaper than both US and Asian comps by a wide margin, due to misunderstanding by people who are not familiar with the country.
We have great respect for investors who do their independent research and diligently publish their own opinions to facilitate price discovery in the market. Short-selling, in particular, is a difficult discipline that only very few distinctive individuals are good at and have successfully generated meaningful returns in the long run. With all due respect, we do want to clarify a few misunderstandings on the company as highlighted by the short seller.
At the start of their presentation, Spruce Point mentioned retail investors may have bought the stock for speculation and may be misguided due to lack of information. In fact, 13F filings show the majority holders of MOMO stock are institutions. MOMO is covered by 24 analysts from major US and China banks where reports are issued in both languages. While it might be true that retail investors do not have access to all the available research, the institutional investors are well covered and informed by the 24 banks. There is no need to panic due to fear of lack of coverage.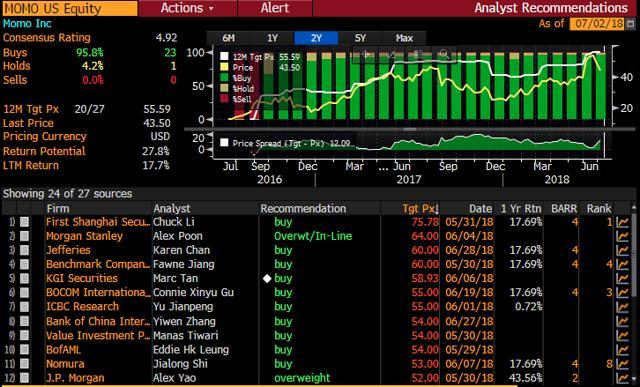 Source: Bloomberg
The individual questions Spruce Point raised are listed and commented below.
1. In November 2017, MOMO was accused by the SAIC with the intention of "Filing corporate information with the intent to conceal the truth and falsify." According to Spruce Point, this may explain why the three directors resigned in November 2017 because of "personal reasons."
What we found
On November 2, 2017, MOMO was listed on "anomaly list" by the Beijing Enterprise Credit Information Network with "concealing and falsifying the facts" accusation. After the company's active cooperation and rectification, it was removed from the anomaly list on November 29, 2017. The short time taken to resolve the issue indicates that the problem may not be so serious.
The reasons for the departure of the three senior executives in November were irrelevant. On November 24th, Chongxin Cai from Alibaba,and Feng Yu, founder of Yunfeng Fund, which was jointly founded by Jack Ma and Feng Yu, resigned from the board of directors. This move was a natural result after the reduction of ownership by Alibaba. The other executive left was Sichuan Zhang, MOMO CEO Yan Tang's wife. Ms. Zhang left because she founded PUPUPULA where Yonghao Luo, founder of Smartisan, also invested in the new venture.

Source:Beijing Administration for Industry and Commerce
2. The VIE structure contains undisclosed companies.
What we found
There are indeed a few incomplete disclosure issues, and departure from SFAS 57 related party disclosure, but they are not significant. The related parties Spruce Point mentioned are relatively distant. Fast-growing tech companies like MOMO may not have taken care of everything and it is inevitable there will be some negligence. Pokermaster (mentioned in short seller question 4), was an investment made by Nuts Ventures, which has many funds and each fund invests in many companies. As a limited partner, MOMO would not know everything about the companies Nuts Ventures invested in. According to records, Pokermaster raised money at an angel round for RMB 2.4 million in May 2015. It was only in March 2016 that MOMO took part in the second-phase of Wuxi Nuts Investment Partnership. These investments are passive investments by MOMO, not illegal operations. Therefore, the Pokermaster's shutdown has had, and will have minimal impact on MOMO's business.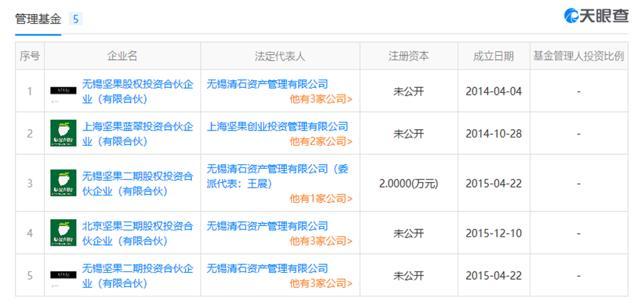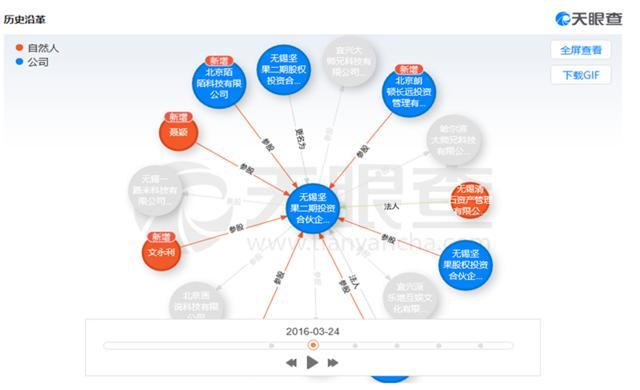 Source: 天眼查
3. There are undisclosed talent agencies and related party transactions
In addition, the agency stated that MOMO has invested RMB 230,000 in one of top 5 talent agencies—Beijing Mushang Culture Media Company. However, the company's financial report is very suspicious and there may be money laundering. Investigators searched the office and thought the address was almost a fake address. The agency said the investigation found that MOMO had at least two undisclosed talent agencies and related party transactions. The disclosed related party transactions are inconsistent with the filing documents in Mainland China.
What we found
Spruce Point claims that one of top 5 talent agencies—— Beijing Mushang Culture Media Ltd. ("Mushang") may be involved in money laundering because the front door of the company is not so splendid and looks bad (which I agree). Based on our analyst's research (who lives in Beijing and used to be a live performer in the social media industry with 400,000+ followers), the Mushang company is located at the 20th floor of the contemporary MOMA T9 Building. It is a central location at the East Second Ring Road and real estate price over there is at least RMB 60,000/square meter. Without a deep understanding of the local dynamics, one may draw the wrong conclusion from appearance only.
While we do not have all the information about Mushang, the appearance argument was not sufficient to draw any meaningful conclusion about a startup in this industry. In fact, many start-up companies in Beijing have a plain workspace. Moreover, Mushang is an agency firm which by nature does not need many employees or infrastructure. It only needs some staff to sign performers and manage them, acting as the agent of performers and communicate with media platforms.
A more well-known China-based company, Alibaba (BABA), also started at a plain workplace without much decoration. At that time, the price of their office was ~RMB 2,900/square meter, and the total size of the room was 150 square meters. Alibaba's partners started its entrepreneurial journey in this place.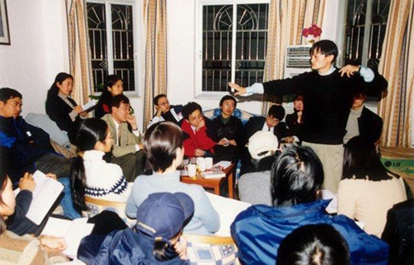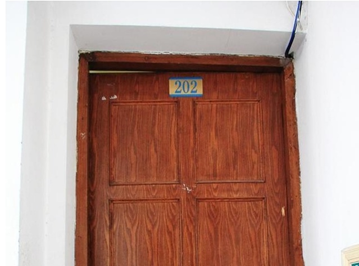 Source: Internet
The original office of the Apple was just a small garage. Well done entrepreneurs!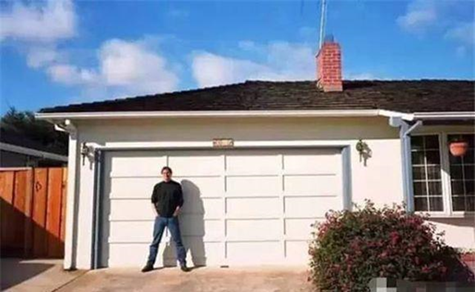 Source: Internet
As a side note, one of the most famous MOMO hosts "Variety Shu Shu" formally joined Mushang in August 2017. In the MOMO annual competition, Mushang's hosts achieved good results. Although we cannot rule out the possibility of the company's actual involvement in money laundering, we do not see a notable likelihood of money laundering from a high-profile agency.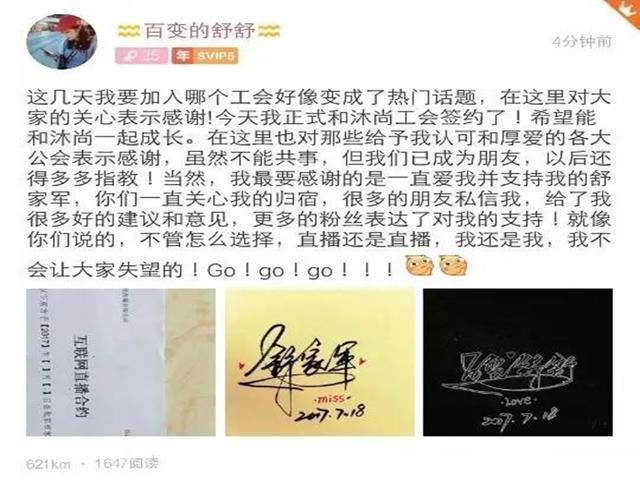 Source: Weibo (WB)
Spruce Point may have raised a good point where company disclosure was incomplete. Mushang has a shareholder called Tianjin Heer Technology Co., Ltd. with 18.75% ownership. The legal person of the company is Xiaoliang Lei where Xiaoliang Lei is also the co-founder of MOMO. The related party transaction should have been but was not disclosed.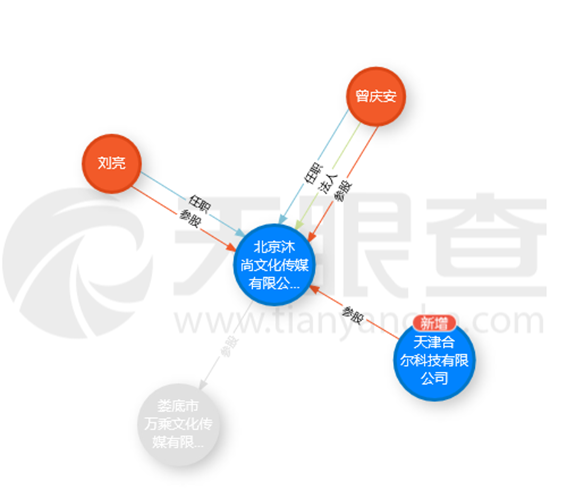 Source: 天眼查
As for the inconsistency between the registered address of MuShang and the current company address, it is likely a minor issue from record updating. As the company develops, moving from Fengtai District, which is far from the center of the city, to Chaoyang District takes no harm to the business and is better for its growth.
4. MOMO has not disclosed illegal gambling websites in China. MOMO is investing in VIE structure in Pokermaster, the application can be downloaded from outside of China through Apple or Google stores. If the user has an offshore account, he can purchase virtual chips through the application, gamble on card games, and then withdraw funds from China through the agent.
Addressed in 2)
5. The reason for the MOMO strategy acquisition of Tantan seems to be limited to the user base. Taking into account the business dealings between Tantan and MOMO, the expansion of this business is almost completely different. The agency believes that the MOMO has paid more money. This acquisition is likely to cover up the slowdown in economic growth in the second quarter.
What we found
Based on our primary analysis, MOMO is dominated by male users, while Tantan is a unique dating app in China with a large proportion of young female users. The Tinder-like feature protects female user's experience and can greatly improve MOMO's social ecosystem. From an investor's perspective, this is actually a very strategic deal. The integration of MOMO and Tantan can increase the dominance of MOMO in social networking in China and make it the irreplaceable number one player in a large total addressable market (think China's population).
6. MOMO's recent performance data has conflict. QuestMobile data shows that users in the streaming media industry reached a peak of nearly 6 to 12 people. A few months ago, the growth of MAU of MOMO has been flattening or falling.
What we found
On MAU metric, MOMO is still the leader among live media platforms and actually grows reasonably well. The slowdown in MAU growth is more industry-driven than company specific. After years of high growth, the growth rate of global Internet and smartphone users has slowed down.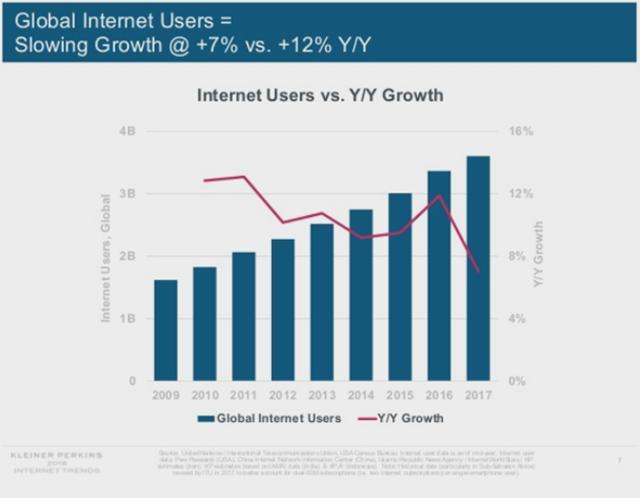 Source: Internal trends report 2018
To continue growth in the future, we think social media platforms need to improve user engagement, provide integrated services, build O2O social interactions, and continue to expand its monetization channels. Gaming, reality show, and knowledge sharing are a few potential ways to transform MOMO to the next generation of internet winners.
While it is hard to predict the future, at present MOMO's MAU growth is still healthy. Third-party research and our industry analysis both indicates a good Q2 to come (Q2 revenue estimate is $486M, +11% from Q1, give or take a few).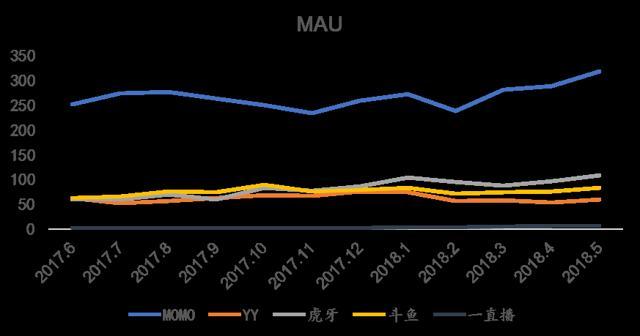 Source: IResearch
7. Illegal content can strike at any time. Recent MOMO content may not meet the SARFT requirements, which exposes MOMO to regulatory actions.
What we found
MOMO is a platform that puts great emphasis on user experience and government regulations. It is strict against online pornography. From what we have heard, there are hundreds of technical team members fighting against the abnormal behavior of the performers. MOMO regulates its content by blocking usernames, IP addresses and may utilize both human examiner and facial recognition software to preemptively analyze video characteristics and shut down channels to ensure a good ecosystem. There will be some performers slipping through the net once in a while, but it is to MOMO's best interest to strengthen its market lead by making no missteps.
For example, in order to optimize the user experience, MOMO reduced the profit-sharing percentage of gift revenue from 60% to 40% to increase the cost of counterfeiting. By this means, it is more beneficial for the agencies to invest in the operation ns instead of promotions.
Additionally, MOMO's management acts strongly against performers that misbehave. It did not hesitate to block a top star Ah-Leng who had disagreements with the platform, so as to maintain the ecosystem.
Risks to price and fundamentals
Downside risks include:
Short selling pressure continued which causes some holders to panic and "stop loss and take profit" on their positions.
Uncertainty in technology innovation and emerging competitors in the social media industry
Execution risk by the management team
Conclusion
Spruce Point's work on MOMO raised interesting questions for all investors and was appreciated. The language and local knowledge barrier may have prevented the company from forming a complete picture on MOMO. Through our internal work, we believe the misunderstanding on MOMO has been mostly clarified (thanks to our diligent analysts). As the selling pressure eases on the stock, we expect the stock to rebound back to its usual trading range and continue tracking its fundamental growth.
As an active investor in the global markets, we hope to help fellow investors better understand Asia businesses and find attractive investments together. Please do not hesitate to contact us for any comments. Thanks for reading.
Disclosure: I/we have no positions in any stocks mentioned, but may initiate a long position in MOMO over the next 72 hours.