Summary
Opera (OPRA) presents a long opportunity at the current market price. It is a software company with a competitive moat on data compression technology, a leading market position in developing countries, a proven monetization model, and a disciplined marketing strategy that acquires users at low costs. Opera fits well into the GARP (Growth at a reasonable price) category with its sustainable high growth, a discount to tech peers, and a unique way to benefit from the inevitable wide adoption of smartphone technology in developing countries.
We have been following this company since its privatization days and have a good understanding of the business trajectory. Given the lack of coverage on the stock, and timing of the IPO amid Facebook (FB) / Twitter (TWTR)'s earnings, wall street investors may not have the time and opportunity to do deep work on the stock yet, which creates an opportunity for investors to build positions below the offering price in an oversubscribed IPO.
Here we will discuss the company from four angles and show how they collectively form a competitive business, followed by our valuation models.
Opera adopts a successful monetization model, distributing personalized news and contents based on AI and making money through in-feed-ads, which is highly effective used by the largest news aggregator Toutiao in China.
Africa, a large market by its population still predominantly using the 2G mobile networks, is naturally a beneficiary from Opera's data compression technology. Opera browser and news can dominate Africa as the portal of the internet. Bringing a proven business model from China to Africa today is similar to bringing a business model from the US to China ten to twenty years ago when Baidu (BIDU) flourished.
Low-income markets do not have the capability to feed two giants. Opera's efficient cost control and first mover advantage can set up a high entry barrier.
A strong team that effectively integrated European and Chinese culture within one year. Zhou Yahui, the new CEO of Opera, is a Chinese web tycoon who has a successful track record building blockbuster companies.
Company description and history
Opera is one of the world's leading browser providers and an influential player in the field of integrated AI-driven digital content discovery and recommendation platforms. Opera served 321.7 million average MAUs in the three months ended March 31, 2018, of which 239.4 million were smartphone and PC users, compared to 202.6 million smartphone and PC users during the same period of 2017.
Opera was founded in Norway in 1995 and it introduced the first version of the "Opera" branded browser software in the following year. Since then Opera has been a pioneer in redefining the web browsing experience by its continuous innovations such as data compression and privacy protection etc. In March 2004, Opera was listed on the Oslo stock exchange, and until November 2016, Opera was acquired by a Chinese consortium. In July 2018, Opera came back as a public company to list on NASDAQ. During its privatization days, Opera has launched Opera News to provide personalized news or content with MAUs reached 90 million within one year and has turned the loss into profit.
Thesis
1. Opera adopts a successful monetization model.
Opera News, launched at the beginning of 2017, is the AI-powered personalized news discovery and aggregation service that has the same features as Jinri Toutiao, which is a Chinese "super app" that generates revenue through the advertisements built in the personalized news or contents that the users read.
Unlike conventional banner ads, which appear at the bottom or the top of the screen or even the full screen, the "in-feed ad" is to integrate advertisements better into the content of the app which makes them less annoying for the reader and can have better click rates at the same time.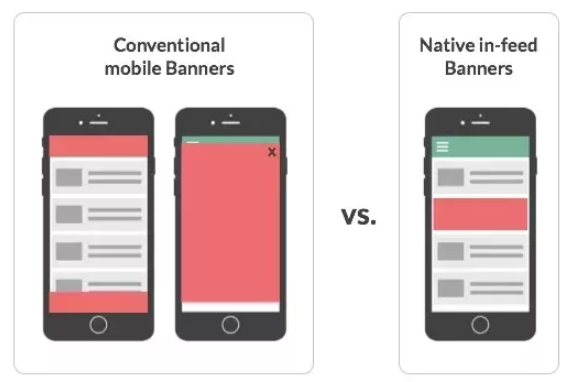 Source: What is an In-feed ad?
"In-feed ad" has been proven by Facebook and other internet media giants as the most efficient and profitable advertisement model so far. Opera News and Jinri Toutiao also use the "In-feed-ad". Different from Facebook, which distributes ads among the posts, Opera News and Jinri Toutiao choose the news as the starting point. Driven by AI, Opera and Jinri Toutiao can curate and intelligently recommend news, articles, videos and other content that may be of interest to the users and at the same time promote the related advertisements to the users seamlessly.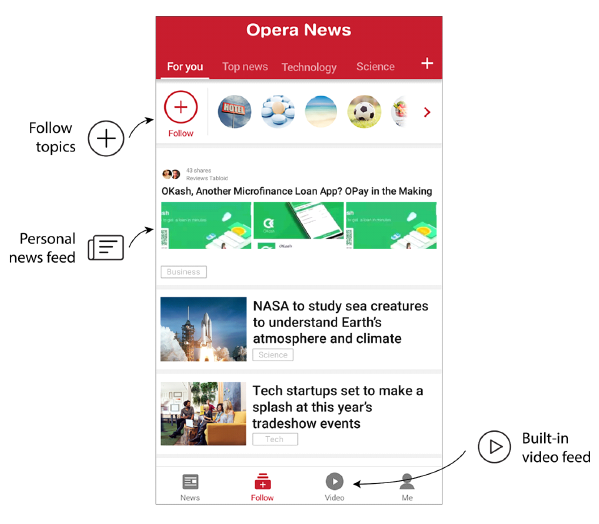 Source: Opera's prospectus
The personalized news and contents feed can make it very addictive for users and increase the effects of advertising. According to a report, Toutiao users spend 74 minutes daily in the app, compared to 50 mins of Facebook and 30 mins of Snapchat. And for Opera News, the average time spent by users reached 32 mins per day during the three months ended March 31, 2018, an increase of 39.1% from 23 mins for the same period in 2017. This statistic is pretty attractive based on the fact that Opera News was launched in January 2017.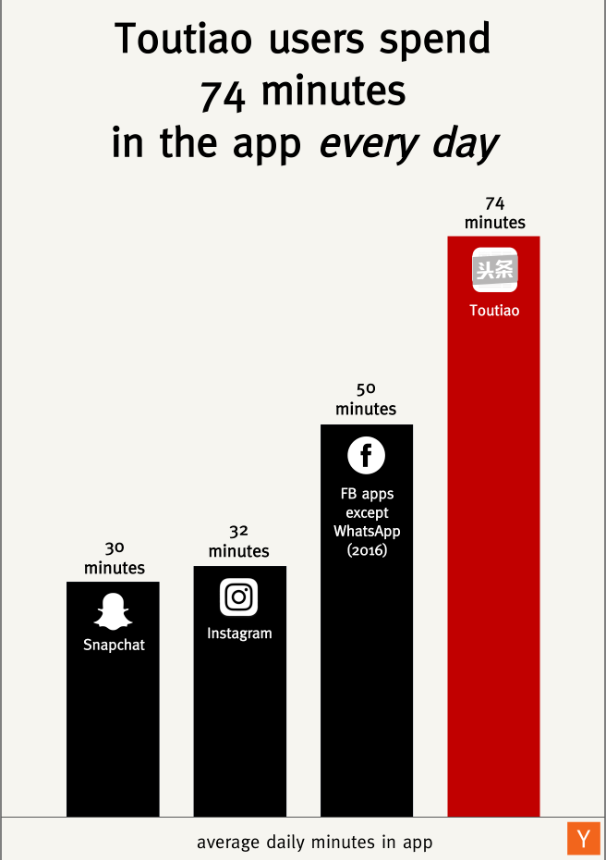 Source: The Hidden Forces Behind Toutiao: China's Content King
The stickiness and the unique features of in-feed-ad lay the foundation of quick monetization of Opera and Toutiao. It takes Toutiao 2 years to begin monetizing and 5 years to reach the revenue of RMB 15 bn, a short time frame making Toutiao as one of the fastest growing apps in the history of the internet. While Opera News has achieved monetization in its first year of launch. Although it is partly contributed to Opera's original browser users base, it truly proves once again that this is a rapid monetization model. And we believe that Opera will enter into a fast revenue generating stage in the next few years as Toutiao did. Also, utilizing Toutiao as a forerunner, Opera can benefit from avoiding the mistakes made by Toutiao and taking advantage of Toutiao's success.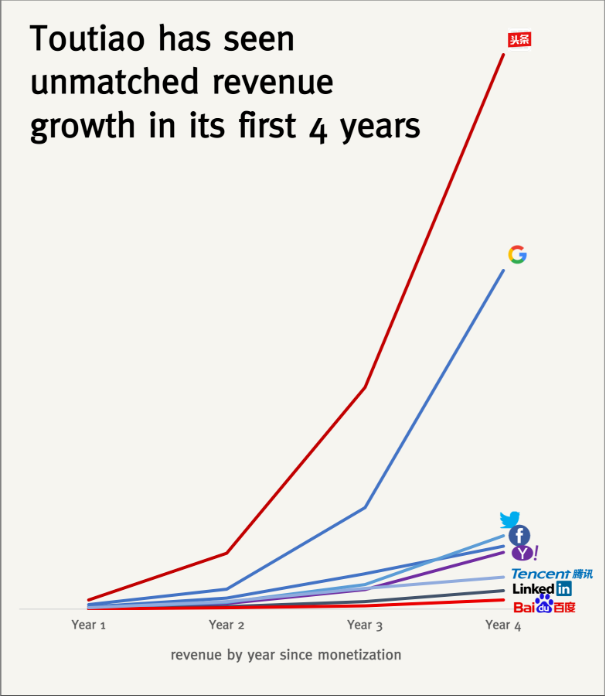 Source: The Hidden Forces Behind Toutiao: China's Content King
2. Opera browser and news can dominate Africa as the portal of the internet.
In the retrospective view of Opera's history, the era of the 2G network is Opera's glorious period. At that time, the mobile traffic fee is very expensive, and the network speed is slow. The unique technology of compressing web pages, including text and images, towards only 10% of their original size, and downloading contents faster enabled Opera to attract a large number of loyal users.
Due to its underdeveloped infrastructure, Africa still stays in the 2G mobile network stage. The same as the people in the 2G era, African users also have a real demand for Opera's products. That is the reason that the MAU in Africa is growing extremely fast and Opera chooses Africa as its main target market.
Unlike people with 3G/4G mobiles who are free from downloading various apps, the apps downloaded by African users are limited and the browser is the main and frequent entrance of the internet. African users have entertainment needs, but they are hindered by the 2G network. Opera News which is initially built in Opera browser perfectly fixes this problem and quickly wins the preference of African users with MAU reached 90 million in one year. The popularity of Opera News is just the tip of the iceberg, other monetization models that built-in Opera browser can replicate the success of Opera News. Considering the huge population base, the commercial space for Opera's future products in Africa is full of vision and imagination. We believe that Opera browser, Opera News, and other future products will form a broad products portfolio to dominate Africa as the entrance of internet flow, and the revenue will have a huge potential for growth.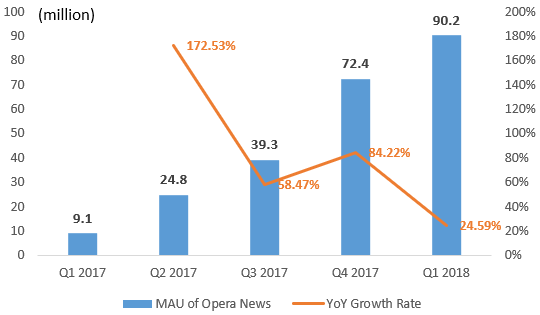 Source: Opera's prospectus
For people not familiar with Africa, six of ten economies forecast to grow the most in 2018 by the World Bank are in Africa. As we look at Facebook's data from the rest of the world (excluding US & Canada, Europe, and Asia), we will see that Africa is, in fact, a growing frontier. Facebook revenue of "Rest of World" had a fast growth rate north of 29% in the past 7 years. We expect that the revenue of Opera News will have a high growth rate in the following years.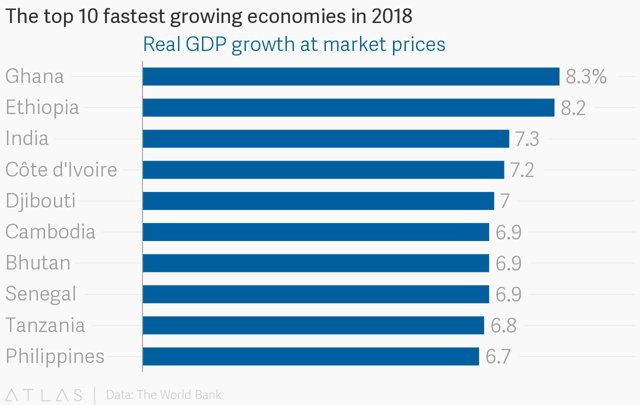 Source: Atlas, The World Bank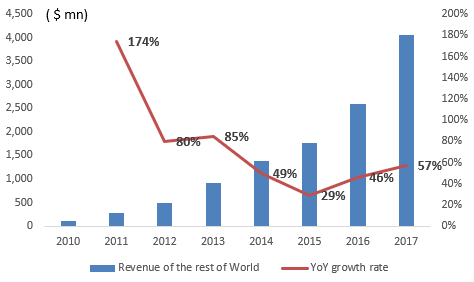 Source: Bloomberg
As we can see below, the ARPU of Facebook in the "Rest of World" category is more than 10 times the ARPU of Opera. That means even in the poor market, Opera still has a growing potential on ARPU to catch up with Facebook.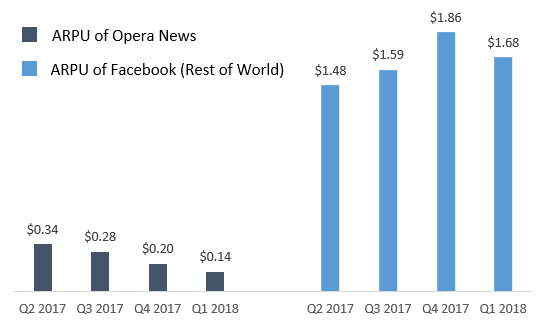 Source: Opera's prospectus and Q2 report, Facebook
3. Opera's efficient cost control and first mover advantage can set up a high entry barrier.
The choice of Africa as the target market has another benefit that other competitors can be scared off by the cost of new entrants. The African market is not big enough to accommodate two players if we take costs into account. Therefore, Opera's market position is more stable.
As the first-mover, Opera has already set up a moat. The efficient cost control helps Opera to further increase the entry barrier. From 2016 to 2017, the total revenue of Opera has increased 20.1% while the total cost only up 4.6%. Please note that the new product Opera News was launched in the year 2017. Usually, when a company promotes a new product, the cost should be increased heavily compared to the revenue growth. Because the companies need to spend more money on the marketing and promotion, and to hire more employees etc. if they want the new product to be popular. But as we can see in 2017, the year that Opera News was launched, the expenses as a percentage of operating revenue were all decreased. Especially, for the marketing and distribution expense, which is included in the other operating expenses, increased by only 1.44% and the percentage of operating revenue decreased from 28.5% to 24.0%. It is impressive considering the success of Opera News. And it indicates that Opera does not rely on cash burning to promote its new products but on its organic growth.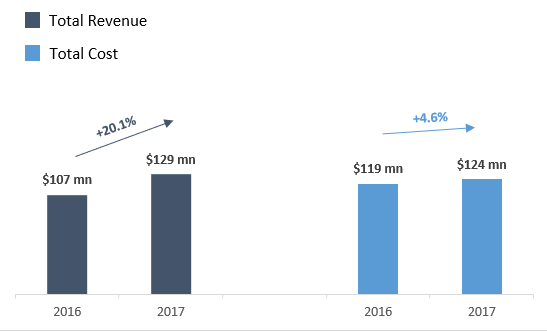 Source: Opera's prospectus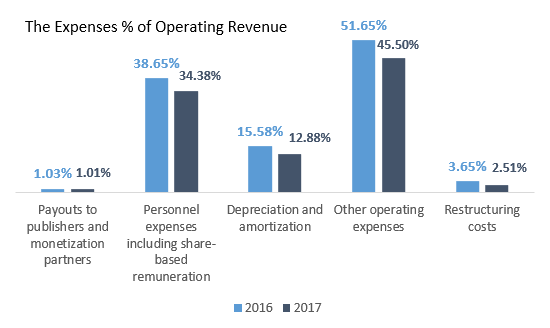 Source: Opera's prospectus
Source: Opera's prospectus
As the Opera's revenue continues to grow, the cost control can be more efficient because of economies of scale. And it can be replicated into future products if Opera plans to launch new products like Opera News.
4. A strong team that effectively integrated European and Chinese culture within one year.
Before the privatization at the end of 2016, Opera was a compete European company based in Oslo, Norway. They were skilled at developing advanced technology but were not as good at marketing and cost control. When the Chinese team acquired Opera, it takes only one year to turn the loss into profit. When a cross-border acquisition completed, it usually takes several years to address the cultural conflicts and often failed on integration, not to mention making a profit. The successful integration of European and Chinese team firmly proves the super execution capability of Opera's new team. It assures the success of Opera News and efficient cost control.
Zhou Yahui, a Chinese web tycoon who has invested and cultivated the unicorn internet companies such as Qudian (QD US), Inke (3700 HK) and DaDa, is going to devote himself as the CEO of Opera. Based on his previous tracking record, this appointment can enhance the investors' confidence and ensure the management's strategy can be executed thoroughly.
A unique relationship with Google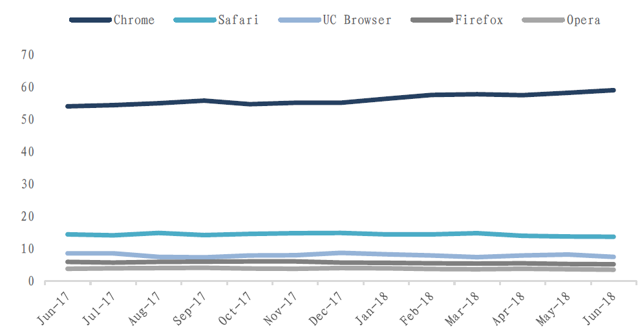 Source: Statcounter
Currently, Opera is the fifth largest player in the global browser market, and Chrome accounts for the biggest market share (59% in June 2018). Although Opera and Chrome are competitors in the browser market, Google (GOOG) actually is the largest customer of Opera. Opera generates search revenue from Google when its users conduct searches initiated within the URL bar and google search page. In 2017, 43.2% of operating revenue comes from Google. And this kind of partnership with Google has lasted for 15 years.
From Google's perspective, Opera browser has unique features such as privacy protection and data compression etc. that wins the loyalty of a significant number of users. Instead of swallowing up the market share of Opera, Google can divert the internet flow of Opera to its own products by paying search fees. And at the same time, keeping Opera survival can diversify Chrome's users base to resist the competition from other top browsers which have backstage supporters of internet giants.
For Opera, the partnership with Google can ensure a large and stable revenue, and provide its users with the access to Google's good products to enhance the users' stickiness. On the other hand, under the umbrella of Google, Opera can defend the attacks from other browsers. The partnership between Opera and Chrome is a win-win.
Estimates / Valuation
Currently, about 53% and 32% of revenue come from searching and adverting business respectively. Based on our analysis, we project that the searching business will have a 30% and 20% growth rate in the next two years, which is in line with its current strong partnership with Google and Yandex. And we expect that the advertising business can achieve a high growth rate of 74% and 45% in 2018 and 2019 based on Opera's dominance and the great growth potential in the African market. Overall, we estimate that the operating revenue will increase by 42.4% and 27.3% in 2018 and 2019 respectively. Because of Opera's efficient cost control capability that discussed above, we would expect that the net profit margin can reach 20% and 33% in the next two years.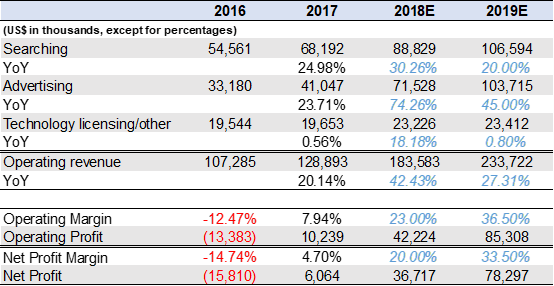 Source:Opera's prospectus.
Note: 2016 is the unaudited pro forma data intercepted from the prospectus
For the comparable companies, we choose Facebook, Twitter, Google and Weibo which have advertisement as their revenue source.

Source: Bloomberg
Opera Up/Down Analysis
We use 2019E P/E ratio of 15x, 20x and 26x as the down, base and up case respectively. For a company growing revenue north of 30% with improving margin profile and a large TAM, the market may assign a multiple at 25x as we have seen in the early days of other internet media peers.

Note: Upside is based on the closing price on 08/03/2018
Catalyst
Due to IPO restrictions, sell-side will start to initiate coverage on Opera 30-60 days after IPO, which could introduce more investors to the company.
On August 24th (Bloomberg earnings date seems outdated), Opera will release its Q2 financial results. Based on a conservative estimate, the searching, advertising, and total operating revenue will have a YOY growth rate of 31%, 78%, and 43% respectively, which is on par with its performance in Q1. An even better performance will receive positive reactions from the market.
Risk
The churn rate of Opera Browser may increase as the competition from other browsers intensify. The MAUs of Opera News may not continuously achieve a high growth rate.
The payouts to publishers who provide contents to Opera News can be increased heavily if Opera wants to offer a better customer experience. It may partly offset the effects of cost control.
If there are serious political and economic turmoil or an epidemic such as Ebola in Africa, it may have a negative impact on the revenue growth of Opera.
Disclosure: I am/we are long OPRA.