A quick note for followers (the full editorial process is a bit unwieldy for quick notes like this):
So, as you might know already, watching dark pool transactions gives us a privileged view of the market, especially in more thinly-traded securities. Here's a good one from today.
Platinum Group Metals Ltd. (NYSEMKT:PLG) closed up 33% today.
Why? Probably because on Friday, four million shares crossed the tape, which is a lot more than usual. (Average volume is about 150k.)
So, naturally, the momentum traders show up at 9:30am this morning and by 10:30, they have the stock pushed up over 50% - so people start wondering what they're missing out on.
Well, since this is a Canadian company and Canadians are really polite, the regulators ask PLG, "What the heck is going on, guys?"
And PLG says, politely, "Golly, we don't know." Which is probably true, because all that volume that happened on Friday was swapping in dark pools.
Here's what it looked like:
Green is dark pool non-short (i.e., long); red is dark pool short.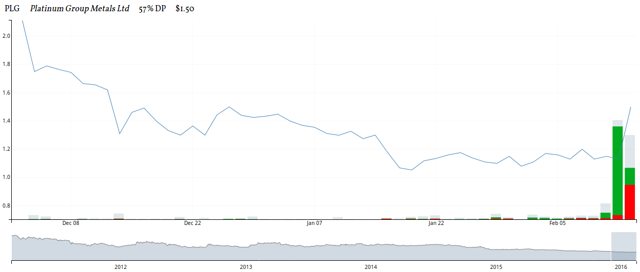 So when the momentum traders pushed it up today, the dark pool traders took advantage of the new highs to short to the tune of 1.4M shares. Looks like they're betting on a mean reversion, realizing that the momo traders are probably bluffing (and that there's no news to justify any price movement).
Unfortunately, there's no options on PLG, so it's not easy to short safely, but a small position might be worth taking anyway. A 33% decline in the near term would be sensible. So if there's a borrow available tomorrow and it looks like we've hit a high, I might try it.
This is just one of over 130 short alerts that appeared on the SQZME platform today. Premium subscribers have access to all of them through the Research page. A little bit of digging goes a long way toward actionable short selling with this data.
Cheers.
Matt
Disclosure: I/we have no positions in any stocks mentioned, but may initiate a short position in PLG over the next 72 hours.