BIOTIME (NYSEMKT:BTX) - is a biotech company which specializes in regenerative medicine. Over the years, they've made some amazing breakthroughs in their field. There are a handful of subsidiaries which operate under the BioTime umbrella. Each of these subsidiaries operates either in the clinical pipeline or in the development of research products. Across the board the technologies they are developing are fascinating, from reverse cell aging, cell delivery, cancer diagnostics, and human embryonic cell development for research institutions. The list goes on and on, but how do these amazing feats of technological progress translate into market performance?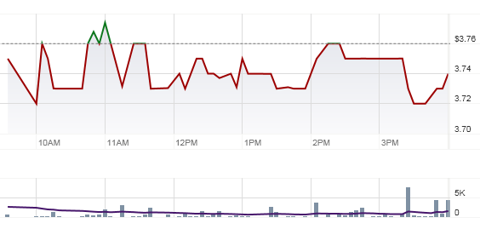 Well, Bio Time's share price has been in the red for the past two years, but thankfully for those initial long investors its up 19.75% Year To Date against its peers, giving everyone a bit of hope. Though this may seem exciting to most, this is still a very risky entry point for new long term investors. Fifteen percent of BioTime's float shares are being shorted at the moment. That is a pretty large percentage of shareholders to have expecting you're ticker's descent to continue. This in combination with red operating financials has analysts heavily downgrading this across the board. Not everybody is in doubt though. There are still many a investor who believe the potential breakthroughs the company has in store will revolutionize the biotech industry, and though it's not necessarily a factual tale, there is something to be said of David's ,with nothing more than a little human ingenuity, prevailing over the general consensus that Goliath would defeat him, and human ingenuity is in no short supply at Biotime.
Disclosure: I have no positions in any stocks mentioned, and no plans to initiate any positions within the next 72 hours.