As discussed previously, there are two methods to evaluating potential stock investments:
Quantitative investing: Finding potentially attractive investments by using statistical stock screens/rankings and buying/selling according to a set formula.
Qualitative investing: Finding potentially attractive investments by evaluating the underlying business and buying/selling according to business results and a valuation derived from financial models.
For quantitative investors, MagicDiligence provides the various "spells" - ranked stock screens designed to be used in a mechanical buying/selling strategy.
But what about for qualitative investors? What if you want to buy great businesses, and hold for the long term?
Business Model Diligence Ratings
Business Model Diligence ratings are designed to quickly help you find what we feel are companies with great business models.
To keep it really simple, they are notated using the universal "stoplight" iconography:
RED. We consider a RED company's business model to be unattractive. These companies usually do not possess any long-term economic moat, and have unpredictable and/or declining revenues.
YELLOW. We consider a YELLOW company's business model to be modestly attractive. These companies clearly have some characteristics of long-term economic moats, and they often have reliably recurring and/or growing revenue streams.
GREEN. The GREEN rating is our rarest, and indicates that we believe the business to have a very strong long-term economic moat, along with predictable recurring and/or growing revenue streams.
Logged-in members will see the red/yellow/green pips everywhere on the site. They will show up as a sortable column in all of the Spell lists, allowing you to find the yellow and green stocks quickly. They show up as a column in the output lists of all of our Tools. Or you can just see all the reviews we've ever done. Finally, the individual stock pages contain the full rationale behind our rating for that company. Which brings us to...
How Do We Determine the Ratings?
All companies with a business model rating will have the full rationale behind the rating on their individual stock page (here is Apple's).
To decide on the rating, we want to keep things as simple as possible and ask three questions:
Does the company have recurring revenues?
Can the company continue to grow its revenues at a good rate?
Does the company have durable competitive advantages (i.e., an economic moat)?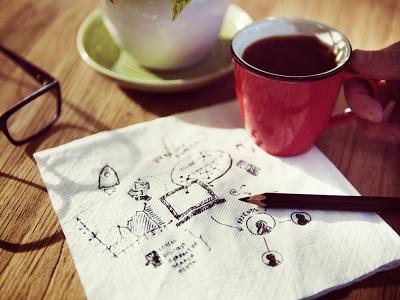 Each rating write-up (the "business model diligence") will attempt to answer these three questions, as well as providing a business and rating summary, in as simple, short, and concise a manner as possible. Warren Buffett has always said he can determine a good business model from an explanation on the back of a napkin. We don't feel there is any need to over-complicate it either.
Recurring revenues are pretty straightforward. Do customers systematically come back to the company to purchase goods or services on a regular basis? Some examples of reliably recurring revenues include: automatically renewing subscriptions, rapidly consumed products (think foods, drinks, pharmaceuticals, cosmetics, etc), essential ongoing services, and so forth. We LOVE recurring revenue - it makes cash flows much more predictable.
Almost as important are rising revenues - and the potential for many years of continued growth. Stagnant businesses do not make for great business models. We want to see companies with lots of potential business to grow into going forward.
What about the economic moat? Pat Dorsey's book The Five Rules for Essential Stock Investing and his simplified follow-up The Little Book that Builds Wealth are the two best books ever written on long-term economic moats. In it, he identifies what we'll break down as 6 distinct ways a company can build a long-term economic moat:
NETWORK EFFECT. A company has built an extremely hard-to-replicate network of buyers and sellers. Sellers go there because that's where the most buyers are. Buyers can be there for a variety of reasons. Great examples are eBay, Facebook, or even credit card networks like Visa.
CONSUMER BRAND. A great consumer brand allows its owner to charge more than competitors, builds brand loyalty for repeat purchases, and makes it the "de-facto" choice for new shoppers. Great examples are Apple, Coca-Cola, and Nike.
ECONOMIES OF SCALE. In low margin industries, scale is the only way to survive. Once tremendous scale is built in a low margin market, it is very unattractive for new competitors to try to enter. Examples here include UPS, Walmart, and Exxon.
HIGH SWITCHING COSTS. In some industries, it is extremely painful for customers to switch from a particular vendor. For example, in business critical software, the disruption and re-training costs for switching to a new vendor can be considerable. A classic case here is Microsoft. Banks are another example.
REGULATORY BARRIERS. Occasionally, you can find a business that requires strict government approval that is time consuming and difficult to win (and, sometimes, artificially limited). This creates very high barriers to entry for prospective new competitors. A good example of this are the FDA approval and patent barriers in pharmaceuticals.
UNIQUE ASSETS / LOCATION. Unique assets are when a company has control over a key asset (or assets) of which there is a limited quantity and no alternatives are available. A good example of this is Waste Management, which owns a large network of landfills of which no more (or few more) will ever get built.
We look at each company's business for these factors and determine if, and to what extent, it has one of these benefits, laying out our thoughts to you.
A Few Other Points and Conclusion
The "new" MagicDiligence is rolling out with a nice, round 100 business model reviews available to you!
We will add more every week, focusing on stocks in our Spells, and/or popular companies or companies we feel may be of particular interests to individual investors.
One key point to stress is that these are business model, not stock, reviews! We are looking at the company only here.
For quantitative investors, Business Model Diligence is intended as an additional piece of data to consider when reviewing ranked screens of stocks either from the Spells or from one of your own through the Spell Caster.
For qualitative investors, Business Model Diligence is a quick starting point for you to limit yourself to only quality companies, throwing out the junk.
I hope you find the Business Model Diligence rating a valuable feature. The intent is - as always - to help you find the best stock investing opportunities on the market today, regardless of your investing philosophy! Enjoy!